You might have ever thought that going without keto is impossible.
Think again because, being a cooking expert, I have brought delicious keto recipes for you that you can make repeatedly. Mix your weekend occasions with tasty dishes like ranch chicken, cheesy bacon, bacon-wrapped cauliflower, and the heartiest keto chilli.  
The best thing about keto recipes is that you can involve yourself in cheeses and meat by technically following up on your diet plan. However, diet will be the furthest thing you have ever had for these recipes, as you will never miss the carbs with these keto recipes.
So what are you waiting for?
Let's dive into the delicious ket recipes.
Easy Air Fryer Lemon Chicken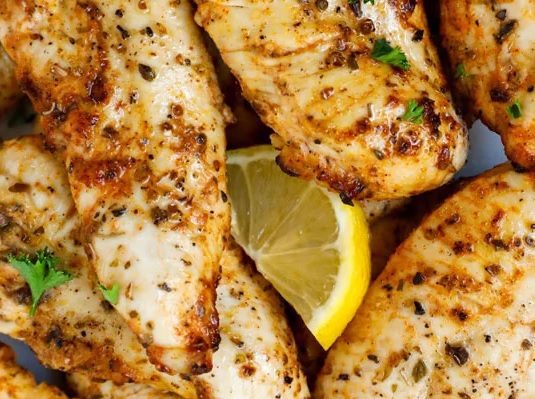 As I am a cooking expert and have experienced many keto recipes, one of my best discoveries of 2023 is all-rounder air fryer recipes. Not only does it make the food in less time, but it also offers a crispy flavor and finishes without getting additional calories.
The recipe is so easy that you can easily make it in 5 minutes effort, as lemon chicken is one of my favorites. Lemons in the chicken add a refreshing spirit and flavors making it a perfect summertime staple without heating a whole house with oven heat.
How to make lemon chicken
Say Hi to your easy and favorite Chinese lemon chicken cooked in an air fryer. Not is this the healthiest one made in the air fryer, better and beneficial for your health, but it is top crispy and tossed in tasty lemon zest sauces ready in just half an hour.
Ingredients you need
Chicken: Chicken breast would be the best option for this recipe; cut it into Julian shapes or cubes, as boneless chicken thighs will be the best option.
Sesame oil: I like to use toasted sesame because it flavors and tastes better than any other oil.
Eggs: two large eggs will be the main ingredient, helpful for sticking the chicken pieces.
Corn starch: to make the lemon sauce, thick flour or corn starch will be used to dredge the chicken bites through.
Lemon: Fresh lemon juice with zest makes the recipe very delicious.
Butter: unsalted butter will be an excellent option to control sodium intake.
Sugar: Use regular granulated sugar in fewer amounts if you like less sweet lemon sauce.
Green onions: To garnish and give the final touch to the dish, use fined chopped green onions.
Broth: with low sodium, opt for a healthy chicken stock or broth.
How to Make Chicken with a Lemon: Step-by-Step Guide
Prepare the dredges
Place the beaten eggs in one shallow plate and flour in the other,
Prepare dredge and chicken
With one tablespoon of sesame oil and soya sauce, toss in the chicken pieces. Put all the chicken pieces in the dish of flour and toss them together so that each piece should be coated with flour in a good manner.
You can also dump all the pieces of chicken at once rather than coat them one by one piece.
Ends up dredging chicken
Put the floured chicken in the bowl filled with eggs so that the pieces should be coated with egg material, and again repeat the process.
Transfer the chicken pieces to a bowl and coat them evenly with the flour.
Air fry
Spray the air fryer basket with cooking spray and place the chicken in the basket with a single layer. You can do this step in batches, depending on the amount of chicken you have.
Spray the air fryer basket with more spray smoothly, and fry it for 12 to 15 minutes at 380 F.
Prepare lemon sauce
Put the butter in a [an and melt it over medium heat. Add sugar, lemon juice, chicken broth, and soya sauce with 1 tablespoon of cornstarch.
Mix all ingredients with a whisk to make them together and cook until the sauce becomes thick and smooth.
Coat chicken with lemon sauce
Toss all the chicken pieces with the lemon sauce and coat it well. Garnish it with the green onions and serve.
Tips to Make Keto Recipes in 5 Minutes
Try these tips to save your precious time when making delicious keto recipes.
Choose simple recipes
Pick all-in-one meals, easy or pair simple main ingredients with bare sides.
Use prepared ingredients
Getting shredded chicken, prechopped veggies, and ready-made sauces like ranch dressing and tahini sauces would be best to save you maximum time.
Lazy does not mean dirty
Lazy keto and dirty keto are not alike things. You can make simple meals and dishes, restrict carbohydrates, and eat clean and clear foods simultaneously.
Double the recipe and freeze it for the next time
Making the recipes in doubles and freezing the leftovers makes lazy keto diets gather even faster for the next time.
Try intermittent fasting
Fasting is known for having fewer meals to plan, and it comes with many benefits when combined with the lazy keto lifestyle.
If you find it difficult and does not come with the schedule, you can make a cream with or bulletproof coffee for your next breakfast.
FAQs
Does lemon juice start to cook chicken fast?
Lemon juice and similar acidic components and essences help to cook any type of meat well, especially chicken, as it goes inside and is soft and makes them juicy. 
Is raw chicken in an air fryer good?
Yes, you can cook raw chicken in the air fryer because it's a great option to have it on hand.
Conclusion
I hope you will love my lemon chicken recipe, one of the best delicious keto recipes. It's only fair to offer you an air fryer version in a bite-size shape. Making easy keto air fryer recipes is so much better and healthier for you that it comes under 300 calories.
It is undoubtedly incredible, easy to make, and ideal for busy days.