Just like me, If you are also looking forward to different salad recipes to enhance your diet and add nutritional significance, Here I am presenting a Jalapeno chicken salad recipe from my personal salad collection. The salad provides a creamy texture to the overall recipe by combining beneficial ingredients.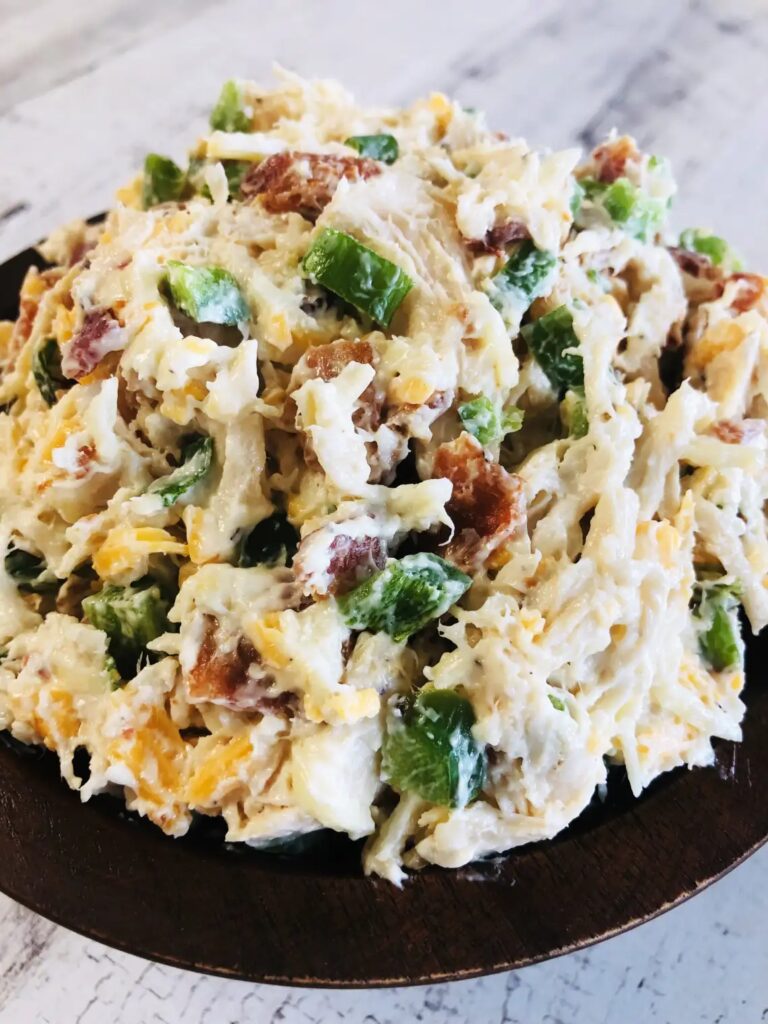 Furthermore, the process of preparation for the salad is also very convenient, and even children can mix it up together in a very easy way with the help of some older ones but how to prepare it?
To state the most comprehensive answer to a preparation method of salad I use the following ingredients with exceptional variation and the recipe method for it.
Spice Up Your Plate: Easy Jalapeno Chicken Salad
Spice up your plate with a tantalizing twist on a classic dish – the Jalapeno chicken salad. Inspired by the chicken salad chick jalapeno chicken salad, this fiery recipe offers the perfect blend of creamy chicken and the zesty kick of jalapenos.
If you're looking to recreate the magic at home, the chicken salad chick Jalapeno holly recipe is your guide to mastering this delectable dish. From picnics to potlucks, this jalapeno chicken salad is bound to be a crowd-pleaser, leaving everyone craving for more.
Required Ingredients
Two or three breast pieces of chicken
Spicy pickle
Red onion should be properly chopped and diced
Pickled jalapenos three tablespoon
3 tablespoon mayonnaise
Half a cup of yogurt
One tablespoon of pickle juice
1 Tablespoon jalapeno juice
Garlic powder 1 tablespoon
Salt and pepper as per taste
Recipe/Preparation
I used to begin the process of preparing Jalapeno chicken salad chick by cooking the chicken. For that, you have to boil the breast pieces for around 25 minutes and place them aside to cool down. Afterward, shred the pieces of chicken with the help of a fork.
After shredding this chicken, put choked onion, pickled jalapenos, and any other vegetable of your choice including celery, etc.
Later on, add yogurt, mayonnaise, jalapeno juice, and pickle juice in the same bowl and mix it properly so that all the vegetables and chicken are fully marinated in the sauces you added.
After mixing it properly, add the sprinkles of salt, black pepper, and garlic powder over it. Mix all the vegetables, chicken, and dressing you made properly to get an enhanced flavor.
After having a taste of the salad, you can even adjust the level of salt and black pepper as per your requirement. If you like a more spicy flavor in your salad, you can add more jalapenos to it.
Serving Ideas of Chicken Jalapeno Salad
To serve jalapeno chicken salad, I experiment with versatile variations.
Sola bread is one of the most nutritional options available to serve with salad. Sola bread is a low-carb option available to diet-conscious people. So you can serve it, as the chicken salad filling between two pieces of this bread.
If you don't want the serving like this you can simply serve the chicken salad in a bowl and have that in with tomatoes and any other low-carb tortilla. I personally like this option so much.
Tomatoes are an additional option to the serving of the salad, a nice combination of jalapenos, and lettuce wrap can also be presented with it.
What are the Health Benefits of the Jalapeno Chicken Salad?
Jalapeno chicken salad ensures a plethora of health advantages for people who undertake it as an important part of their diet. It is a nutrient-dense salad recipe.
Chicken breast is a direct source of lean protein for individuals that not only supports their muscles but also improves the required procedure for the body.
Vegetables like red onion tomatoes etc are the direct source of vitamins and important minerals that boost the immune functioning of the human body.
Jalapenos are worthy to provide potential edge metabolic needs and also improve cardiovascular efficiency. The additional eligibility of salad also comprises some antioxidants that help to cope with oxidative stress conditions.
Personalizing Your Jalapeño Salad Adventure
The Jalapeno chicken salad chick calories have ample room for customization so that individuals can prepare and have this as per their own taste buds and dietary preferences.
In this scenario, I use to try the following aspects;
If a person loves the crunch, then he can also add roasted nuts like almonds, pumpkin seeds, etc to it which will not only make the texture more delightful but also improve the nutritional significance to another extent.
Additionally, you can also add some colorful bell peppers or another type of green vegetable to improve its visual representation.
The protein significance can also be further enhanced by the variation of choices you can add chickpeas, tofu, and grilled shrimp to it.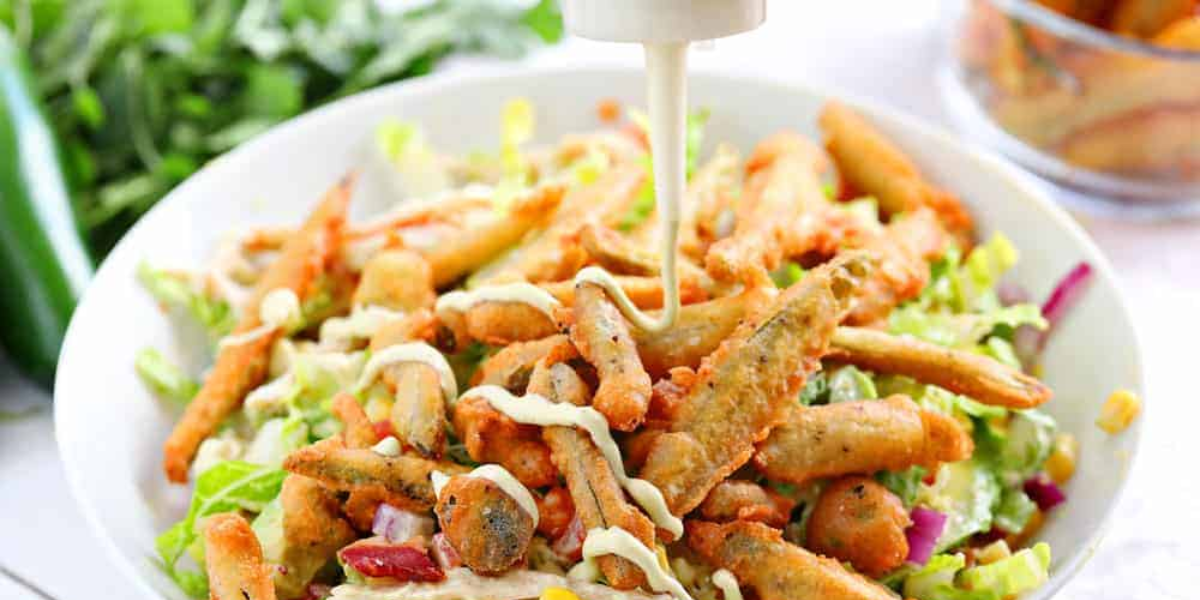 Jalapeno Chicken Salad
Ingredients
2-3

Chicken Breasts

cooked and shredded

1-2

Jalapeños

seeds removed and finely diced (adjust based on heat preference)

1/2

cup

Celery

finely chopped

1/4

cup

Red Onion

finely diced

1/2

cup

Greek Yogurt or Mayo

or a mix of both

1

tbsp

Fresh Lime Juice

1

tsp

Garlic Powder

Salt & Pepper to taste

Optional: Fresh Cilantro

chopped for added flavor
Instructions
In a large bowl, combine shredded chicken, jalapeños, celery, and red onion.

In a separate bowl, mix Greek yogurt/mayo, lime juice, garlic powder, salt, and pepper.

Fold the dressing into the chicken mixture until well combined.

Adjust seasoning and jalapeños to taste. If desired, mix in fresh cilantro.

Serve on a bed of greens, in a sandwich, or as a dip with tortilla chips.
Notes
Always wash your hands thoroughly after handling jalapeños, and avoid touching your eyes. Adjust the number of jalapeños based on your heat preference. For a milder flavor, remove seeds and membranes.
Conclusion
The Jalapeno chicken salad recipe is managed to meet the nutritional needs with different customization, creativity, and adaptations. In the recipe, you can satisfy your needs with healthy dietary requirements. We try our best to present something all in all information in terms of jalapeno chicken salad!