These Protein peanut butter overnight oats are a convenient and satisfying way to start your day with a tasty energy boost. Customize with your favorite toppings, and you're all set!
You can make it easily with the values-based ingredients mentioned in my below peanut butter protein overnight oats recipe, including rolled oats, peanut butter, maple syrup, protein powder, and milk.
So, here is how I make it easy to kick my routine work.
Easy Peanut Butter Protein Overnight Oats
I prepared a batch of Peanut Butter Overnight Oats to kickstart my busy work week with a healthy and hearty breakfast. The thought of indulging in the morning's creamy goodness of peanut butter and oats was motivation enough to get into the kitchen.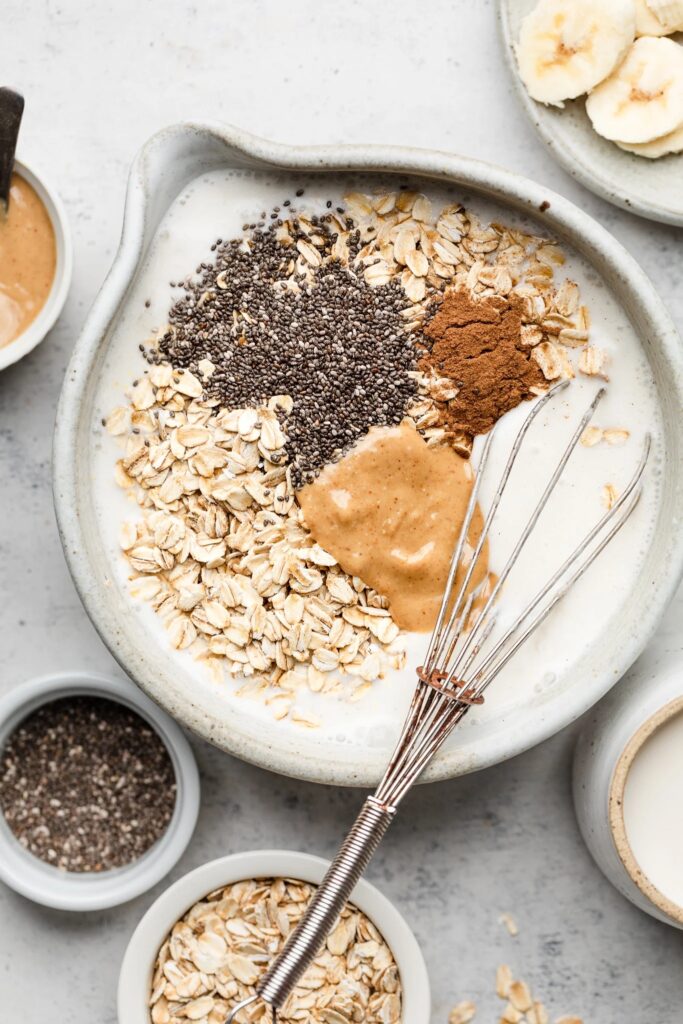 I gathered my ingredients to make (my favorite easy Peanut butter protein overnight oats): half a cup of rolled oats, a cup of almond milk (you can use any milk you prefer), two generous tablespoons of creamy peanut butter, and a drizzle of honey for that perfect touch of sweetness.
I combined the rolled oats and almond milk in a mason jar, giving it a gentle stir. Next came the star of the show – the peanut butter. I scooped out two heaping spoonfuls and added them to the oats mixture. It looked so tempting already.
A final drizzle of honey enhances the natural sweetness and a dash of salt to balance the flavors. With the lid securely on, I vigorously shook the jar, ensuring all the ingredients were well mixed.
With a satisfied smile, I placed the jar in the refrigerator, knowing that magic was happening inside while I slept. The oats absorb the flavors, and the mixture transforms into a creamy, dreamy breakfast.
As the morning sun streamed through my window, I eagerly grabbed the peanut butter protein overnight oats jar. The texture had transformed into a velvety, spoonable delight. I couldn't resist adding a few banana slices and a sprinkle of chopped nuts for extra crunch.
Sitting down to savor my creation, I marveled at how something so simple to prepare could taste so divine. Creamy peanut butter goodness combined with the wholesome heartiness of oats made each spoonful a joy. It was the perfect breakfast to energize me for the day ahead.
From that day forward, peanut butter overnight protein oats became my go-to breakfast, offering a taste of indulgence while providing the nutrition needed for a productive day. And so, the tale of my high protein peanut butter overnight oats became a delicious and nutritious part of my daily routine, keeping me fueled and ready to conquer the world, one spoonful at a time.
Peanut Butter Protein Overnight Oats Ingredients
Oats: You'll need rolled or old-fashioned oats, ensuring they're not the quick-cooking variety. If you prefer a gluten-free option, you can use certified gluten-free oats.
Peanut Butter: Opt for creamy peanut butter, although feel free to experiment with different nut butter varieties if you like.
Sweetener: Maple syrup is the preferred sweetener, but honey makes a great alternative.
Protein Powder: Choose either vanilla or plain protein powder based on your preference or dietary requirements. Be sure to check the recipe notes for any specific recommendations.
Milk: Any milk you choose works here, such as almond, oat, or your preferred type. It's all about personal taste and dietary needs.
Step By Step Instructions to Make Protein Peanut Butter Overnight Oats
1. Gather Your Ingredients: Ensure you have all the ingredients ready.
2. Combine Oats and Milk: In a mason jar or airtight container, add the 1/2 cup of rolled oats.
Pour in the 1 cup of milk. You can adjust the amount of milk to achieve your desired oatmeal consistency, whether you prefer it thicker or thinner.
3. Add Peanut Butter: Spoon 2 tablespoons of creamy peanut butter (or your chosen nut butter).
4. Sweeten It Up: Drizzle 2 tablespoons of maple syrup (or honey) into the mixture for sweetness.
5. Incorporate Protein Powder: Add a scoop of vanilla or plain protein powder to the mixture. Refer to any specific notes in the recipe for protein powder recommendations.
6. Mix Thoroughly: Securely seal the jar or container and give it a good shake or stir to ensure all the ingredients are well combined. Make sure there are no lumps of peanut butter.
7. Refrigerate Overnight: Place the jar/container in the refrigerator and let it sit overnight (or for at least 4-5 hours). This allows the oats to absorb the flavors and soften.
8. Serve and Enjoy: Give your protein peanut butter overnight oats a good stir the next morning. You can add extra milk if it has thickened too much.
Garnish with additional toppings like sliced bananas, chopped nuts, or a drizzle of maple syrup if desired.
Enjoy your delicious and nutritious breakfast straight from the jar, or transfer it to a bowl.
What is the Nutritional Value of Protein Peanut Butter Overnight Oats?
| | |
| --- | --- |
| 368 | Calories |
| 9g | Fat |
| 63g | Carbs |
| 13g | Protein |
Peanut Butter Protein Overnight Oats
Ingredients
1/2

cup

plant-based milk

soy, almond, etc.

1/2

cup

old-fashioned rolled oats

1

tbsp

pure maple syrup

1

tbsp

chia seeds

1

tbsp

powdered peanut butter

Pinch

of salt

1/2

medium banana

sliced, or 1/2 cup berries
Instructions
In a 2-cup mason jar, combine the plant-based milk, oats, maple syrup, chia seeds, powdered peanut butter, and a pinch of salt.

Stir the mixture well to ensure all ingredients are thoroughly combined.

Seal the jar and refrigerate it overnight.

In the morning, give it a good stir, and your Peanut Butter Overnight Oats are ready.

Top with banana slices or berries for added freshness and flavor.