The Beef and Mushroom Stew is a comforting and savory meal on cold days. The combination of beef and mushrooms in this stew makes it hearty and flavorful. The ingredients in the recipe bring out the best of the beef and mushrooms, creating an unforgettable meal that your family will love.
This savory stew combines tender chunks of beef with earthy mushrooms, aromatic herbs, and a rich, flavorful broth. You won't want to miss out on this delicious and satisfying meal, whether for your family, guests, or meal planning. So, get your ingredients and pot ready, and let's begin cooking!
What is This Recipe for?
This recipe is suitable for making a hearty, flavorful stew. It's an ideal option for nights when you are busy or those cold winter days when you desire something comforting and warm.
This dish can easily be adjusted for those on a special diet, such as gluten-free, dairy-free, and vegan diets – substitute the beef with your preferred protein source and omit any ingredients that don't fit the dietary requirements.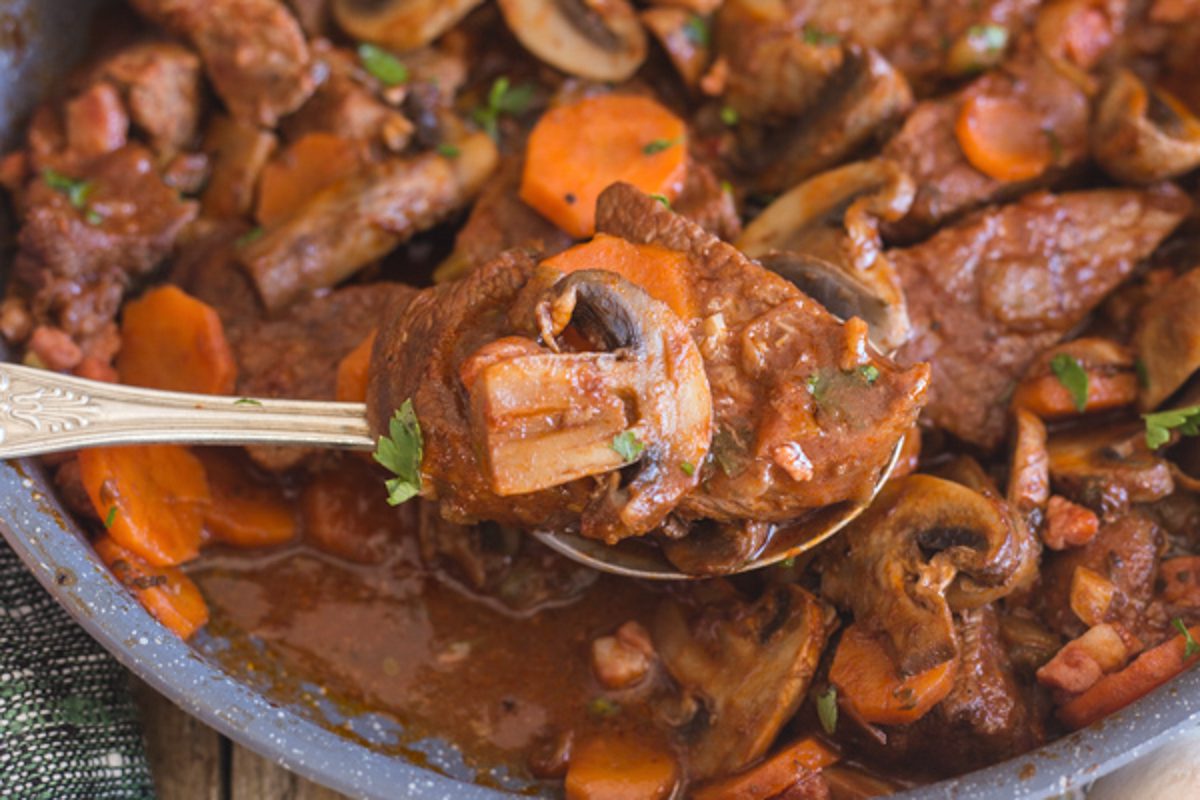 Beef And Mushroom Stew
Ingredients
Cut a pound of beef chuck roast into cubes
2 tablespoons of olive oil
8 oz baby bella mushrooms, sliced
2 tsp Worcestershire sauce
Instructions
Over medium heat, warm the olive oil in a pot or Dutch oven that is slightly larger.

Place the beef cubes in the pot and cook for approximately 5 minutes, stirring occasionally until lightly browned.

Once the first 5 minutes have passed, incorporate the mushrooms and onions into the pot and continue cooking for another 5 minutes while stirring frequently until the vegetables have become tender. Introduce the garlic to the mixture and stir for an additional minute.

Pour in beef broth, tomato paste, Worcestershire sauce, bay leaf, flour, and thyme, and season with salt & pepper to taste. Combine all the ingredients and bring them to a boil while stirring.

Once the mixture comes to a boil, reduce the heat to low, cover, and allow it to simmer for 45 minutes while occasionally stirring. The stew should be thick and the beef tender.

Try the stew and add more salt and pepper, as necessary, to adjust the seasoning to your liking. Serve warm with desired accompaniment, such as mashed potatoes or rice.
Benefits of Beef and Mushroom Stew
Beef and Mushroom Stew is a filling meal that can be easily made.
Combining ingredients creates a flavorful, comforting meal for the whole family.
This stew is also rich in protein and fibre, providing minerals and vitamins for good health.
FAQs
What cut of beef should I use for the stew? 
If you want the stew to turn out delicious and tender, opt for a tougher cut of beef such as chuck or round. These cuts are well-suited for slow cooking and will impart a lot of flavour to the dish.
Can I use various mushrooms in the stew? 
Yes, you can use any mushroom that you like. Common choices include buttons, cremini, and shiitake mushrooms.
Do I need to brown the beef before adding it to the stew? 
Browning the beef before adding it to the stew will add extra flavour and texture.
How long should I cook the stew? 
The stew should be simmered for at least 2-3 hours to ensure the beef is tender and the flavours melded together.
Is it possible to prepare the stew in advance?
Absolutely! You can make the stew and reheat it when you're ready to serve. Several people find that the flavors are enhanced even further the next day!
What kind of liquid should I use in the stew? 
Beef broth or red wine are both excellent choices for the liquid in the stew. The liquid will help to tenderise the beef and infuse the dish with flavour.
Which other vegetables can I include in the stew?
Carrots, potatoes, and onions are traditionally incorporated into beef stew. You could also add celery, parsnips, or turnips if you like.
How can I thicken the stew? 
One way to easily thicken the stew is to combine a tablespoon of cornstarch with a tablespoon of cold water and add it to the stew while stirring. Alternatively, create a roux using butter and flour and whisk it into the stew.
Can I make the stew in a slow cooker? 
You can make the stew in a slow cooker by following the instructions and cooking on low heat for 6-8 hours.
What should I serve with the beef and mushroom stew? 
Crusty bread or mashed potatoes are great options for soaking up the delicious sauce in the stew. A green salad or roasted vegetables would also make an excellent side dish.
Conclusion
Beef and Mushroom Stew is a savory, comforting dish that will please the whole family. Not only is it delicious and easy to make, but it's also full of protein, fibre, and other essential nutrients for good health. If you're looking for a simple yet flavorful meal, this beef and mushroom stew recipe should be at the top of your list! Happy cooking!