Creating a dish that marries the creaminess of Philadelphia Cream Cheese with Hamburger brings forth a meal that's comforting and satisfying.
This Hamburger Philadelphia cream cheese recipe with hamburger and potatoes will help you making a delightful dish perfect for any occasion, whether a weeknight dinner or a special gathering.
So, what time is required to make Philadelphia cream cheese recipes with hamburgers?
With a total recipe time of around 30 minutes, you'll need the following ingredients: ground beef, Philadelphia cream cheese, onion, garlic, diced tomatoes, pasta, and shredded cheese.
Each element is pivotal in creating a dish bursting with flavor and texture.
Why I Love Philadelphia Cream Cheese with Hamburger Recipe?
After trying to make a beef liver Keto recipe, I love to make this Philadelphia cream cheese with Hamburger that holds a special place in my culinary repertoire. the reason why I made Philadelphia cream cheese is that this recipe requires minimal effort but delivers maximum taste.
The creamy texture of the Philadelphia cream cheese perfectly complements the savory ground beef, making it a hit for adults and children.
It's versatile and can be adapted to suit any palate, making it a go-to for a no-fuss, delicious meal.
What Ingredients Need to Make Philadelphia Cream Cheese with Hamburger
Here are the ingredients to make easy Philadelphia cream cheese recipes with Hamburger.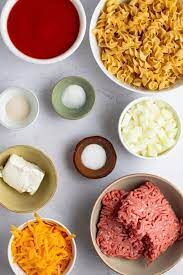 Ground Beef: 1 pound, for a meaty base
PHILADELPHIA Cream Cheese: 8 ounces, for creamy consistency
Onion: 1 medium, finely chopped
Garlic: 2 cloves, minced
Diced Tomatoes: 1 can (14.5 ounces), undrained for a juicy tomato flavor
Pasta: 2 cups of your choice, uncooked
Shredded Cheese: 1 cup, for that gooey cheese pull
Salt & Pepper: to taste
Olive Oil: 1 tablespoon, for sautéing
How to Make Easy Philadelphia Cream Cheese with Hamburger
Start by cooking the pasta as per the package instructions until al dente, then drain and set aside.
Heat olive oil in a pan over medium heat and sauté the chopped onions until translucent. Add the minced garlic and cook for another minute until fragrant.
Add the ground beef to the pan, season with salt and pepper, and cook until browned. Drain any excess fat.
Lower the heat and add the Philadelphia cream cheese to the pan, stirring until it melts and mixes with the beef.
Stir in the diced tomatoes and let the mixture simmer for about 5 minutes, allowing the flavors to blend.
Combine the cooked pasta with the beef and cream cheese mixture, mixing well.
Transfer to a serving dish and sprinkle with shredded cheese. Serve warm.
Easy Philadelphia Cream Cheese with Hamburger and Potatoes
This easy Philadelphia cream cheese with Hamburger recipe combines the creamy texture of Philadelphia Cream Cheese with potatoes and hamburger the filling nature of potatoes and the robust flavor of hamburger to create a dish that's sure to please the whole family.
Step 1
For a hearty meal that brings comfort to the table, gather your ingredients, and let's prepare a Philadelphia Cream Cheese, hamburger, and potato dish step by step.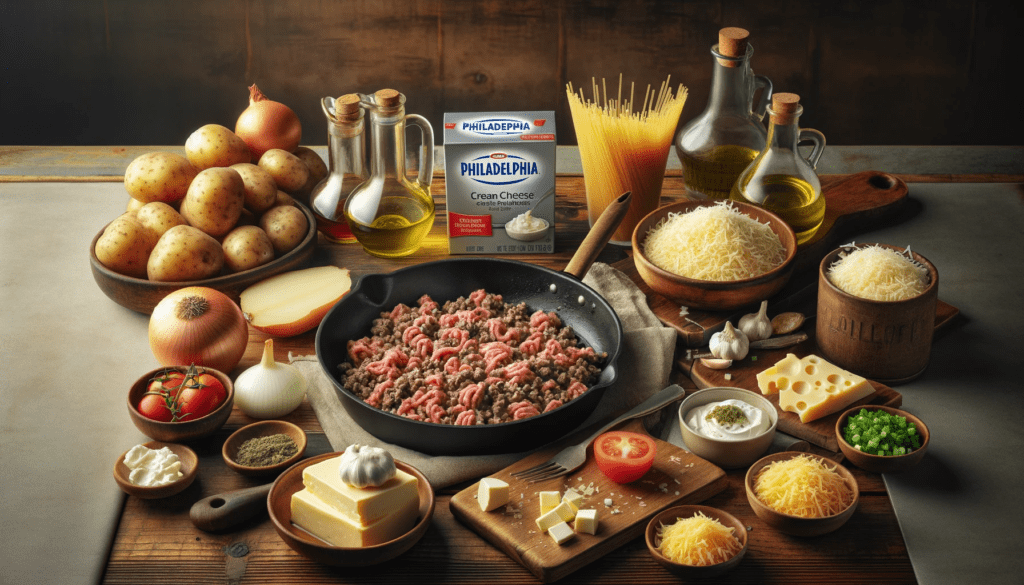 Begin by browning a pound of ground beef in a skillet until fully cooked, then drain off the excess fat and set the beef aside.
Step 2
Using the same skillet, sauté one chopped medium onion and two minced garlic cloves until they're aromatic and translucent.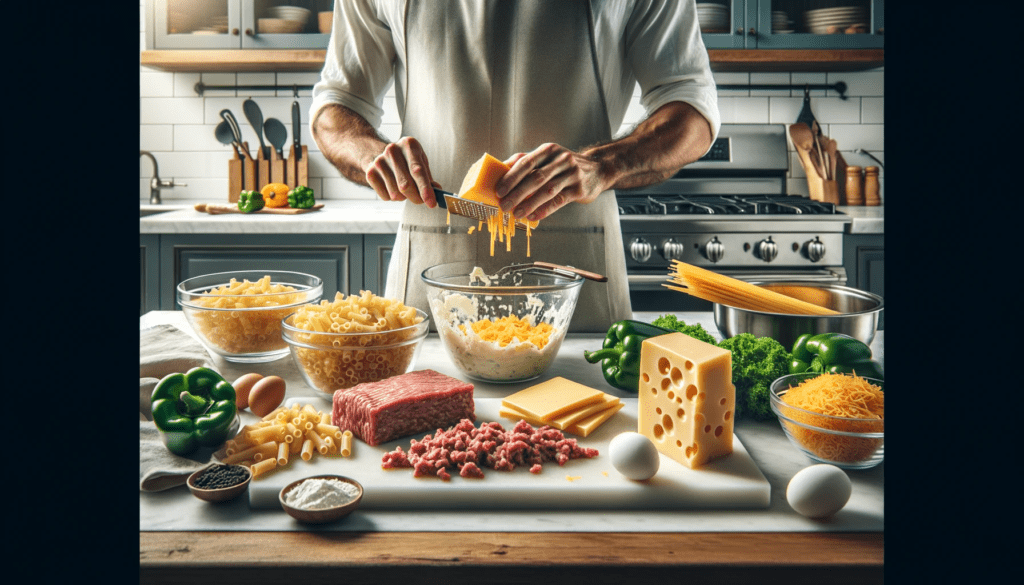 Step 3
Add two large, diced potatoes to the skillet and cook them until they're beautifully golden and fork-tender. Once the potatoes are ready, lower the heat and reintegrate the ground beef, blending it with the veggies.
Step 4
Now, the star ingredient: stir in eight ounces of softened Philadelphia Cream Cheese until it envelops the beef and potato mixture in a velvety, rich sauce.
Step 5
Allow the skillet to simmer gently so that the flavors meld together perfectly.
Step 6
Finally, season with salt and pepper to taste, and serve warm, perhaps with a sprinkle of green onions or a handful of shredded cheese on top for an extra touch of indulgence.
Each bite is a testament to the simplicity and warmth of home cooking.
Is it Better to Freeze Hamburger Raw or Cooked?
It's generally better to freeze hamburgers raw because raw meat maintains its quality longer than cooked meat. Freezing slows down enzyme activity that can cause the meat to spoil; however, moisture loss during cooking can affect the texture and flavor of meat when it's thawed and then refrozen.
When you freeze raw hamburger, you're preserving its freshness and moisture content, which means it's likely to taste better when it's eventually cooked. Moreover, freezing raw provides more flexibility since you can choose to cook the hamburger in various ways once it's thawed.
The USDA states that meat and poultry defrosted in the refrigerator can be refrozen before or after cooking. However, if the meat was thawed using other methods, such as in a microwave or under cold water, it should be cooked before refreezing to ensure safety and prevent foodborne illness.
Cooking to the right temperature will kill any bacteria that may have started to develop during the thawing process.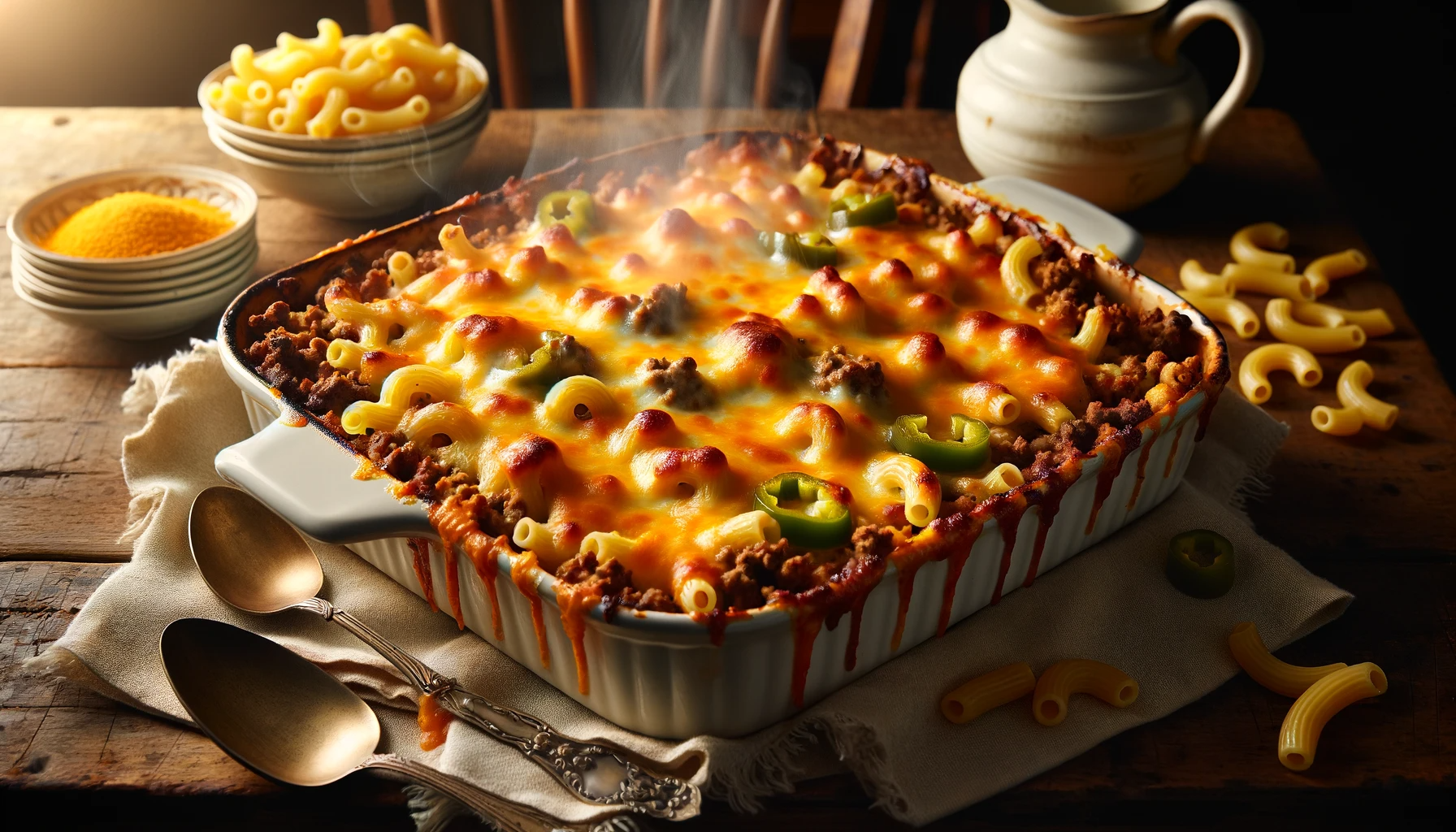 Philadelphia Cream Cheese with Hamburger
This dish melds the savory flavor of hamburger with the creamy, tangy taste of Philadelphia Cream Cheese, creating a rich and satisfying meal that's ready in no time.
Ingredients
1

pound

ground beef

8

ounces

Philadelphia Cream Cheese

softened

1

medium onion

chopped

2

cloves

garlic

minced

1

can diced tomatoes

drained (14.5 ounces)

1

tablespoon

Worcestershire sauce

Salt and pepper to taste

Cooked pasta or rice

for serving
Instructions
Brown the ground beef in a skillet over medium heat; drain excess grease.

Add the chopped onion and garlic, cooking until soft.

Lower the heat and blend in the cream cheese until melted and smooth.

Stir in the tomatoes and Worcestershire sauce. Season with salt and pepper.

Simmer for 5 minutes, then spoon over pasta or rice.