A flavorful Beef and Mushroom Stir Fry can be made with simple and readily available ingredients. Luscious rib eye beef, earthy mushrooms, and stir-fried vegetables are perfectly cooked in a homemade sauce.
This Beef Mushroom Stir Fry recipe is loaded with delightful beef and mushrooms and is done in 16 minutes. You would love this stir fry because it will soften in your mouth like butter.
You don't need to order takeout anymore if you can have this delicious beef mushroom stir fry in your kitchen. 
The handmade stir-fry sauce contains essential ingredients, including dark soy sauce and oyster sauce. Some may find these items unfamiliar, but people usually keep them on hand, and you will also, after eating this tasty stir fry!
Beef Mushroom Stir Fry
In this Beef Mushroom Stir-Fry recipe, tender slices of beef are marinated in a savory blend of soy sauce, rice wine, and spices, creating a delicious foundation for this hearty dish.
The stir-fry unfolds with a symphony of flavors and textures as mushrooms, bell peppers, onions, broccoli, and snow peas join the party. A flavorful sauce, marrying oyster sauce, soy sauce, and a hint of sweetness, ties everything together.
Whether you're following a keto lifestyle or simply craving a satisfying meal, this recipe offers a delightful combination of protein and veggies, making it a go-to for a quick and wholesome dinner. Top it with sesame seeds and green onions for an extra dash of flavor and visual appeal.
Now, ready to savor every bite of this beef and mushroom stir-fry that's both easy to prepare and bursting with deliciousness.
Beef and Mushroom Stir-Fry Rice Plate
The best thing about this tasty beef mushroom fry is that it is inexpensive to prepare in the kitchen and highly versatile!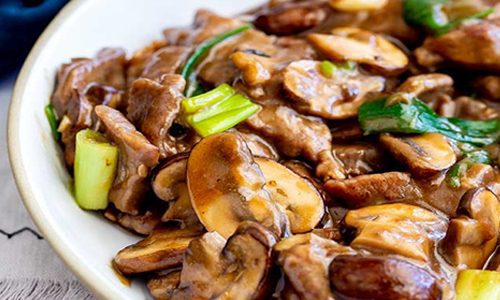 It's an excellent way to utilize leftover vegetables and experiment with new flavors. This dish may be tailored to your preferences, whether the protein, vegetables, or sauce – you may make it your own.
Recipe Time: 16 minutes
INGREDIENTS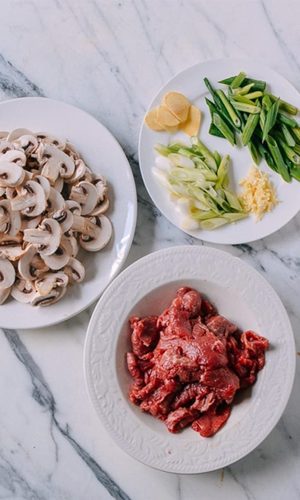 Beef: Use a big steak that is thinly sliced.
Soy sauce: To manage overall sodium in the recipe, use low-salt soy sauce.
Baking Soda – This is a crucial sauce, and it's used to tenderize the beef, which will virtually dissolve in your mouth. This method works with beef and chicken.
Cornstarch – A small amount to coat the steak and thicken a sauce.
STIR FRY SAUCE
Oyster Sauce – Add the oyster sauce for a salty and sweet taste at the same time.
Soy Sauce – Use reduced sodium and dark soy sauce in this recipe. Add black soy sauce to the stir fry to darken it, primarily for color. If you can't get dark soy sauce, add additional soy sauce.
Sugar – A pinch of caster sugar to sweeten the sauce and aid in caramelizing.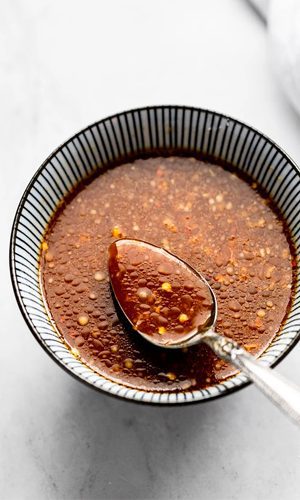 Rice Vinegar – A splash of rice vinegar to enhance the flavors.
Sesame Oil – Use sesame oil in almost every stir fry, giving you a nutty flavor.
STIR FRY
Substitute sunflower, safflower, or avocado oil for the olive oil.
Garlic- should be fresh and minced.
Onion – Slice the onion rather than chop it.
Ginger -Use fresh ginger. You can feel the spice in this recipe, so if you don't like ginger, feel free to lower the amount.
Mushrooms – Use your favorite variety, quartered. Commonly white mushrooms are used, but Chinese or other common mushrooms would also work well.
Green Onions -You can add fresh green onions to flavor or garnish your delicious beef mushroom stir fry. 
Beef Mushroom Stir Fry Recipe
Follow the given instructions to make beef mushroom stir fry in your kitchen:
1. Prepare the Beef
Combine the beef, baking powder, cornstarch, and 2 tbsp soy sauce in a mixing dish. Set aside after tossing everything together.
2. Stir Fry Ingredients
Combine all the mixed fry sauce ingredients in a bowl and leave aside.
3. Cook
You have to take a large frying pan and add the olive oil.
Heat the olive oil at a high flame and spread the beef well over it.
Stir the mixture for at least 2 minutes.
Toss it around a little before adding the garlic, onion, and ginger and cooking for 1 minute. To give the mushrooms a slightly brown color, you can fry them for 2 minutes.
Toss everything with the sauce until fully incorporated.
4. Garnish & Serve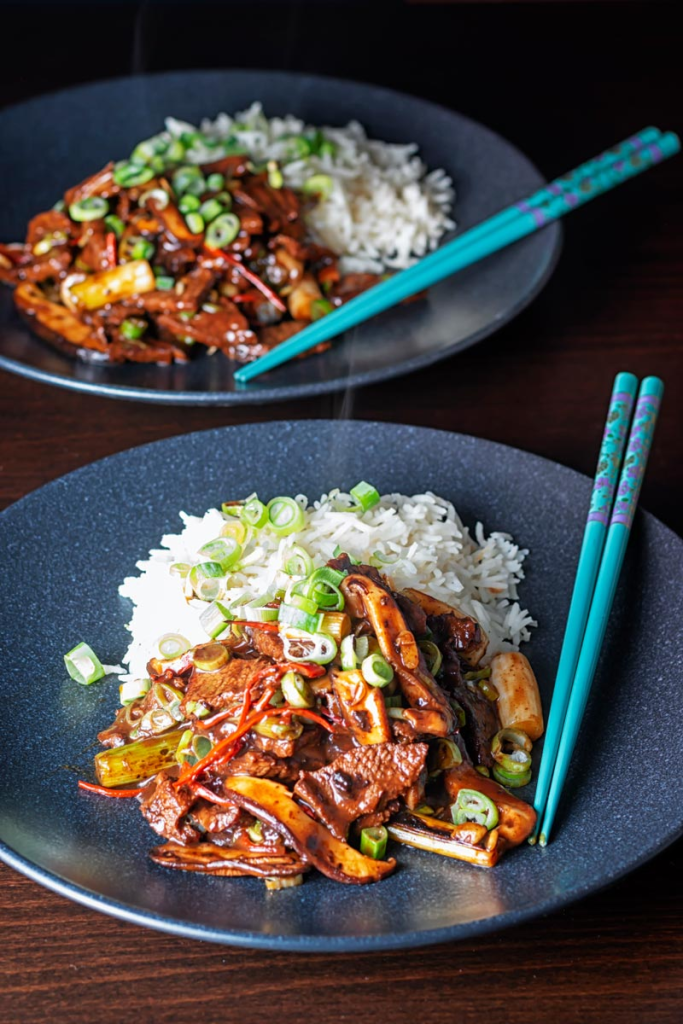 Sprinkle with green onions before serving.
Want to Boost Your Stir Fry? Try Adding These Options!
Include the following options in your stir fry to boost its taste
What to Serve with Beef Mushroom Stir Fry?
This beef mushroom stir fry is almost always served over rice (white rice or jasmine rice are excellent alternatives), but you can enjoy it over noodles!
Storing The Leftovers
If you keep them in an airtight packet and place them in the fridge, they will not spoil for 3 to 4 days, and you can use them easily just by reheating them in the oven at a moderate flame.
Freezing
If you wish to retain leftovers longer, place them in an airtight jar and the freezer. You may preserve the leftover stir fry in the freezer for 3-4 months.
Better Beef Cut For Stir Fry
The most famous piece of meat used in many restaurants' stir-fry meals is flank steak (a Cut of beef from a cow's belly). It is one of the widely used beef cuts in stir-fry recipes. It is tasty, reasonably affordable, and easily accessible.
Nutrition Value
Calories and Carbohydrates: 258 kcal and 14g
Vitamin A and Vitamin C: 90IU and 6mg
Protein and Fat: 15g and 16g
Iron: 2.5mg
Sodium: 1340 mg
FAQs
What ingredients do I need for a beef mushroom stir fry? 
The beef mushroom stirs fry ingredients typically include beef, mushrooms, soy sauce, garlic, ginger, cornstarch, vegetable oil, and any other vegetables you'd like to add.
What cut of beef should I use for a stir fry? 
It's recommended to use a tender cut of beef, such as flank steak, sirloin steak, or tenderloin.
How should I prepare the beef for the stir fry? 
Cut the beef into thin strips against the grain and marinate it in a mixture of soy sauce, garlic, ginger, and cornstarch for at least 15 minutes.
What types of mushrooms work best in a stir fry?
Any mushroom can work well in a stir fry, but commonly used mushrooms include shiitake, cremini, and button mushrooms.
How should I prepare the mushrooms for the stir fry? 
Clean the mushrooms and slice them into bite-sized pieces.
Can I add other vegetables to the stir fry? 
Yes! Other vegetables such as bell peppers, broccoli, onions, and carrots can all be great additions to a beef mushroom stir fry.
How should I cook the stir fry? 
Heat a wok or large skillet over high heat and add vegetable oil. Add the marinated beef and cook until browned. Remove the beef from the pan and add the mushrooms and other vegetables. Add the beef to the pan until tender, and pour in the stir-fried sauce. Cook until the sauce thickens and coats the ingredients.
Can I make this dish ahead of time? 
Yes, you can marinate the beef and prepare the vegetables beforehand, but it's best to cook the dish before serving for the best texture and flavor.
Can I make this dish vegetarian? 
You can substitute the beef with tofu or vegetables such as sliced seitan or tempeh.