Homestyle Ground Beef Casserole is a hearty, comforting dish perfect for any family dinner. It's a delicious meal that combines the savory flavors of ground beef, the creaminess of cheese, and the satisfying texture of pasta, all baked to perfection.
In my kitchen, this dish is a harmonious symphony of flavors where the richness of well-browned ground beef meets the tangy zest of ripe tomatoes and the subtle warmth of Italian herbs.
So, what ingredients are needed to make a homestyle ground beef casserole? Each ingredient is chosen carefully to make a ground beef casserole: the beef, lean yet flavorful; the pasta, perfectly al dente; the dairy, rich and creamy.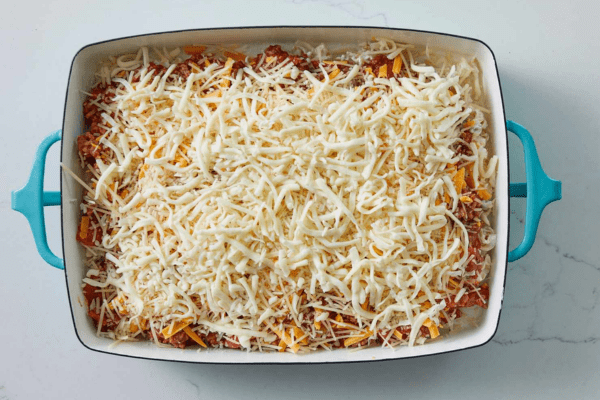 As a chef, I take pride in layering these elements to craft a casserole that not only feeds the body but also nourishes the soul. It's a versatile dish, ideal for a bustling family dinner, a cozy night in, or even the show-stopping main for a casual dinner party.
Follow along as I guide you through preparing this comforting classic, ensuring each mouthful delivers a taste of homestyle goodness.
Homestyle Ground Beef Casserole Ingredients
Homestyle Ground Beef Casserole Ingredients include a pound of savory ground beef, browned with a finely diced medium onion and a couple of cloves of minced garlic to establish a flavorful base.
Additionally, preparing the homemade ground beef casserole calls for an assortment of ingredients that come together to create a scrumptious meal.
Ground Beef – The casserole begins with a pound of robust ground beef, forming the hearty base.
Onions and Garlic – A finely chopped medium onion and a couple of cloves of minced garlic are sautéed with the beef to infuse rich layers of flavor.
Tomatoes – A can of diced tomatoes and a spoonful of concentrated tomato paste are stirred into the meat mixture, providing a deep, tomatoey essence.
Beef Broth and Italian Seasoning – A splash of beef broth enhances the depth, while Italian seasoning adds complexity.
Salt and Pepper – Essential seasonings, adjustable to taste.
Pasta – Elbow macaroni is the chosen pasta, lending a satisfying chew and structure.
Cream Cheese and Sour Cream – Blended into the pasta for a creamy, luxurious texture.
Cheddar Cheese – Generous cup of shredded cheddar crowns the casserole, creating a gooey, melted topping.
How To Make Homestyle Ground Beef Casserole
To bring this dish to life, preheat your oven to that sweet spot of 350°F. Meanwhile, give your macaroni an al dente cook, and while it's draining, brown your beef, onion, and garlic to perfection.
Once the beef is beautifully browned, incorporate the tomatoes, paste, broth, and seasonings, letting everything simmer harmoniously.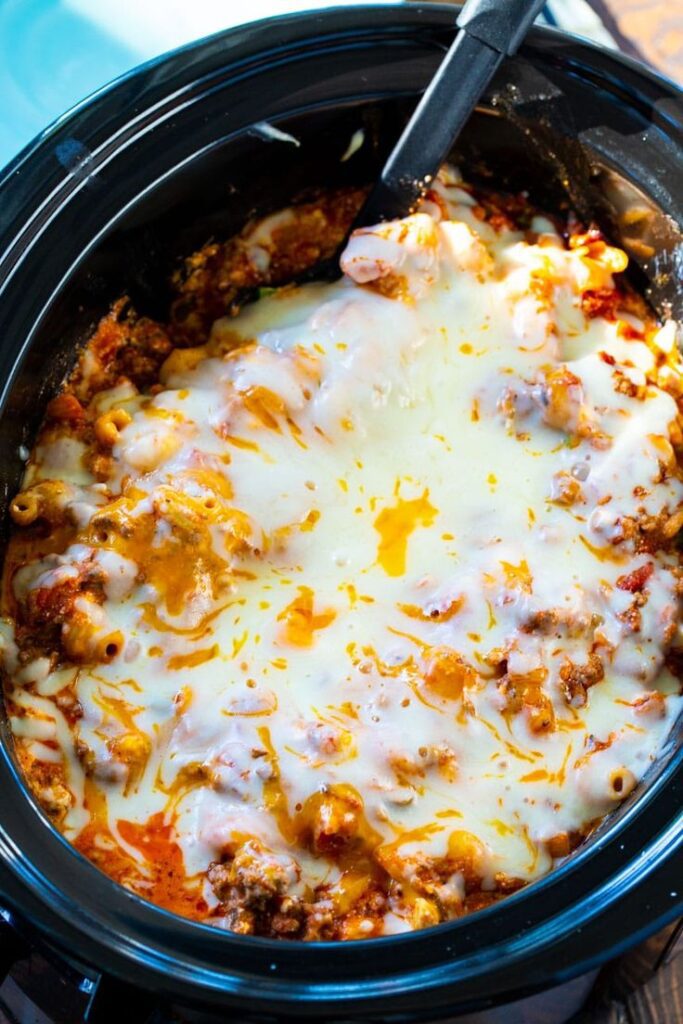 Moreover, to make a Ground beef casserole at home, combine the tangy cream cheese and sour cream with the macaroni in a dance of creaminess, then layer it with the meaty sauce and cheddar in a baking dish.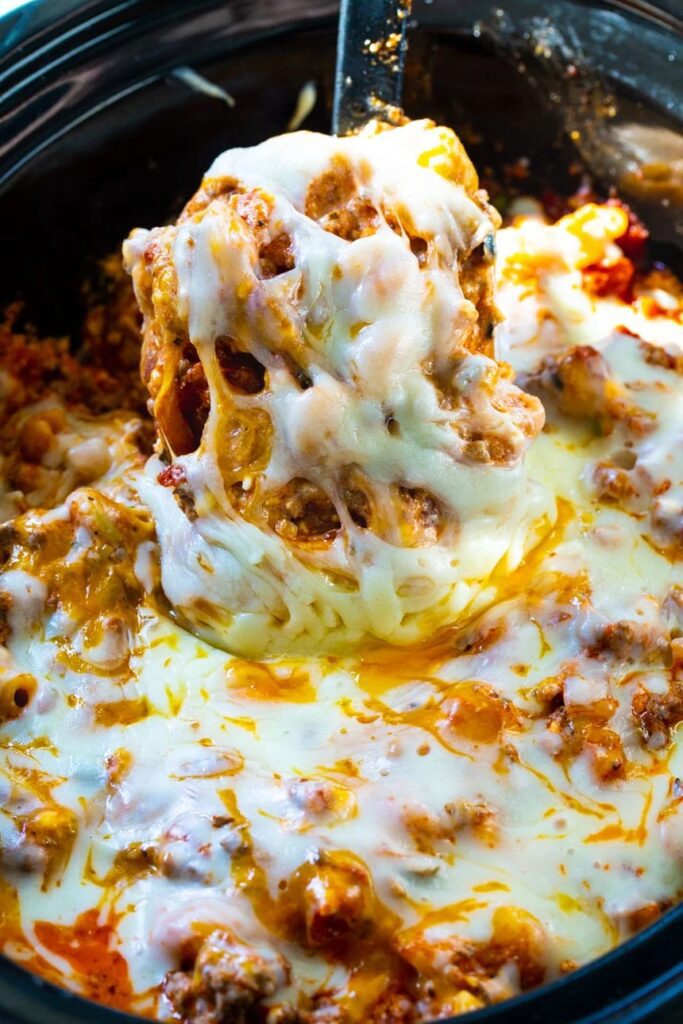 The oven does the rest, coaxing all the components into a bubbly, golden-brown casserole ready to enamor your senses.
How To Brown Ground Beef
Browning ground beef is a fundamental kitchen technique, pivotal for various recipes from casseroles to tacos. The beef ground brown is a simple process, yet requires attention to detail to ensure perfect results every time.
Start by placing your ground beef in a nonstick skillet, ideally a cast-iron pan, over medium heat. This choice of cookware ensures even heat distribution and a good sear on the meat. Allow the beef to sit undisturbed for about 5 minutes.
This initial cooking stage is crucial as it lets the bottom layer of the meat start to brown and develop rich flavors.
After this period, gently stir the ground beef with a spoon. This movement helps cook the meat evenly and prevents burning. Continue cooking until you observe a noticeable change in the meat's color – it should no longer be pink, indicating it's thoroughly cooked.
An essential point to note is the temperature. According to the USDA, ground beef must reach an internal temperature of 160°F to ensure food safety. This temperature eliminates harmful bacteria, making the beef safe to consume.
If you find yourself not using the cooked ground beef immediately for your casserole or other dishes, it's imperative to refrigerate it promptly. Quick refrigeration prevents bacterial growth and preserves the quality of the meat. This step is not just about maintaining the flavor but also about ensuring the health and safety of those who will enjoy your culinary creations.
What To Serve with Homestyle Ground Beef Casserole
Pairing this casserole with accompaniments is like choosing the perfect casserole recipe with ground beef for a night out – it's all about balance.
A side of crisp greens or steamed green beans can cut through the richness, while a slice of garlic bread is perfect for sopping up all that saucy goodness. If you're looking for a lighter touch, a fresh salad with a zesty vinaigrette is an excellent choice.
How To Store Homestyle Ground Beef Casserole
As with any masterpiece, Homestyle Beef Casserole is about preserving the dish's integrity.
Once the casserole has cooled, transfer it to an airtight container or cover it securely with foil, and let it take a little chill in the refrigerator, where it'll keep for 3-4 days.
Can I Freeze This Casserole for Later?
Freezing is like pausing on this symphony of flavors, allowing you to relive the experience later. Wrapped well, it will rest comfortably in your freezer. When ready to rekindle the casserole's charm, let it thaw in the refrigerator before gently warming it in the oven.
There you have it, an easy ground beef casserole recipe with few ingredients that's not just food but a warm, nostalgic hug on a plate. Bon appétit!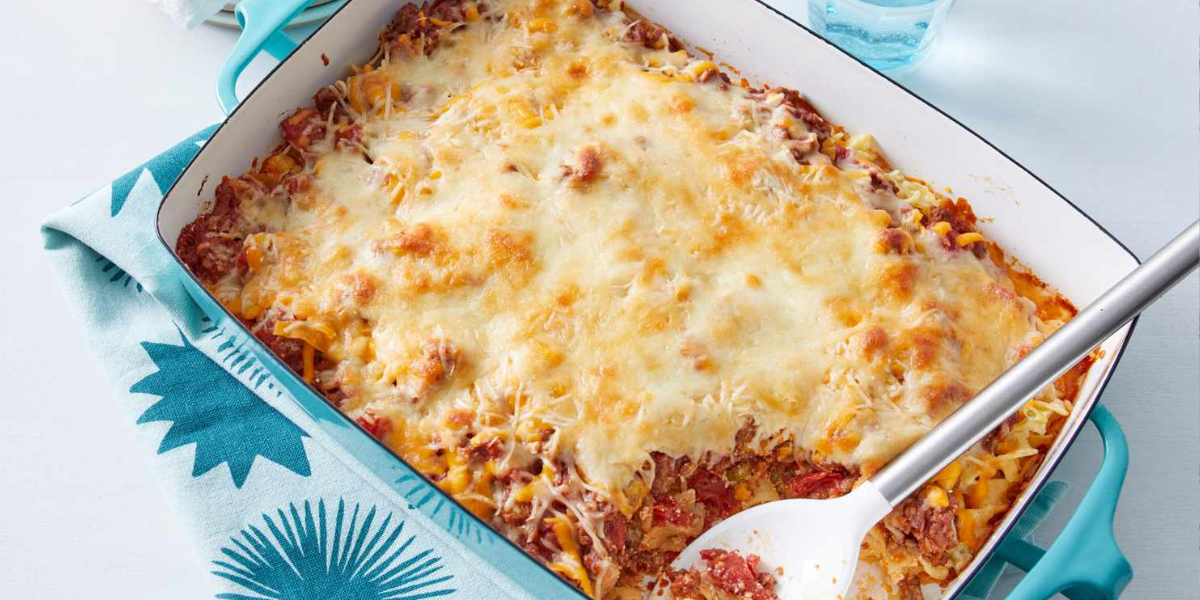 Homestyle Ground Beef Casserole
This homestyle ground beef casserole is a comfort food delight, perfect for a weeknight dinner or to impress guests. The creamy pasta layered with savory beef and melted cheese will surely be a crowd-pleaser.
Ingredients
1

pound

ground beef

1

medium onion

diced

2

cloves

garlic

minced

1

can

14.5 ounces diced tomatoes, undrained

2

tablespoons

tomato paste

1

cup

beef broth

1

teaspoon

Italian seasoning

Salt and pepper

to taste

2

cups

elbow macaroni

uncooked

4

ounces

cream cheese

softened

1

cup

sour cream

1

cup

cheddar cheese

shredded

Fresh parsley

chopped (for garnish)
Instructions
Preheat your oven to 350°F (175°C).

In a large pot, cook the elbow macaroni according to the package instructions until al dente, drain, and set aside.

While the pasta cooks, heat a large skillet over medium heat. Add the ground beef and diced onion, cooking until the meat is no longer pink and the onions are translucent. Add the minced garlic and cook for an additional minute.

Stir in the diced tomatoes with their juice, tomato paste, beef broth, and Italian seasoning into the skillet with the ground beef. Season with salt and pepper. Bring the mixture to a simmer and let it cook for 5-10 minutes until slightly thickened.

In a separate bowl, combine the softened cream cheese and sour cream. Mix well until smooth.

Take the cooked macaroni and fold it into the cream cheese and sour cream mixture until the pasta is well coated.

In a greased 9×13 inch baking dish, layer half of the creamy macaroni, half of the ground beef mixture, and half of the shredded cheddar cheese. Repeat the layers with the remaining macaroni, beef mixture, and cheese.

Place the casserole in the oven and bake for 20-25 minutes, until the cheese is melted and bubbly.

Remove from the oven, let it cool for a few minutes, and garnish with fresh chopped parsley before serving.