Red lobster biscuits chicken casserole is one of the most delicious homemade delight options. It is mainly known and prevalent for its flaky texture with excellent cheesy toppings.
I love cheese, so I tried this delectable biscuit casserole to fulfill my cheese chicken casserole craving.
The most noticeable is that you can have the restaurant style in the convenience of your own home with proper hygienic and nutritional food. I share my personalized recipe experience of this red lobster biscuit chicken casserole with you.
Here, I have mentioned the preparatory method that I use.
Let's find out the steps in the section below to create this mouth-watering easy red lobster biscuit chicken casserole recipe.
Savor the Flavor: Red Lobster Biscuit Chicken Casserole Recipe for a Delicious Homemade Feast
Ingredients (For Cheddar Bay Biscuits)
3/4th cup of whole milk
2 & a half cup of baking mix
Dry parsley flakes
Garlic powder 1/4 tablespoon
1/4 cup unsalted butter
1 cup of cheddar cheese breaded
Ingredients (For Chicken Casserole)
3 cup shredded chicken
frozen peas, carrots and celery (1 cup each)
Unsalted butter 1/2 cup
All-purpose flour 1/3 cup
Salt half tablespoon
Black pepper, onion powder, garlic powder, dry thyme (1/4 teaspoon Each)
Chicken broth 2 cup
Full milk 1 cup
Parmesan Cheese half cup
1 cup of shredded cheddar cheese
Preparation Method
The lengthy recipe will be accessible once all the steps are clear. It is divided into two different parts.
For the first part, you have to prepare Cheddar Bay Biscuits; later, you will prepare the chicken casserole. And this casserole will be served with the cheddar bay biscuit on the completion of the recipe.
To begin the recipe process, your oven must be preheated at 220° Celsius for baking the cheddar bay biscuits. You have to mix cold butter, shredded cheese, and baking mix in a separate bowl in your ingredient portion.
After that, put milk in it; mix it well after all things are added. You are not required to overmix, and it ruins the recipe. Afterward, put the prepared dough on a baking sheet and try to create up to 10 biscuits with this material.
After completing the biscuits, take another bowl and add parsley flakes with garlic powder in it. Sprinkle this prepared mixture over the biscuits and put it inside the oven for around 12 to 15 minutes. Before taking them out of the oven, ensure the biscuits are baked with a golden brown top color.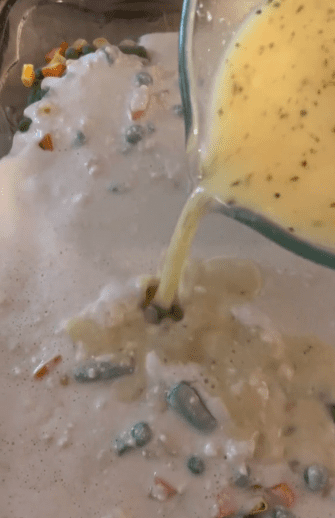 On the other side, for the chicken green bean casserole, again, you need to preheat your oven to 175°C. Alternatively, take a saucepan and add butter over medium heat flame. Add carrot, peas, and another vegetable to soften properly when the butter is melted correctly.
Later, add black paper, onion powder, garlic powder, and thyme and let it cook for 1 to 2 minutes.
Then, add milk and chicken broth and leave it to cook until the mixer gets appropriately thickened. After noticing the thickness of the mixture, remove the heat under the saucepan and add shredded chicken, cheddar, and parmesan cheese to it.
Wait for it to melt, transfer the chicken mixture to a baking dish, spread it evenly on the baking dish, and garnish or place the cheddar bay biscuits on top of the mix.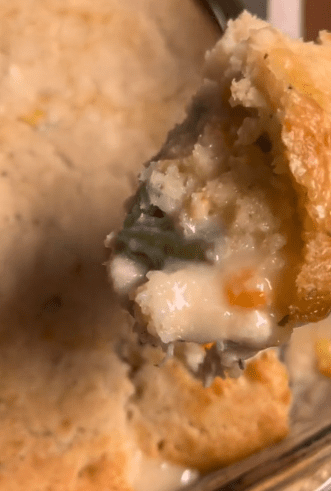 Put this baking dish of the mixture in the oven for around 25 to 30 minutes. After that, you will start noticing bubbles in the casserole, and your biscuits will get darker golden brown in the shade.
Dish Presentation
As the biscuit casserole is rich and creamy in texture, the chicken casserole is recommended to be served hot. Take it out from the oven and serve it to the guests so they can have a delightful combination of the ingredients in a very mesmerizing way.
Pro Tips for Perfecting Your Red Lobster Biscuit Chicken Casserole
Some of the crucial techniques to make sure it is even more tasteful are as follows;
You can customize your recipe by adding your favorite vegetables, spices, and ingredients that suit your taste.
To enjoy a flavor, you are required to season your chicken correctly.
If you want to save time, you can also use store board biscuits rather than preparing them on your own as an alternative.
Red Lobster Biscuit Chicken Casserole
This easy red lobster biscuit chicken casserole recipe combines the delicious flavors cheddar Bay biscuits with the comfort of a chicken casserole.
Ingredients
For the Casserole
3-4

boneless

skinless chicken breasts, cooked and shredded

1

can

10.5 oz condensed cream of chicken soup

1

cup

sour cream

1/2

cup

milk

1

tsp

garlic powder

1

tsp

onion powder

Salt and pepper

to taste

2

cups

shredded cheddar cheese
For the Biscuit Topping
2

cups

biscuit mix

like Bisquick

2/3

cup

milk

1/2

cup

shredded cheddar cheese

1/2

tsp

garlic powder

1/4

cup

melted butter

1/4

tsp

dried parsley
Instructions
Mix shredded chicken, soup, sour cream, milk, spices, and cheese.

Spread mixture in greased 9×13 inch dish.

For biscuits: Combine mix, milk, cheese, and garlic. Drop over chicken.

Bake at 375°F for 25-30 minutes until golden.

Brush biscuits with melted butter mixed with parsley.
FAQs
Can vegetables be customized in a chicken casserole?
Certainly, you can customize your casseroles with your favorite vegetables and the one that suits your preference more.
Can we prepare the red lobster biscuit chicken casserole in advance?
Yes, you can prepare it in advance and refrigerate it later on, whereas, for the time of serving, you can process it in the oven. However, prepare it right before serving for the best texture and flavor.
What is the substitute for cheddar bay biscuits?
You can find various store bread biscuits that you can use instead of cheddar bay biscuits instead of preparing them from scratch. It will give enough unique flavor to your casserole.