Want to try a budget-friendly, restaurant-style, full-of-nutrition chicken salad at the convenience of your home?
Here I am presenting Buffalo barclay chicken salad to meet your balanced diet. It comprises fresh ingredients that not only promote your health but also enable you to enjoy salad even after days.
But what are you required to prepare this salad and what are the recipe guidelines? To state all these minor queries regarding salad, I am going to provide a comprehensive overview for you in the section below so that you can seek healthy improvised food options.
Find out the facts about Buffalo Barclay salad chick through my recipe below.
How to Prepare Buffalo Barclay Chicken Salad?
The buffalo chicken salad idea was first prepared by Jessica Merchant who belongs to the San Francisco Bay Area. The chicken salad chick buffalo barclay recipe is included in one of the quickest recipes in the slow cooker collections to meet the need of the "Make it Fast, Cook it slow" rule.
The ingredients I use for chicken salad chick buffalo barclay chicken salad include;
Shredded Chicken around two cups
Mayonnaise
Hot sauce
One by the fourth cup of ranch dressing
Finely chopped celery
Buffalo Sauce
Red onion
Salt and pepper as per your taste
Lettuce leaves
For garnishing tomato slices
Buffalo Barclay Chicken Salad Preparatory Method
The process and method of preparation for copycat buffalo barclay chicken salad is simple; it is not a hard pony to cope with. I begin the preparatory method by;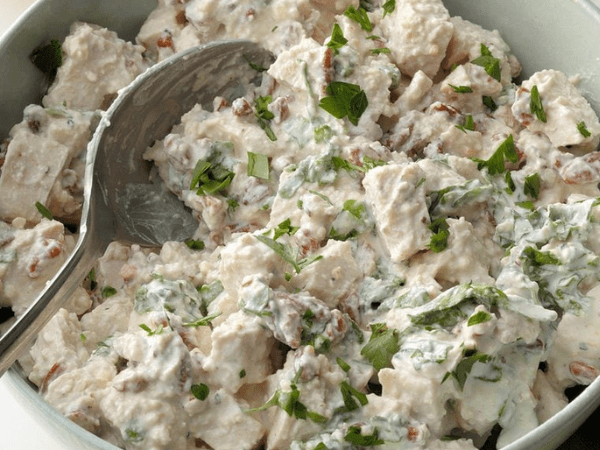 Take a mixing ball and put your selected vegetables like celery and red onion in it. Also, you must add the fully cooked shredded chicken along with the vegetables.
On the other hand, you have to prepare the sauce, (same as you have to prepare the sauce for jalapeno chicken holly salad chick) take another bowl, add mayonnaise, hot sauce ranch dressing, and buffalo sauce to it, and mix it properly until all the sauce aligns properly. For the hot sauce experts recommend using it as per your spice level or taste.
Afterward, add or season the dressing with some salt and black paper. The ranch dressing and other sauces you are using also contain all adding salt to it so be aware of adding the quantity of salts.
When both the chicken bowl and sauce ball are ready, put the sauce on the chicken and mix it in a way that the chicken is fully enriched with the sauce you prepared.
For the best taste and flavorful enhancement in a salad, refrigerate the prepared chicken salad chick buffalo Barclay for around 30 minutes in your freezer.
To serve it as per your liking you can use tomato slices for garnishing if you want. Other than this, a bed of lettuce leaves is also a good option for serving.
Harvesting Healthy Elements and Nutritions
The serving of this salad is highly appropriate for all diet-conscious people because it is a protein-rich solution with less carbohydrate proportion. In terms of exact standardized authentication the following significance of nutrition is recorded in salad
Buffalo barclay chicken salad calories are 300 cal.
14 proportion for the salad is around 25 grams.
18 to 22 grams of fat ratio.
It is not a good fiber resource as comprises less than 1% of it.
2 to 5 grams of carbohydrates are available per serving of salad.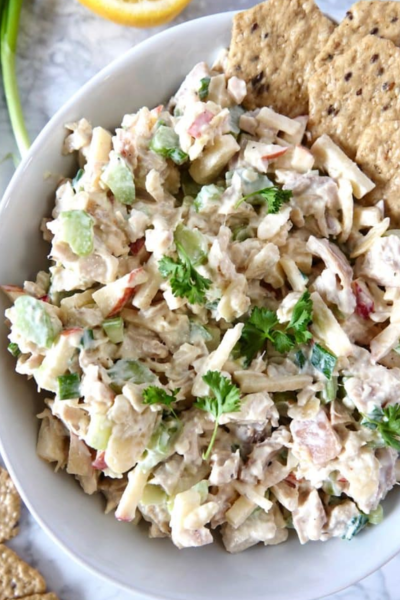 Not the exact values found in terms of nutrition, it can vary to a great extent when you alter the amount and number of ingredients. Buffalo barclay chicken salad nutrition for the people varied accordingly
Creative Twists on the Barclay Buffalo Chicken Salad
I experience versatile variations to enjoy different tastes of these salads. These variations include; the Dijon mustard sauce, chickpeas, and most importantly veganaise in place of mayonnaise. Veganaise is a combination of canola oil with lemon juice water and apple cider that has become a natural source of vitamins A and E.
It surely provides a delicious and improvised taste that cannot be for granted in any way additionally it will not cause too much expense on your budget. you can add veggies of your liking and preference.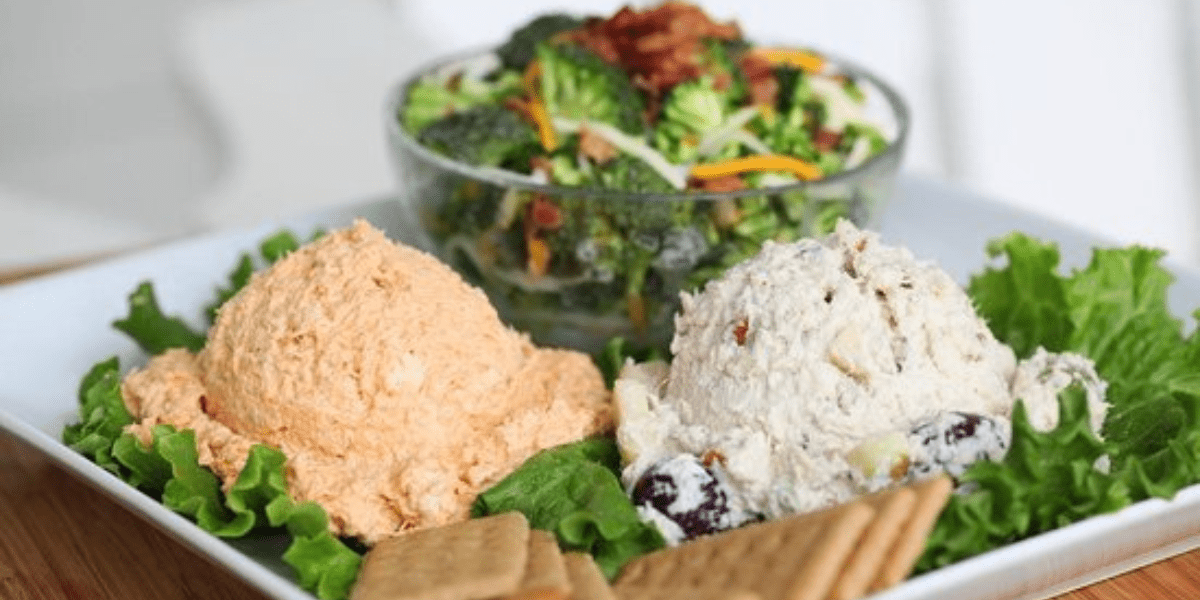 Buffalo Barclay Chicken Salad
I whipped up a delicious Buffalo Barclay Chicken Salad with a zesty twist. Using tender chicken, spicy buffalo sauce, crisp lettuce, and a creamy ranch dressing, I created a delightful salad that's both satisfying and full of flavor.
Ingredients
2-3

Chicken Breasts

Salt & Pepper to taste

1/2

cup

Buffalo Wing Sauce

like Frank's RedHot

1

tbsp

Olive Oil

6

cups

Mixed Salad Greens

like romaine, iceberg, arugula

1/2

cup

Cherry Tomatoes

halved

1/2

cup

Blue Cheese Crumbles

1/4

cup

Red Onion

thinly sliced

1/4

cup

Celery

thinly sliced

1/4

cup

Carrots

julienned or grated

Ranch or Blue Cheese dressing for serving
Instructions
Season and pan-fry chicken in olive oil until cooked. Slice or shred and toss in Buffalo sauce.

Combine greens, tomatoes, onion, celery, and carrots in a bowl.

Top salad with Buffalo chicken and blue cheese.

Serve with preferred dressing.
My Ending Lines
Adding the buffalo Barclay chicken salad recipe to your daily meal schedule will be a fantastic option to enjoy spice and salad at the same time. The preparation method is very straight and you will surely get tons of protein in this delightful recipe.