Thinking of going to keto diet recipes to lose weight is overwhelming sometimes.
But dont worry; I am here to guide you in this regard; you can easily mix up your weekends with tasty dishes like bacon Wrapped cauliflower, bacon Ranch chicken, hearty keto chilies, and many more. Tuscan chicken of any type is nutritious and good for the body as they are made with healthy ingredients. They contain low fats and carbs to keep you from many severe diseases.
So without waiting, let's dive into the Creamy Tuscan Garlic Chicken.
Creamy Tuscan Garlic Chicken
One of my favorite skillet meals in the head of the best keto diet recipe is creamy Tuscan Garlic Chicken. In which tender and soft chicken breasts smothered in a rich and creamy falvored garlic sauce, seared for perfection, are irresistible. 
You cannot miss the delicious and unique recipe in your lunch or dinner plans.
What is Tuscan Style Chicken
Simple chicken breasts or thighs seasoned with simple Italian herbs and spices are known as Tuscan-style chicken and are best for those on the keto diet.
The seasoned chicken is mixed and made with creamy garlic sauce, similar to alfredo sauce with parmesan cheese. But I added Gouda cheese to this recipe to have more flavor and aroma.
Italian Herbs and Other Ingredients
In the Tuscan garlic chicken following herbs and spices are used:
Dried basil
Crushed rosemary
Dried thyme
Sage
Fennel seeds
Chicken fillets
Garlic cloves
2 tablespoons of olive oil
2 cups of boneless chicken
½ cup chicken broth
2 tablespoons of butter
1 cup of whipping cream
1 cup grape tomatoes
1 cup of baby spinach
¼ cup chopped onions
⅓ cup Gouda cheese
The blended spices in the Tuscan chicken recipe are perfect for any lunch or dinner recipe and are the quickest way to infuse flavor and taste quickly. If you dont have Italian spices and herbs for this recipe, you can use homemade spices, which you can remove or add whatever you want. You can addonion powder or garlic powder too.
How to Make Tuscan Chicken in an Iron Skillet
I love to make keto diet recipes in my iron skillet because it is the best utensil in my kitchen, as it creates a massive difference in taste and flavor. The cast iron pans are suitable to hold heat compared to other skillets.
This means that whatever you make in the recipe, whether vegetables or meat, will be cooked more evenly and tasty.
Step 1
Season and coat the chicken pieces with Italian herbs and spices with salt and pepper. Pour olive oil into a cast iron skillet over medium-low heat and cook it until it becomes light brown.
Set the chicken on a platter without overcooking and burning it. Add garlic, butter, onions, and diced tomatoes to the skillet and stir occasionally to mix them on medium-low heat. 
Strep 2
Remove chicken from the skillet, but do not clean it thoroughly. Because it will ultimately help to develop the flavors in chicken, the more you give time to your chicken pieces to sit in a skillet, the they will be tastier and aroma-filled.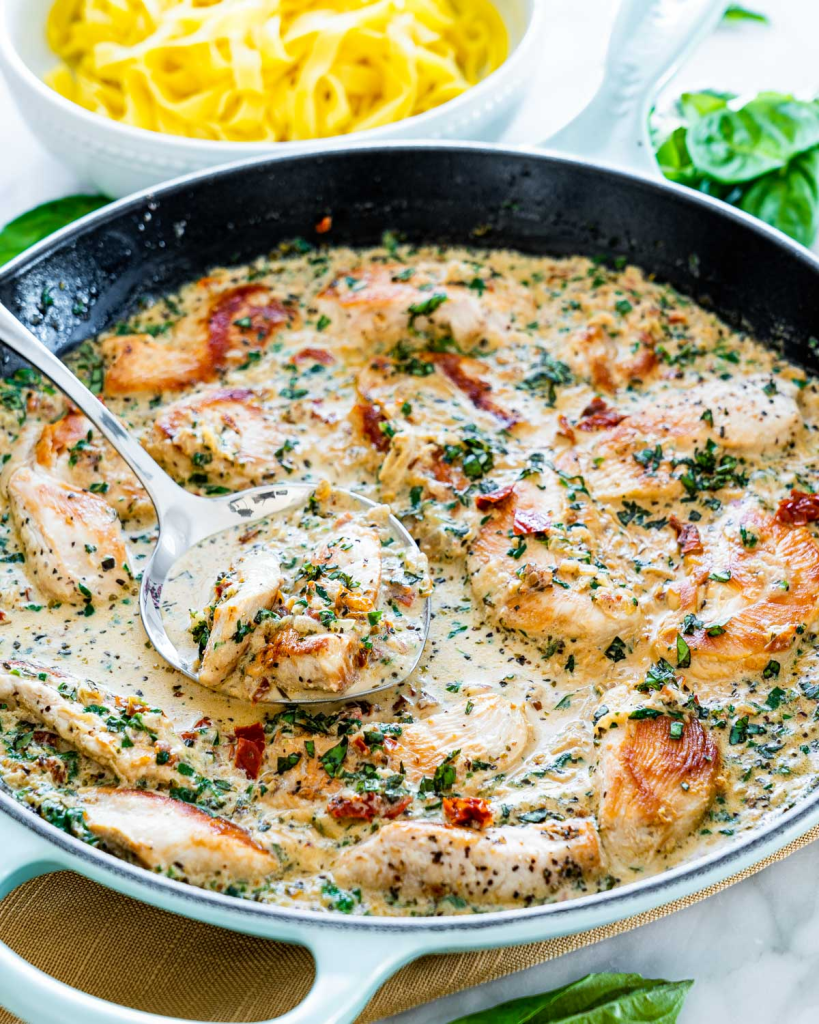 Step 3
Add spinach heavy cream parmesan cheese and let it simmer until it wilts.
Add chicken with garlic sauce and serve it while hot. 
What Can You Serve With Tuscan Chicken as a Side Dish
Since this keto chicken recipe, you can serve it alone, but you can also make it with pasta as a side dish. I recommend using lighter words because the cream and cheese sauce will be healthy and heavy.
Zucchini noodles will be a perfect option with this chicken. Also, roasted cauliflower will be the tasty one to make your recipe more innovative and unique with a blend of vegetables. In addition, southern green beans and rice with any other mixed vegetables will be more keto-friendly and can be paired with a creamy dish.
More Keto Diet Recipes for Chicken
Low-carb chicken Philly
Monterey chicken
Cheesesteak with chicken
Keto chicken with broccoli bake
Lemon garlic butter chicken
Nutrition Value
Calories: 524 cal
Carbohydrates: 4 grams
Protein: 44 grams
Fiber: 1 gram
Vitamin C: 1 gram
FAQs
What is the most effective keto diet?
Following a ketogenic diet plan is the most effective way to dive into ketosis. It involves limiting the carb intake to 20 to 50 grams per day and using fats like meat, fish, eggs, nuts, and healthy oils. It will also moderate your protein consumption and fat levels. 
What is an example of an excellent keto diet meal?
Chicken, steak, eggs, and fish are all tasty options. Serving them with fresh green vegetables paired with noodles or pasta salad smothered in a creamy sauce will be simply irresistible.