For those who are protein lovers, the creamy Tuscan garlic chicken is ideal for eating at lunch or dinner, as it is a comforting recipe that is also perfect for a weekend meal.
White meat like garlic chicken and fish is a favorite of kids and adults; even old people like the dishes made from them very much.
So if you are curious about the unique creamy Tuscan garlic chicken, the wait is over.
Lets check the easy creamy chicken garlic keto recipe.
Easy Creamy Chicken Garlic Keto
The creamy chicken dish is easy to make as it has simple steps to prepare with no extra time. So, if you want to learn the easiest dish for your family and friends, you can prepare it later and bake it if needed.
The creamy sauce fills this recipe, so I advise you to serve it with low-carb vegetables, rice, a steamed dish, or salad.
The creamy sauce with tasty flavor soaks well into the palming rice and cauliflower to make it soft and juicy.
How to Make Creamy Tuscan Garlic Chicken White Sauce at Home
Creamy chicken with white sauce is the ultimate weekend dinner or lunch dish and can be served over pasta, rice, or as a side dish with veggies when you search for a low-carb recipe.
The creamy sauce is everything you need in the cream white sauce and more. Being a chef, I have been practicing it to be perfect for the past several months.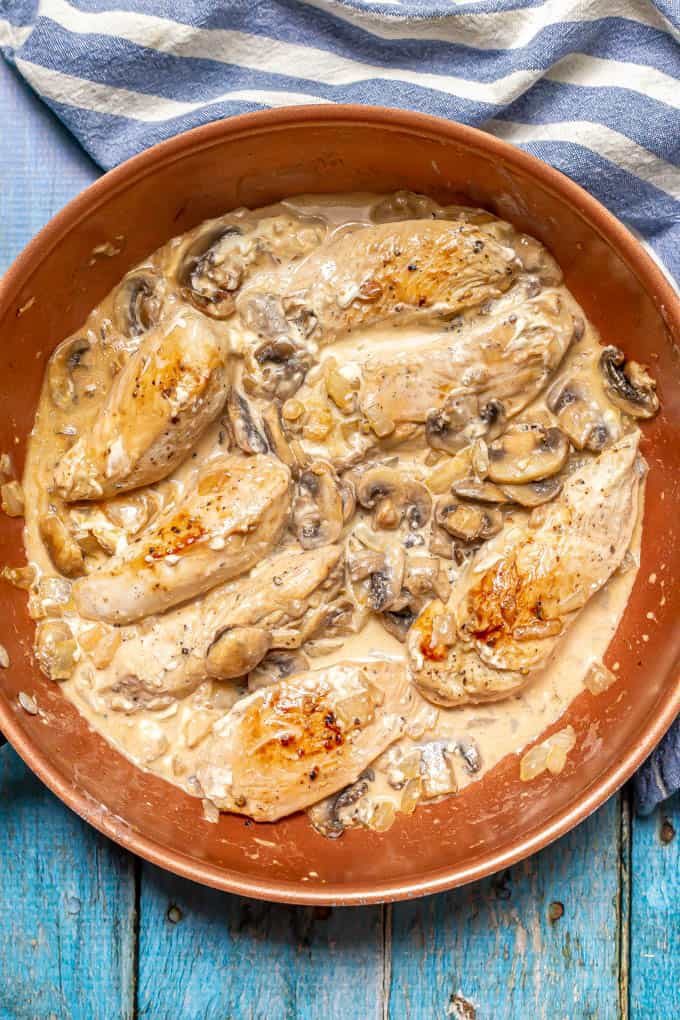 It is loaded with many flavors of fresh herbs, garlic, and cheese with cream. Today's sauce comes with chicken breast, the dish's star.
Nutritious value of creamy tuscan garlic chicken
Calories: 464
Total fat: 30 gm
Saturated fat: 17 gms
Cholesterol: 176 gms
Sodium: 409 grams
Carbohydrates: 3.2 grams
Net carbs: 2.9 grams
Fiber: 0.3 grams
Sugar: 2 grams
Protein: 43 grams
Easy Creamy Tuscan Garlic Chicken
Ingredients
1

cup

of heavy cream

1

tablespoon

garlic paste

½

cup

shredded parmesan cheese

Roughly diced 4 chicken breasts skinless

Sal and black pepper

1

cup

chopped fresh baby spinach

Finally minced onions
Instructions
Making white sauce is easy, combining shredded parmesan, heavy cream, garlic paste, and paprika in a large mixing bowl.

Now add rough cut and diced chicken boneless pieces and mix them well.

You can also use chicken whole if you like, but the chunks of chicken pieces are easy to eat and become more versatile.

If you use whole breast for this recipe, do not forget to take care of time for well cooking.

Add the chicken to the baking dish and stir well. The dish should be 9 to 13 inches wide, so there should be enough space to add baby-chopped spinach.

Season all the material with salt and black pepper to make it flavored

Bake the batter in preheated oven for at least ½ hour and mix in the spinach.

Until it is cooked well, return to the oven for 10 to 15 minutes and the sauce has reduced and becomes thick, textured, and smooth.

After roasting the chicken with creamy sauce, the chicken becomes super juicy, and spinach is a good addition for delicious taste and texture.

You can skip onions in this creamy dish but why not? They add a nice caramelized flavor and texture to the creamy sauce.
Why do kids love this creamy chicken keto
The chicken is smothered in a creamy sauce, and kids love it because of a lot of sauce. Also, when baked, the chicken becomes so tender, soft, and juicy that it melts in its mouth.
As with this creamy texture, you will enjoy much pleasure and texture. You can easily make it with chicken thighs and breasts, which are great and delicious.
Why do I love creamy chicken?
All the time, I have been in love with making this tasty dish because:
Keto friendly
Garlic cheesy chicken is perfect for either kids or adults as it is just white meat with cheese and cream. So it is the best dish for low-carb and high-protein lovers.
Restaurant quality
The dish is super easy to prepare with very easy ingredients, with flavorful texture, and straight like a restaurant-style
FAQs
Can you eat full chicken on keto?
Yes, chicken fits perfectly on the keto diet and is very easy to make with simple ingredients in a versatile way. A whole chicken can be roasted in an oven, cooked, or grilled slowly. It can be eaten for lunch or dinner as it is, or you can use it in shredded form. The shredded form is best for sauces and soups as it is easy to drink and digest.
Which part of chicken is keto?
The good news for protein lovers is that white and red meat is fine if following a keto diet. However, the best part of the keto diet is chicken breast, as it is the leanest cut.
Is chicken breast best for keto?
The chicken breast contains zero net carbs, so they do not mess up your keto diet. A chicken breast comes with 54 grams of protein, with a few grams of fat between 90 to 110 calories.
Simply put, chicken breast is low cal, lean, high protein, and low carb.
Conclusion
So, the creamy tuscan garlic chicken is a wonderful recipe full of nutrition and flavor. This is one of the popular dishes for lunch and dinner for your family and friends. Easy keto creamy garlic chicken is fantastic for meal prepping and easy to bake a party dish with high protein, low fat, and carbs.