What time does Burger King begin offering its lunch menu?
At Burger King, the lunch menu kicks off at 10:30 a.m., coinciding with the end of their breakfast service.
Right at this time, you'll witness the complete transition from breakfast to lunch offerings on their menu. If, by chance, the restaurant has any remaining breakfast items prepared, they may continue to sell those until supplies run out. This 10:30 a.m. mark is the signal for burger lovers to start indulging in their savory lunchtime delights.
For the Burger King Lunch menus, we have finalised the list.
Indeed, Burger King provides a diverse range of options throughout the day, ensuring you can enjoy a delightful lunch whenever you please. Their lunch menu features a delectable selection of flame-grilled burgers, sandwiches, tempting sides, indulgent shakes, a variety of beverages, and even options for kids.
When it comes to the cost, you can typically expect to spend between $5 and $10 for a satisfying lunch at Burger King.
What Time Does Burger King Serve Breakfast?
Burger King's breakfast service is available from the moment they open their doors until the clock strikes 10:30 a.m.
Generally, Burger King restaurants start their day at 6:00 a.m., but these opening times can vary depending on the specific location. It's worth noting that some Burger King outlets may extend their weekend breakfast hours, offering breakfast until 11:00 a.m. before transitioning to their lunch menu.
While there have been rumors of a few Burger King restaurants offering select breakfast items throughout the day, this isn't the norm.
For the majority of Burger King locations, breakfast service concludes at 10:30 a.m., making way for their delicious lunch offerings.
What Time Does Burger King Open And Close?
Burger King restaurant opening and closing times can indeed vary depending on the location, time of year, and even the specific circumstances of that particular outlet.
In larger cities and areas with active nightlife scenes, you may find Burger King locations that stay open later than others to cater to late-night diners. Additionally, Burger King outlets located within gas stations and rest areas often operate 24/7 to provide travelers with food options at any hour.
However, many Burger King restaurants maintain regular operating hours. They typically open their doors at 6:00 a.m., signaling the start of their breakfast service, and then conclude their daily operations at 11:00 p.m.
It's important to note that on holidays, individual Burger King locations may adjust their hours. Some might close early, open later, or remain closed for the day, while others could extend their hours to accommodate holiday traffic. These variations can occur because Burger King restaurants are often franchise-operated, allowing the owners some flexibility in determining their hours of operation.
Therefore, it's advisable to check the hours of your local Burger King restaurant, especially during holidays and special occasions, to ensure they are open when you plan to visit.
Does Burger King Serve Breakfast Later On The Weekends?

Indeed, on weekends, many Burger King restaurants adjust their breakfast service hours slightly.
Instead of concluding breakfast at the usual 10:30 a.m. to make way for lunch service, these particular Burger King locations extend their breakfast hours until 11:00 a.m. before transitioning to the lunch menu.
During this extended breakfast period on weekends, you can expect the full breakfast menu to be available. Lunch menu items are typically not prepared during this time.
However, it's worth noting that some Burger King menus may start preparing lunch items in advance, and they may have a limited selection of lunch items available or be willing to freshly prepare them upon request.
The availability of lunch items during breakfast hours can vary based on the restaurant's manager and policies, so it may not be an option at all Burger King locations.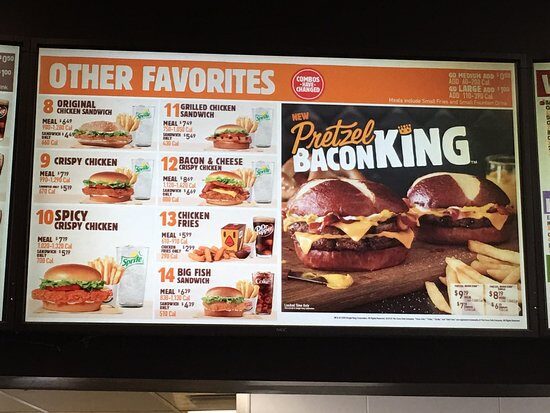 To be sure about the specific breakfast hours and menu availability on weekends at your local Burger King, it's advisable to check with the restaurant directly or consult their website for accurate information.
Can You Order Any Burger King Lunch Items During Breakfast Hours?
At certain Burger King restaurants, it is possible to order specific lunch items during breakfast hours. Iconic favorites like fries, Whoppers, chicken sandwiches, and onion rings can be requested, but there's a catch – these lunch items will take longer to prepare.
Unlike some breakfast items that may already be prepared and ready to serve, lunch items ordered during breakfast hours will be freshly made. Consequently, you should anticipate a slightly extended wait time for your order.
However, it's essential to note that not all Burger King locations offer this option, so it's a good idea to inquire with your local restaurant ahead of time to understand their policy regarding the availability of lunch items during breakfast hours.
Policies may vary from one location to another, so checking in advance can help you plan your meal accordingly.