Burger King apple cider vinaigrette is a creamy and flavorful dressing that pairs perfectly with salads, sandwiches, and chicken tenders.
However, unlike other Apple Cider dressing, It has a hint of cinnamon, nutmeg, and a subtle apple flavor. It is not too thick or thin and has a nice balance of sweetness and tartness.
Therefore, it is perfect for salads, sandwiches, and dips.
So, are you ready to make this BK apple cider in only 5 minutes?
Let me guide you through the simple steps of Burger King menus to make this Apple cider vinaigrette in your own home.
Why Do I Love to Make This Recipe?
I love making Burger King apple cider Vinaigrette at home because it is so easy to make and tastes like the Burger King dressing. It is also a great way to use up leftover yogurt or mayonnaise.
Here are some specific benefits of making Burger King Apple Cider Vinaigrette at home:
Saves money: Homemade dressing is much cheaper than store-bought dressing. You can save up to $5 per bottle by making your own.
Healthier: Homemade dressing is made with fresh ingredients and contains no artificial additives or preservatives.
Control the flavor: You can adjust the flavor of your dressing to your liking. Add more or less apple cider vinegar, mayonnaise, or spices for the perfect taste.
Versatile: This dressing can be used on salads, sandwiches, and as a dip.
Easy to make: This BK dressing is easy to make and requires only a few ingredients.
Ingredients Required to Make Burger King Apple Cider Vinaigrette
The key to achieving that authentic Burger King flavor lies in balancing the sweetness of apple cider with the tanginess of vinegar and the richness of mayonnaise.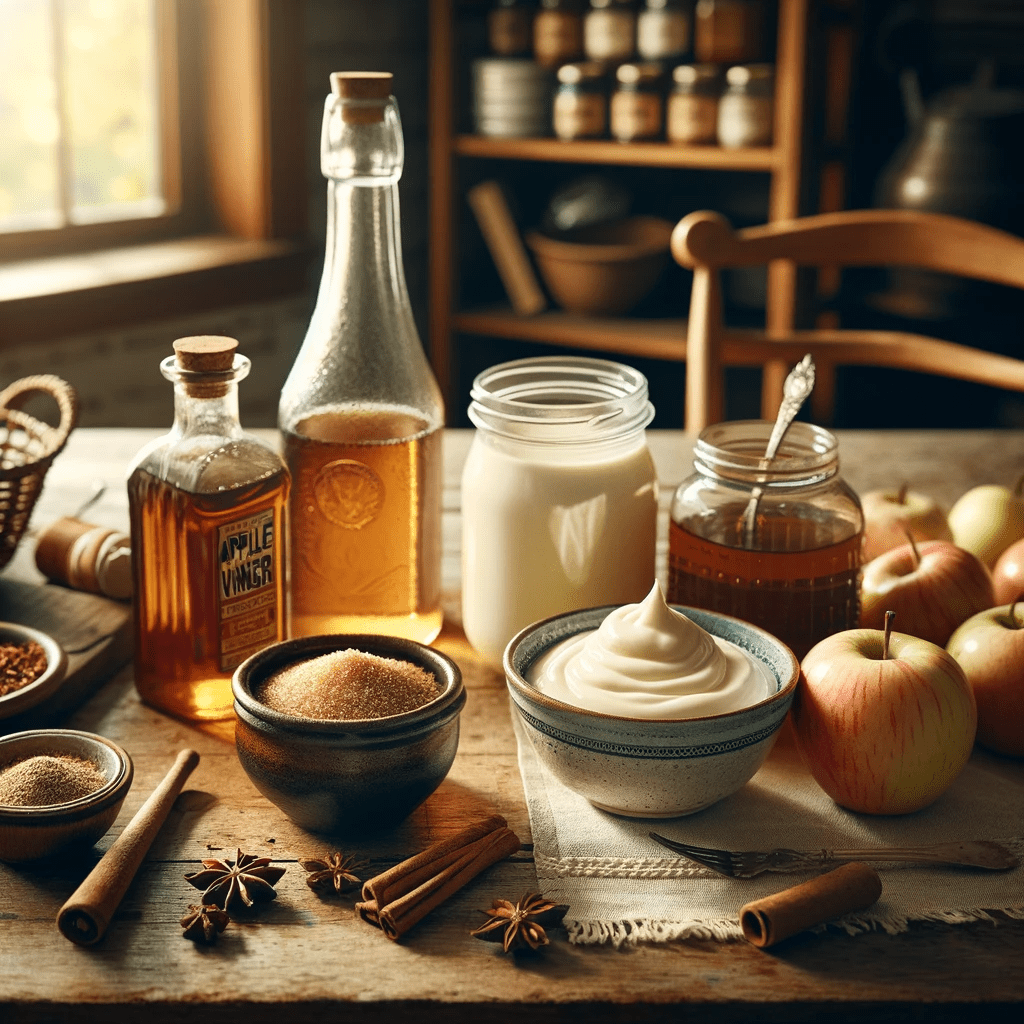 Here are some of the ingredients that give easy Burger King Apple Cider Vinaigrette its unique flavor:
Apple cider vinegar – Apple cider vinegar is a type of vinegar that is made from fermented apple cider. It has a tart, acidic flavor, giving the dressing its signature tanginess.
Mayonnaise – Mayonnaise is a creamy dressing made from eggs, oil, and vinegar. It gives the sauce its richness and body.
Vanilla yogurt: Vanilla yogurt adds a subtle sweetness and creaminess to the dressing.
Apple cider drink mix – Apple cider drink mix is a powdered drink mix made from apple cider, sugar, and spices. It gives the dressing its apple flavor and sweetness.
Spices – BK Apple Cider Vinaigrette also contains a blend of spices, such as cinnamon and nutmeg. These spices give the dressing its warm, festive flavor.
Instructions
Ingredients: Ensure you have all the necessary ingredients at hand.
Combine the dry ingredients: In a small bowl, whisk together the apple cider drink mix, salt, and pepper until well combined.
Incorporate the wet ingredients: Add the vanilla yogurt and mayonnaise to the bowl containing the dry ingredients.
Emulsify the dressing: Using a whisk or a small immersion blender, gradually drizzle in the cider vinegar while whisking continuously. This will help emulsify the dressing, creating a smooth and creamy texture.
Taste and adjust: Once the dressing is emulsified, taste it and adjust the seasonings. You should add more or less salt, pepper, or even a pinch of cayenne pepper for a subtle kick.
Chill and serve: Refrigerate the dressing for at least 30 minutes to allow the flavors to meld and the dressing to thicken slightly. Once chilled, serve your homemade Burger King Apple Cider Vinaigrette on salads, sandwiches, or as a dip.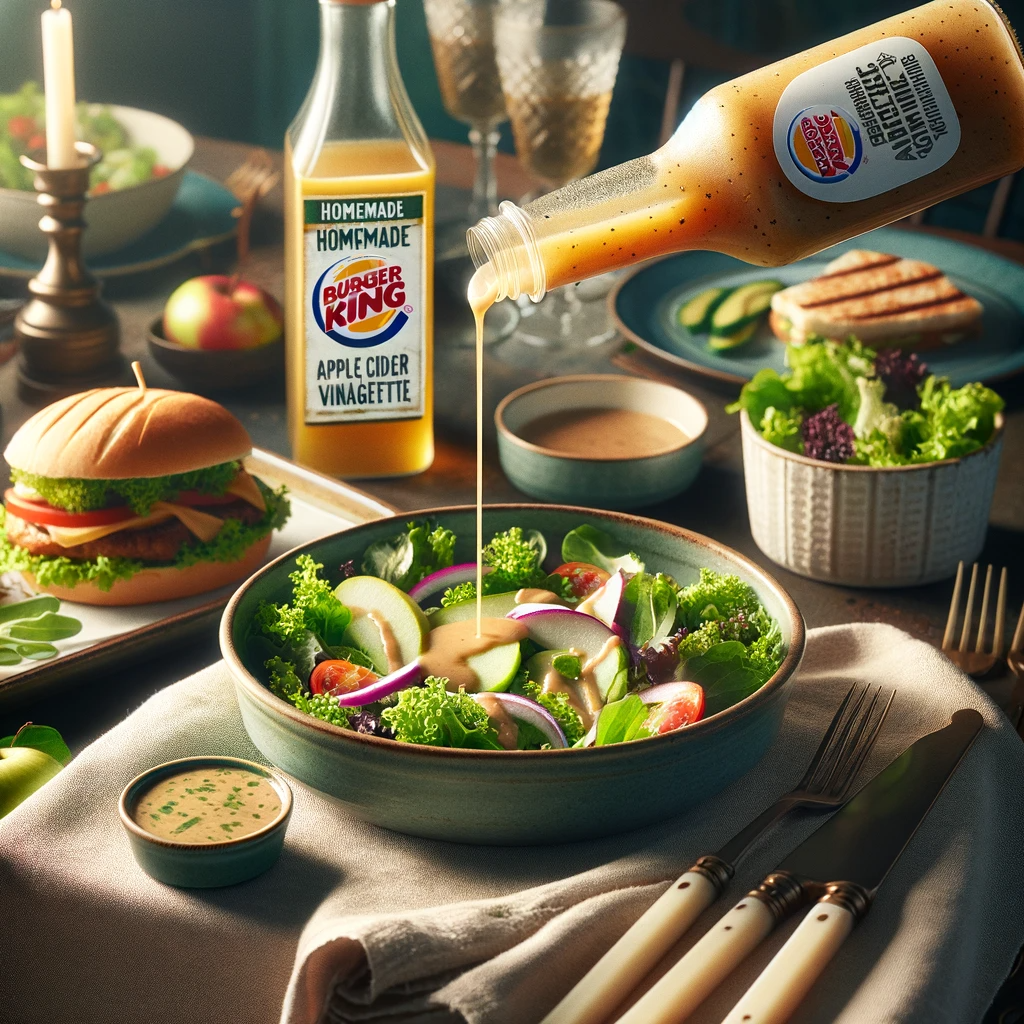 Nutrition Values
The Burger King apple cider vinaigrette recipe is simple to make and only requires a few ingredients you likely already have in your kitchen. It is a great way to enjoy the flavor of Apple Cider Vinaigrette Burger King without buying it from the restaurant.
Here is the one serving of this dressing (2 tablespoons) contains approximately:
Calories: 120
Fat: 6 grams
Saturated fat: 0 grams
Carbohydrates: 0 grams
Sugar: 0 grams
Protein: 2 grams
Sodium: 140 milligrams
This dressing is a low-calorie, low-fat, and low-carbohydrate option that is also a good source of protein. It is a healthy and delicious way to add flavor to your favorite dishes.
Burger King Apple Cider Vinaigrette
If you want a delicious and easy-to-make dressing, Burger King Apple Cider Vinaigrette is a great option. It is perfect for salads, sandwiches, and as a dip.
Ingredients
1/2

teaspoon

instant apple cider drink mix

sugar-free

1/3

cup

vanilla yogurt

1/2

cup

mayonnaise

2

teaspoons

cider vinegar

Salt and pepper to taste
Instructions
Whisk together the apple cider drink mix, yogurt, mayonnaise, and vinegar in a small bowl until smooth.

Season with salt and pepper to taste.

Serve on salads, sandwiches, or as a dip.
Notes
Additional tips
You can also use this dressing as a marinade for chicken or fish.

If you don't have instant apple cider drink mix, you can substitute 1/4 cup of apple cider and 1 tablespoon of sugar.

This dressing is also great with fresh herbs, such as chives, parsley, or dill.
What Does Zesty Apple Cider Vinaigrette Dressing Taste Like?
Zesty apple cider vinaigrette dressing offers a symphony of flavors that dance vibrantly on the palate. It begins with the sharp, refreshing punch of apple cider vinegar, which awakens the senses and primes the taste buds for the journey ahead.
This bright acidity is beautifully balanced by a subtle sweetness derived from the tropical essence of pineapple, providing a fruit-forward counterpoint that rounds out the initial tang.
As the flavor profile deepens, a spritz of tangy lime juice introduces a citrusy spark, adding complexity and a refreshing lift. The crescendo of this gastronomic experience is the warm, aromatic rush of freshly cracked black pepper, which introduces a gentle heat that lingers just long enough to tantalize without overwhelming.
Together, these elements combine to create a dressing that is not just a condiment but a bold statement, capable of elevating any dish it accompanies.