This chicken salad chick pimento cheese is a harmonious blend of sharp cheddar cheese, cream cheese, mayonnaise, and pimentos, along with a dash of spices for that extra kick.
However, it's a simple recipe with a balance of creamy, tangy, and slightly spicy flavors that can be enjoyed on its own or as a complement to various dishes.
The ingredients are simple, but the flavor is anything but – it's a testament to the power of quality components coming together to create something truly special.
So, are you ready to make an easy chicken salad with chick pimento cheese at home? Here is a recipe for you.
What is Pimento Cheese at Chicken Salad Chick?
The pimento cheese offered at Chicken Salad Chick described as "Pimento Cheese & More" for casual dining, is a mixture of freshly grated sharp cheddar and pepper jack cheeses.
This combination is then enhanced with a small amount of the restaurant's creamy house dressing, adding to the flavor and texture of the pimento cheese. It's likely served as a spread or a dip for customers to enjoy.
Why I Love Pimento Cheese at Chicken Salad Chick Recipe?
This homemade Chicken Salad Chick pimento cheese has all the charm of the beloved original but allows for personal tweaks to suit your taste. It's a versatile spread that pairs wonderfully with crackers, sandwiches, and even as a dip for vegetables.
The creamy texture and the perfect hint of spice make it a crowd-pleaser for any gathering or a cozy meal at home.
What Ingredients Need to Make Chicken Salad Chick Pimento Cheese
To make a pimento cheese similar to what Chicken Salad Chick might offer, you'll need the following ingredients:
Sharp Cheddar Cheese: 2 cups freshly grated
Cream Cheese: 4 ounces, softened to room temperature
Mayonnaise: 1/2 cup for creaminess
Pimentos: 4 ounces, drained and chopped
Garlic Powder: 1/2 teaspoon
Onion Powder: 1/2 teaspoon
Cayenne Pepper: A pinch for that signature spice
Salt and Pepper: to taste
How to Make Chicken Salad Chick Pimento Cheese
For a homemade version of Chicken Salad Chick's Pimento Cheese, you'll combine freshly grated sharp cheddar and pepper jack cheeses to create a cheesy foundation.
To make a chicken salad with chick pimento cheese, add diced pimentos for a classic Southern touch. In another bowl, whisk together a creamy base—mayonnaise is typical, but you can also use a bit of cream cheese for thickness and tang.
The next step is to prepare a creamy dressing, likely a combination of mayonnaise, perhaps some sour cream, and a dash of seasoning to taste—garlic powder, onion powder, salt, and a pinch of sugar could do the trick.
However, combine this dressing with the cheese and pimentos until the mixture is well-blended but still has some texture.
Optionally, for a bit of heat, incorporate a sprinkle of cayenne pepper. Let the pimento cheese rest in the refrigerator for at least an hour to allow the flavors to meld.
Serve chilled as a spread on crackers, sandwiches, or even as a decadent topping on grilled meats.
How Long is Chicken Salad Chick Good For?
The chicken salads from Chicken Salad Chick are prepared fresh daily and, when purchased in their Quick Chick packages, can be kept at home and enjoyed for over five days. To ensure the best quality and flavor, it's recommended to store the chicken salad in the refrigerator and consume it within this time frame.
Is Pimento Cheese Good to Eat?
Pimento cheese is considered good, especially if you're fond of flavorful, cheesy spreads. It's a beloved Southern delicacy versatile enough to be used in various ways.
You can smear it on crackers or gingersnaps for a quick snack, stir it into macaroni for a creamy pasta dish, dollop it on top of a burger for extra zest, or even add it to a breakfast sandwich for a tangy start to your day.
And for those who can't get enough of its cheesy goodness, eating it by the spoonful is also perfectly acceptable! Its rich and creamy texture, combined with the sharpness of cheddar and the slight kick of pepper jack cheese, makes it a popular choice for those who enjoy bold and indulgent flavors.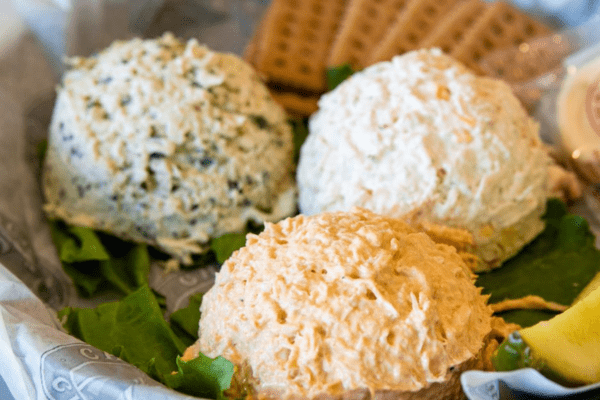 How long will chicken salad from chicken salad chick last in the fridge?
How Long Will Chicken Salad from Chicken Salad Chick Last in the Fridge?
Chicken salad from Chicken Salad Chick will last in the fridge for up to 5 days when stored in an airtight container.
Chicken Salad Chick Pimento Cheese
Ingredients
8

ounces

of sharp cheddar cheese

freshly grated

4

ounces

of pepper jack cheese

freshly grated

4

ounces

of pimentos

drained and finely chopped

1/2

cup

of mayonnaise

1

teaspoon

of garlic powder

1

teaspoon

of onion powder

Salt and pepper to taste

Optional: a pinch of cayenne pepper or a few dashes of hot sauce for a kick
Instructions
In a large bowl, mix the grated cheeses and chopped pimentos.

In a separate bowl, whisk the mayonnaise, garlic powder, onion powder, and optional cayenne or hot sauce until well combined.

Fold the mayonnaise mixture into the cheese and pimentos, mixing until everything is evenly incorporated.

Taste and adjust seasoning with salt and pepper as needed.

Refrigerate the pimento cheese for at least an hour to allow the flavors to meld together.
Nutrition Value
Total Fat: 52g
Saturated Fat: 21g
Cholesterol: 120mg
Sodium: 750mg
Total Carbohydrates: 2g
Dietary Fiber: 0g
Sugars: 0g
Protein: 24g