There's something so delightfully comforting about a boursin lemon pasta.
I experimented in my kitchen one evening and stumbled upon this exquisite blend of flavors – a concoction of zesty lemon and creamy Boursin cheese.
I am elated to share this recipe with you. Believe me, it's absolutely delicious and is sure to become a favorite in your home as it has in mine!
Easy Boursin Lemon Pasta Recipe
The other day, I decided to experiment in the kitchen and whipped up a delightful Boursin Lemon curd and pasta.
First, I boiled my favorite pasta, remembering to save half a cup of the pasta water before draining. In a skillet, I melted some butter and gently blended in a pack of Boursin Garlic & Fine Herbs cheese.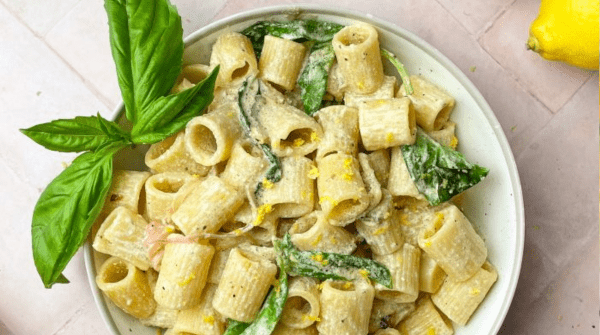 As the mixture turned creamy, I poured in a splash of heavy cream. The zest and juice of two lemons added the zingy twist I was aiming for. Once I combined my perfectly cooked pasta with this luscious sauce, I fine-tuned its texture using the pasta water I had set aside.
A sprinkle of salt, a dash of pepper, and for those who love a kick, a hint of red pepper flakes did the trick. Before serving, I scattered freshly chopped parsley on top. The creamy, tangy fusion turned out to be an absolute hit!
Why I Love This Recipe?
The Boursin Lemon Pasta recipe is easy to adore for several reasons. Its simplicity is perhaps its greatest allure; the lemon recipe requires just a handful of ingredients and can be prepared in the time it takes to boil pasta, making it an ideal go-to for busy evenings.
The creaminess of the Boursin cheese provides a luxurious base that's further elevated by the zest and juice of fresh lemon, offering a perfect balance of richness and refreshing citrus tang.
This dish is also incredibly versatile, serving as a delightful standalone entree or as a side to complement a variety of proteins (just like the easy lemon cobbler.)
Moreover, it's a crowd-pleaser, appealing to both adults and children with its creamy texture and mild, comforting flavors.
Boursin Lemon Pasta (Estimated Nutritional Information for 1 serving)
Calories: 450-550 kcal
Total Fat: 25-35g

Saturated Fat: 15-20g
Trans Fat: 0g

Cholesterol: 80-100mg
Sodium: 250-400mg
Total Carbohydrates: 40-50g

Dietary Fiber: 2-3g
Sugars: 2-4g

Protein: 10-15g
Vitamin D: 0.5-1.0μg
Calcium: 100-150mg
Iron: 1-2mg
Potassium: 150-250mg
What Kind Of Cheese Is Boursin?
Boursin is a type of cheese that originates from the Gournay region of France.
While it's similar to cream cheese, it stands out with its crumbly and spreadable texture. To mimic the unique consistency of Boursin, many people blend cream cheese with butter.
However, the creamy cheesy delightful combination captures the essence of Boursin, making it a favorite for many cheese lovers.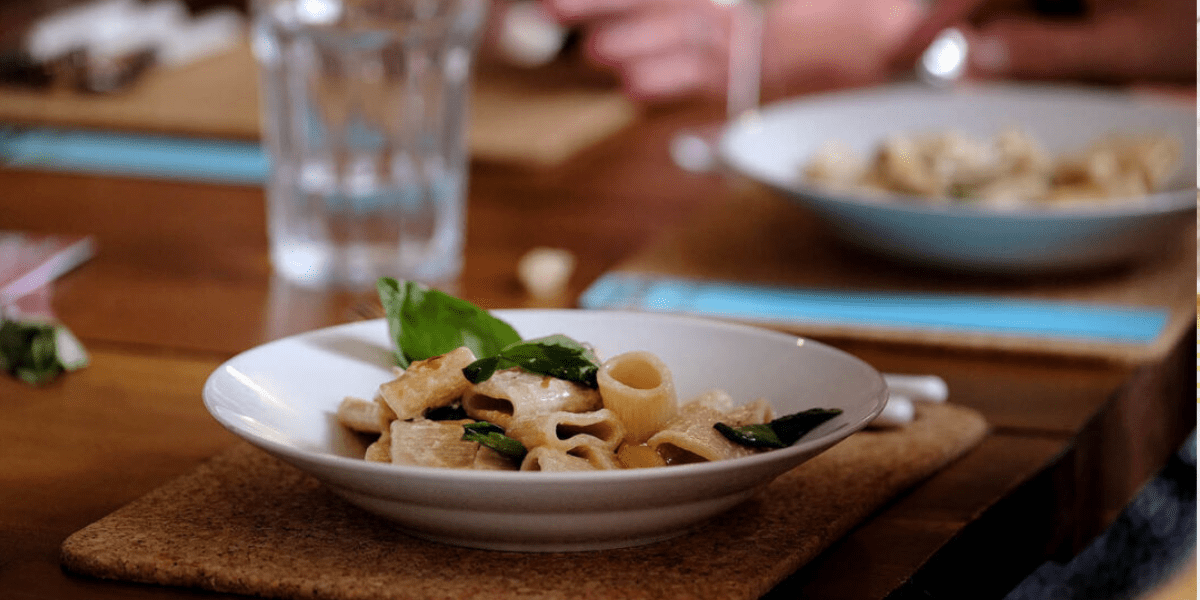 Boursin Lemon Pasta
The Boursin Lemon Pasta is a sumptuously creamy and zesty dish that combines the rich flavors of Boursin cheese with the bright, tart taste of fresh lemon.
Ingredients
12

oz

340 g spaghetti or your favorite pasta

1

package

5.2 oz Boursin Garlic & Fine Herbs cheese (or your favorite Boursin flavor)

Zest and juice of 2 large lemons

1/2

cup

120 ml heavy cream or half-and-half

1/4

cup

60 ml unsalted butter

1/2

cup

120 ml reserved pasta water

1/4

cup

fresh parsley

chopped

Salt and freshly ground black pepper

to taste

Grated Parmesan cheese

for serving (optional)

Crushed red pepper flakes

for a touch of heat (optional)
Instructions
In a large pot of salted boiling water, cook the pasta according to the package instructions or until al dente. Before draining, reserve about 1/2 cup of pasta water and set aside.

While the pasta is cooking, melt butter in a large skillet over medium heat. Once melted, reduce heat to low and add in the Boursin cheese. Break up the cheese as it melts using a spatula. Stir in the heavy cream (or half-and-half), continuously stirring until you get a smooth sauce.

Incorporate the lemon zest and juice into the sauce. Mix well.

Add the drained pasta to the skillet with the Boursin lemon sauce. Toss well to ensure each strand of pasta is coated with the sauce. If the sauce seems too thick, add in the reserved pasta water a little at a time until desired consistency is reached.

Season with salt and freshly ground black pepper to taste. If you like a hint of heat, sprinkle in some crushed red pepper flakes.

Transfer the pasta to serving dishes. Garnish with freshly chopped parsley and optionally, some grated Parmesan cheese on top. Serve immediately and enjoy your homemade, delicious lemon boursin pasta recipe.
Notes
You can also incorporate some sautéed vegetables or grilled chicken to make it a more hearty meal. The creamy Boursin with the freshness of lemon is a match made in heaven!
What Makes Boursin Lemon Pasta So Good?
Boursin lemon cheese pasta is particularly delightful because Boursin itself is a powerhouse of flavor. The cheese is infused with herbs and garlic, which means it brings more to the dish than just creaminess; it adds a depth of flavor that would otherwise require a variety of additional ingredients. This simplifies the cooking process without sacrificing taste.
Furthermore, this vegetarian stovetop recipe's quick and easy preparation, ready in just 15 minutes, makes it a weeknight wonder. It's the perfect solution for those looking for a meal that's both gourmet in flavor and speedy in execution.
Adding green peas and sun-dried tomatoes to the mix not only introduces a wonderful textural contrast but also layers the dish with sweet and savory notes, and a vibrant pop of color. The sweetness and slight bite of the peas alongside the intense, tangy flavor of sun-dried tomatoes create a complex taste profile that is both satisfying and surprisingly light.