Try the tasty easy lemon cobbler, an ode to those who cherish the zest and zing of a perfect lemon dessert.
A mere glance won't do; beneath its golden crust lies a compelling layer of creamy lemon custard, promising a dance of flavors with every spoonful.
While chocolate often steals the limelight, this magic lemon cobbler stands tall, challenging even the most devout chocoholics with its vibrant taste and delightful textures.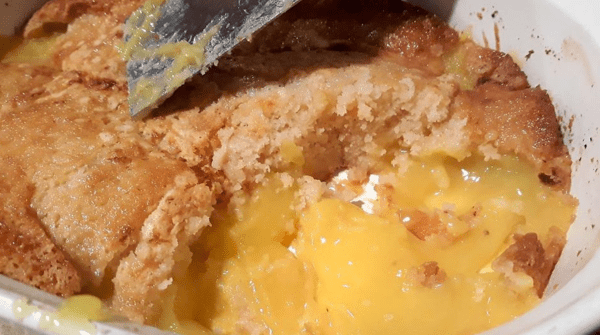 If you are in the warmth of a summer afternoon, the sizzle of burgers and hotdogs on the grill, laughter filling the air, and in the midst of it all, a dessert that perfectly encapsulates the essence of summer. This lemon cobbler with lemon pie filling isn't just a dessert; it's an experience.
Paired with homemade ice cream or a dollop of Cool Whip, it's bound to make your summer gatherings memorable.
So, if you're looking for a dessert that's as easy as it is delicious, let me introduce you to the easy lemon cobbler recipe.
Prepare to be enchanted!
What Are the Main Ingredients in a Lemon Cobbler?
The primary ingredients include butter, flour, sugar, baking powder, milk, lemon zest, and lemon pie filling or fresh lemon juice with sugar.
How to Make Lemon Cobbler?
The other day, I felt adventurous in the kitchen and decided to whip up a Lemon Cobbler. I started by preheating the oven to 350°F (175°C).
I had this idea to melt the butter right in my baking dish while the oven was warming up, and it worked like a charm. As that was happening, I whisked together a cup each of flour and sugar, added a teaspoon of baking powder, and a hint of salt.
To this dry mix, I stirred in half a cup of milk, my favorite lemon extract, and zest from two fresh lemons I had on hand. The batter came together so smoothly and had this vibrant lemony hue.
Once the oven was ready and the butter had melted into a golden pool, I carefully poured my batter over it, resisting any urge to stir. To finish, I drizzled a can of lemon pie filling on top, letting it settle naturally.
Then do you know the hardest part?
I waited almost an hour while the cobbler baked, filling my home with the most intoxicating lemon aroma. It took every ounce of my patience not to dive in immediately once out of the oven. (While, you can also make a curd with lemon easily for a good and different taste.)
When I finally tasted it, the layers, the textures, the lemony goodness—it was all worth the wait!
Can I Add Other Fruits to My Lemon Cobbler?
Absolutely! Berries like blueberries, raspberries, or strawberries can complement the lemony flavor and add an extra burst of freshness.
How Should I Serve Lemon Cobbler?
While it's delicious, you can experience it by serving it warm with a scoop of vanilla ice cream or a dollop of Cool Whip or fresh whipped cream.
Easy Lemon Cobbler
This easy lemon curd is made with butter, flour, sugar, milk, lemon zest, baking powder, and lemon pie filling or fresh lemon juice with sugar.
Ingredients
1

cup

all-purpose flour

1

cup

granulated sugar

1

tsp

baking powder

A pinch of salt

1/2

cup

milk

1/4

cup

unsalted butter

melted

Zest and juice of 2 large lemons

1

cup

boiling water
For the Lemon Syrup
3/4

cup

granulated sugar

1/4

cup

cornstarch

1

cup

cold water

2

tbsp

unsalted butter

2

tsp

lemon zest
Instructions
Preheat your oven to 350°F (175°C).

In a mixing bowl, whisk together the flour, sugar, baking powder, and salt. Then, mix in the melted butter and milk. Stir until combined. Pour this batter into a greased 8×8-inch baking dish.

In a saucepan, combine the sugar, cornstarch, and cold water. Heat over medium heat until the mixture becomes thick and clear. Remove from heat and stir in the butter and lemon zest. Pour this syrup evenly over the batter in the baking dish.

Pour the boiling water over the entire dish. Place the baking dish in the oven and bake for about 35-40 minutes or until the top is golden brown.

Let it cool slightly and serve warm. You can also top it with a scoop of vanilla ice cream or whipped cream if desired.