This Lemon Torchietti recipe is a vibrant and refreshing twist on classic pasta dishes, blending the zesty brightness of lemon with the rich, herbaceous flavors of green pesto for a meal that's as visually stunning as it is deliciously satisfying.
This dish is a celebration of simplicity and flavor, requiring only a handful of quality ingredients to achieve a gourmet experience. It's a versatile lemon recipe, allowing for variations such as substituting pine nuts with walnuts or almonds, adding a touch of cream for a silkier texture, or throwing in some sun-dried tomatoes or grilled chicken strips for an extra layer of taste and heartiness.
Over the next few paragraphs, we'll walk you through every step, ensuring that how to make Lemon Torchietti with Green Pesto easily.
So, roll up your sleeves, gather your ingredients, and let's dive into a culinary adventure that'll have you savoring the sunshine on your plate.
Why I Love This Recipe?
I absolutely adore the Lemon Torchietti with Green Pesto recipe for a multitude of reasons. However, the combination of zesty lemon and vibrant green pesto creates a symphony of fresh and lively flavors that never fails to tantalize my taste buds.
I love this recipe because it's an unbeatable convenience. It's a lifesaver on those busy weeknights when time is limited, with the torchietti pasta cooking up quickly and the pesto coming together in a snap.
The versatility of this dish is another point of love. It's a culinary canvas where I can personalize it to my heart's content, adding grilled chicken, shrimp, or roasted vegetables for variety. Despite its simplicity, the Lemon Torchietti with Green Pesto exudes an undeniable elegance, making it an excellent choice for both everyday meals and special occasions.
The creamy pesto sauce, paired with the charming torchietti pasta, delivers a comforting and satisfying dining experience that's neither overly heavy nor overly simple. It's a dish that effortlessly combines the joys of homemade comfort food with the allure of gourmet dining.
Easy Lemon Torchietti with Green Pesto
Lemon Torchietti with Green Pesto is a culinary symphony that marries the zesty freshness of lemon with the vibrant herbal notes of pesto. To create this delectable dish, I began by cooking 8 ounces of torchietti pasta to al dente perfection, then set it aside.
In a generous skillet, 2 tablespoons of olive oil danced with the aroma of 2 minced garlic cloves, creating a fragrant base. The zest and juice of 2 lemons were introduced, allowing their citrusy brightness to infuse the scene.
A harmonious blend of 1/2 cup of heavy cream and 1/2 cup of grated Parmesan cheese followed, crafting a velvety lemon sauce.
The pasta, now a canvas of flavor, joined the party, coated luxuriously. A pinch of salt, a twist of freshly ground black pepper, and a swirl of 1/4 cup of green pesto sauce crowned this masterpiece.
A lemon torchietti with green pesto that's a culinary delight, boasting the perfect balance of citrusy zest and herbal richness in every bite. It's a feast for the senses, a plate of pure delight.
Nutrition of the Lemon Torchietti with Green Pesto
Here's an approximate nutritional breakdown for a serving of Lemon Torchietti with Green Pesto.
Nutritional Information (Per Serving)
Calories: 550-600 calories
Carbohydrates: 50-55 grams
Protein: 11-15 grams
Fat: 34-40 grams
Fiber: 3-5 grams
Sugars: 2-4 grams
Sodium: 450-550 milligrams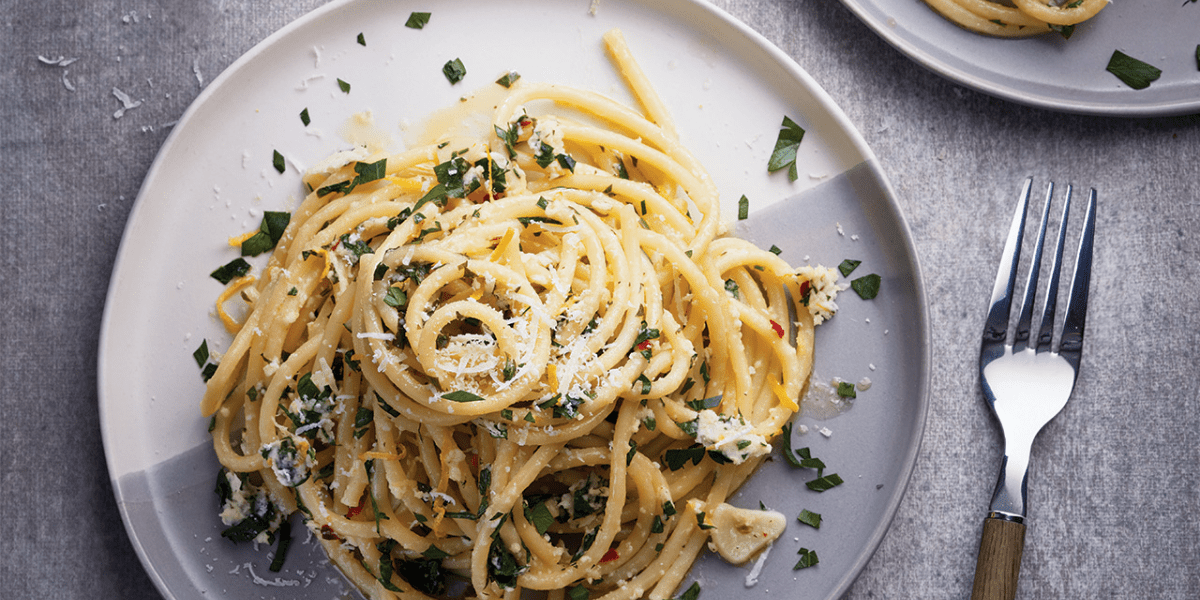 Lemon Torchietti with Green Pesto
Enjoy your simple and delicious Lemon Torchietti with Green Pesto! It's a tasty meal that's quick to make and bursting with flavor.
Ingredients
12

ounces

torchietti pasta

or any pasta you like

Zest and juice of 2 lemons

2

tablespoons

olive oil

Salt and pepper to taste
For the Green Pesto
2

cups

fresh basil leaves

about 2 handfuls

1/2

cup

grated Parmesan cheese

1/2

cup

pine nuts

you can also use walnuts

2

cloves

garlic

1/2

cup

olive oil

Salt and pepper to taste
Optional Garnishes
Extra grated Parmesan cheese

Lemon wedges

Fresh basil leaves
Instructions
Cook the Pasta
Boil a big pot of salted water.

Add the pasta and cook until it's just tender (usually 8-10 minutes). Then, drain it.
Prepare Lemon Torchietti
In a big bowl, mix the cooked pasta with lemon zest, lemon juice, oliveoil, salt, and pepper. Stir well.
Make Green Pesto
In a blender or food processor, combine basil leaves, Parmesan cheese,pine nuts, garlic, and olive oil.

Blend until it becomes a smooth, green sauce. If it's too thick, you canadd more olive oil.
Combine and Serve
Pour the green pesto over the lemony pasta. Stir it all together untilthe pasta is coated in the pesto.

Serve hot with optional garnishes: more Parmesan cheese, lemon wedges,and fresh basil leaves.