Every bite is an explosion of flavors, with the tanginess of garlic, the aromatic blend of dried herbs, and a subtle hint of red pepper flakes adding just the right amount of kick. The sauce, enriched with heavy cream, creates a velvety texture that perfectly coats each piece of chicken.
So, are you ready to make a tender chicken and a luscious creamy sun-dried tomato sauce? Chicken with Creamy Sun Dried Tomatoes recipe is a true gem, combining the rich flavors of sun-dried tomatoes with the luxurious creaminess of the sauce, resulting in a dish that will impress family and friends.
Chicken with Creamy Sun Dried Tomato Sauce
Chicken cutlets are thinly sliced chicken breasts, usually no more than 1/4 inch thick. Sometimes labeled 'thin-cut,' they cook through in about 6 minutes, which is why we love them here.
If you can't find cutlets, you can make your own by slicing a chicken breast in half horizontally. If they're much more than 1/4 inch thick, you can pound them down with a meat mallet or a small, heavy pot until they're the right thickness.
Can I Use Chicken Thighs Instead?
You can use chicken thighs instead of chicken cutlets for this recipe. Boneless skinless chicken thighs make a great alternative. However, trimming them well is important since they tend to have more fat than chicken breasts.
Chicken thighs are usually thicker than cutlets, so you have several options. You can pound the thighs with a meat mallet or a small heavy pot to make them thinner. Alternatively, you can adjust the cooking time slightly by cooking them a little longer on each side.
Make sure to cook the chicken thighs until they reach an internal temperature of 165°F (74°C) using an instant-read thermometer to ensure they are cooked through.
Please note that using chicken thighs instead of cutlets may alter the dish's nutritional profile, as thighs contain slightly more fat. Adjust the cooking time to ensure they are fully cooked, and enjoy your sun-dried creamy chicken tomato Sauce!
Why This Recipe?
What makes this recipe even more enticing is the versatility it offers. Serve these chicken cutlets and their delectable sauce over a bed of zucchini noodles for a low-carb option, or pair them with whole-wheat spaghetti or orzo for a comforting pasta dish. The sauce's creamy decadence can be mopped up with a slice of crusty bread, ensuring no drop goes to waste.
Prepare to impress your loved ones with this delightful chicken recipe. Whether hosting a dinner party or simply seeking a flavorful weeknight meal, this Chicken with Creamy Sun-Dried Tomato Sauce will surely become a household favorite. So let's dive into the recipe, unlock the tantalizing flavors, and create a memorable dining experience.
Is There a Substitute for the White Wine?
If you don't have white wine or prefer not to use alcohol, you can substitute it with an equal amount of low-sodium chicken or vegetable broth. This will help maintain the liquid volume and provide some savory flavor to the sauce.
Add 1/2 tablespoon of white wine vinegar or lemon juice to the broth substitute. This will add a touch of brightness and acidity that the white wine would have provided, helping to balance the flavors in the dish.
How to Serve Chicken Cutlets with Sun-Dried Tomato Cream Sauce
These delicious chicken cutlets with sun-dried tomato cream sauce can be paired with a variety of sides. Here are some serving suggestions:
Low-Carb Option: Serve the chicken cutlets over zucchini noodles or cooked spaghetti squash. This creates a satisfying and nutritious low-carb meal.
Pasta Option: They are also wonderful when served over whole-wheat spaghetti or orzo. The creamy sauce complements the pasta beautifully.
Whole Grains: Consider serving the chicken with brown rice or farro for a heartier meal. The nutty flavors of these grains pair well with the creamy sauce.
Crusty Bread: If you want to make sure you don't miss any delicious sauce, serve the chicken with a toasted slice of crusty bread. It's perfect for sopping up any remaining sauce on the plate.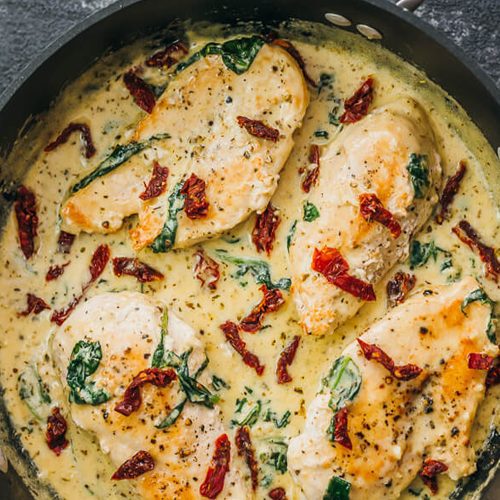 Chicken with Creamy Sun Dried Tomato Sauce
Ingredients
4

boneless, skinless chicken breasts

1

pinch

Salt and pepper to taste

2

tablespoons

olive oil

4

cloves

garlic, minced

1

cup

sun-dried tomatoes, drained and chopped

1

cup

chicken broth

1

cup

heavy cream

1

teaspoon

dried basil

1

teaspoon

dried oregano

1/4

teaspoon

red pepper flakes

optional

Fresh basil leaves, chopped

optional
Instructions
Season the chicken breasts with salt and pepper on both sides.

In a large skillet, heat the olive oil over medium-high heat. Add the chicken breasts to the skillet and cook for about 6-8 minutes per side, or until golden brown and cooked through. Remove the chicken from the skillet and set it aside on a plate.

In the same skillet, add the minced garlic and chopped sun-dried tomatoes. Cook for about 2 minutes, stirring occasionally, until the garlic becomes fragrant and the tomatoes soften.

Pour in the chicken broth and bring it to a simmer. Let it cook for about 5 minutes, allowing the flavors to meld together.

Reduce the heat to low and stir in the heavy cream, dried basil, dried oregano, and red pepper flakes (if using). Cook for an additional 2-3 minutes, stirring occasionally, until the sauce thickens slightly.

Return the chicken breasts to the skillet, nestling them into the sauce. Cook for another 2-3 minutes to warm the chicken through and allow it to absorb some of the sauce.

Serve the chicken with creamy sun-dried tomato sauce hot with your choice of sides, such as rice, pasta, or roasted vegetables.
Notes
1. Sun-Dried Tomatoes: The recipe suggests using sun-dried tomatoes marinated in olive oil. These can be found in jars and are available at Delis or over the counter. Using the oil from the jar adds extra sun-dried tomato flavor to the dish, making it more delicious. 2. Parmesan Cheese: When it comes to Parmesan cheese, it is recommended to use either finely grated Parmesan that you grate yourself, packing it into the measuring cup, or store-bought finely shredded Parmesan that looks like thin batons. It is important not to use store-bought Parmesan with a sand-like texture, as the sauce won't melt well. 3. Mustard: The addition of mustard in the recipe is optional. If you add it, it will slightly thicken the sauce and provide a touch of acidity to balance the creaminess. Feel free to include it according to your personal preference. 4. Nutrition: The nutritional information in the recipe assumes that the dish serves 4 servings. Keep this in mind when considering the nutritional values per serving.