This classic KFC-style zinger burger recipe will surely be a hit with your lovely family and friends. It's the perfect way to enjoy that signature zinger flavor without leaving home.
KFC_Style zinger burger recipe recreates the classic sandwich using simple ingredients and easy-to-follow instructions. So get ready for a delicious fried chicken experience!
Homemade KFC-Style Zinger Burger
Anyone who's ventured into the world of fast-food chicken burgers knows the iconic status of KFC's Zinger Burger. This isn't just any chicken sandwich; it's a mouthwatering experience. At the heart of the Zinger is a generously-sized chicken fillet, marinated in KFC's proprietary blend of spices, giving it that distinct kick.
Coated in a crispy batter and deep-fried to golden perfection, the chicken promises a satisfying crunch with every bite. But it doesn't stop there. The Zinger boasts fresh lettuce and mayonnaise, all sandwiched between a perfectly What are the Ingredients of Homemade Zinger burger bun.
Each element complements the other, ensuring a harmonious blend of flavors and textures. For many, the Zinger Burger isn't just a meal – it's an event, a celebration of crispy chicken done right.
Each element complements the next, making it a staple for those craving a hearty, flavorful burger. One can't help but admire the genius behind this creation – a simple burger that delivers complexity and satisfaction in every bite.
What are the Ingredients of Homemade Zinger Burger?
Dreaming of creating the classic Zinger Burger right in the comfort of your kitchen? Begin by sourcing the finest ingredients. Start with thinly sliced boneless and skinless chicken breasts. These will form the juicy core of your burger.
For that perfect crispy exterior, arm yourself with a blend of 1/2 cup of all-purpose flour seasoned with a teaspoon each of garlic powder and paprika. The addition of a tablespoon of dried oregano elevates the flavor profile, adding depth and aroma.
Remember, seasoning is key, so generously add salt and pepper according to your preference. As for the binding agent, two slightly beaten eggs will ensure your crispy batter sticks flawlessly to the chicken.
To cook these breaded beauties to perfection, you'll need about 2 tablespoons of olive oil, which will give the chicken that golden-brown finish.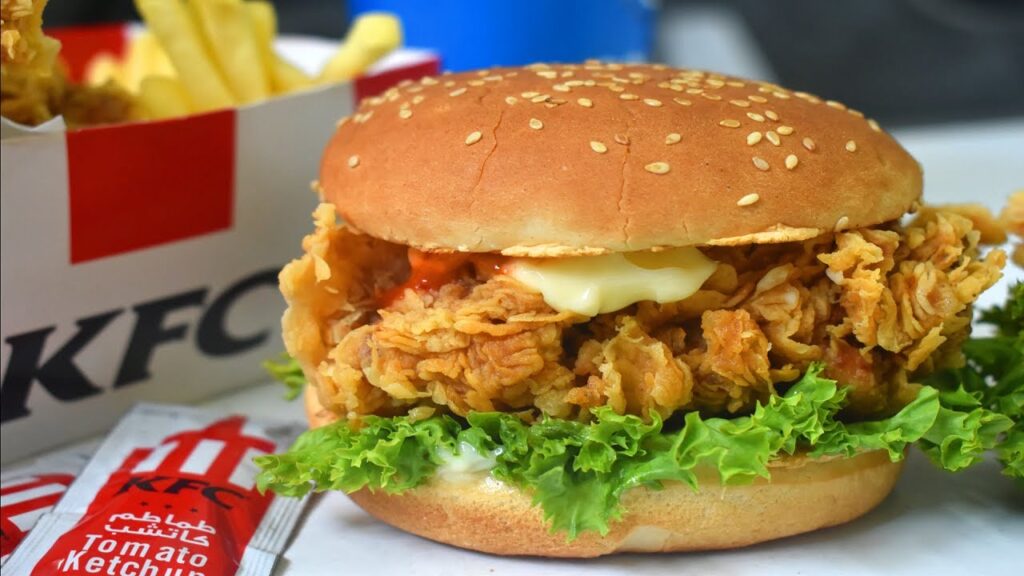 Now, what's a burger without its bun? Choose two fresh hamburger buns, which will be the base and crown of your culinary masterpiece. For the creaminess and slight tang, spread a tablespoon of mayonnaise on each bun.
Layer on a slice of your favorite cheese (perhaps a sharp cheddar or a smooth mozzarella), and don't forget the crunch!
Fresh lettuce and tomato slices are essential toppings that add texture and a burst of freshness. For the ultimate KFC experience, add optional pickles and drizzle with that special KFC sauce. Voila! Your homemade Zinger Burger is ready to be devoured.
How to Make KFC Style Zinger Burger Like a Pro?
Start with high-quality ingredients: Fresh chicken breasts, good-quality buns, and fresh lettuce and tomatoes.
Prepare the chicken marinade: Coat it in a spicy marinade and let it sit for at least 2-3 hours, or leave it overnight to marinate. Use a blend of spices and seasonings like cayenne pepper, paprika, garlic powder, onion powder, and salt for the marinade.
Prepare the chicken coating: Dip the chicken in a seasoned flour mixture, including cayenne pepper, paprika, garlic powder, onion powder, salt, and black pepper, before frying.
Fry the chicken: Heat oil in a deep frying pan to the correct temperature, ensuring it is hot enough to prevent the chicken from becoming greasy. Fry the chicken until it becomes crispy and golden brown.
Assemble the burger: Toast the buns, add mayonnaise, lettuce, and tomato slices, and place the fried chicken on top. Add some more mayonnaise and ketchup, and enjoy!
Experiment with toppings: KFC's zinger burger has a spicy kick, so add sliced jalapeños or hot sauce for extra heat. To personalize your burger, consider adding your choice of cheese, pickles, or any other toppings you prefer.
Variations of KFC Zinger Burger
Spicy mayo: Mix mayonnaise with hot sauce or cayenne pepper for a more intense kick.
Cheese zinger burger: Add a slice of cheese on top of the chicken for a cheesy twist.
BBQ zinger burger: Use BBQ sauce instead of ketchup, or add BBQ sauce to the mayonnaise for a tangy flavour.
Veggie zinger burger: Replace the chicken with a veggie patty or marinated tofu for a vegetarian option.
Asian-inspired zinger burger: Add some sliced cucumber, pickled carrots, and cilantro for an Asian-inspired twist.
Mushroom zinger burger: Add sautéed mushrooms and caramelized onions for a delicious flavour.
Avocado zinger burger: Add sliced avocado or guacamole for a rich flavour.
Breakfast zinger burger: Add a fried egg and bacon for a breakfast-inspired twist.
KFC Style Zinger Burger
Recreate the iconic KFC Zinger Burger at home with crispy seasoned chicken, fresh toppings, and a tangy spread, all nestled within a soft bun.
Ingredients
Thinly sliced boneless and skinless chicken breasts

1/2

cup

of all-purpose flour

1

teaspoon

of garlic powder

1

teaspoon

of paprika

1

tablespoon

of dried oregano

Salt and pepper as per your taste

2

eggs

slightly beaten

2

tablespoons

of olive oil for cooking

2

hamburger buns

2

tablespoons

mayonnaise

2

slices

of cheese

your choice

Lettuce and tomato for topping

Optional Pickles and KFC sauce for serving.
Instructions
Heat olive oil in a large skillet on medium heat.

Mix flour, garlic powder, paprika, oregano, salt, and pepper in a shallow bowl. Dip chicken strips into the flour mixture, ensuring they are evenly coated on all sides.

Dip each piece of yummy chicken into the beaten eggs to coat it lightly on both sides. Shake off any excess egg before placing it into the hot skillet.

Cook the chicken by frying for 5 minutes on each side or until it turns golden brown and is thoroughly cooked.

Toast the buns in a toaster oven until golden brown, which takes only a few minutes.

Spread each side of the bun with mayonnaise and top one side with lettuce and tomato slices (optional: pickles). Take two cooked chicken strips and place them on the bottom half of the bun. Add slices of cheese on top of the chicken strips.

Put both halves together and enjoy! Optional: serve with KFC sauce at your preference.
FAQs
Is it possible to substitute boneless chicken thighs for chicken breasts in this recipe?
Doing so will result in a juicier and more flavorful zinger burger.
Instead of frying the chicken, can I bake it?
While baking will not produce the same crispy texture as frying, it is healthier. Coat the chicken in the seasoned flour mixture and bake it in the oven at 400°F for 20-25 minutes or until fully cooked.
Can I prepare the chicken in advance and reheat it later?
Reheating the chicken can result in a loss of crispness and texture. Making the chicken fresh for the best flavour and texture is best.
Can I use a different type of bun?
You can use brioche, ciabatta rolls, or whole wheat buns.
Can I make the KFC zinger burger without a deep fryer?
Absolutely! It is possible to prepare this scrumptious sandwich even without a deep fryer. Begin by slicing the chicken breasts into thin strips and coating them with the flour mixture as directed. Then, heat some oil in a skillet and fry the chicken until it becomes crispy and golden brown on both sides.
What kind of cheese is used for a KFC zinger burger?
Any cheese you prefer can be used. Popular choices include cheddar, Swiss and pepper jack. Feel free to experiment with different types.
Can I make the KFC zinger burger in advance?
Yes, you can prepare and assemble the burgers ahead of time and store them in an airtight container for almost three days. When ready to serve, fry the chicken strips or reheat them in a skillet with some oil over medium-high heat. Reheat the buns as desired before serving.
Is the KFC zinger burger vegetarian?
Unfortunately, this recipe is unsuitable for vegetarians as it contains chicken. However, you can easily substitute the chicken for other vegetarian-friendly ingredients such as tempeh, tofu, or mushrooms.
Conclusion
The KFC-Style zinger burger is a delicious fast-food classic that can be enjoyed anytime. This recipe can quickly adapt with simple adjustments and substitutions to fit anyone's dietary needs or preferences. Have fun with the ingredients and enjoy your homemade version of the iconic KFC zinger burger.