Well! Close your eyes and think about dark chocolate recipes.
What comes to your mind at first instant? Cake mousse, ice cream, Brownie, or Chocolate bars? So if you are in search of low-carb keto recipes with chocolate as a main ingredient, I have a wide variety of recipes including chilled desserts, creamy mousses, baked items, and many more. 
So chocolate is an ultimate dessert in itself, and luckily it is keto-friendly but in moderate amounts to avoid fat.
Most low-carb keto chocolate recipes call for unsweetened chocolate bars and cocoa powder. While some recipes can be with 80% cocoa or high chocolate bars. 
Without waiting, let's jump into the best keto chocolate dessert.
Easy Keto Chocolate with Coconut Oil
Today I would like to share my favorite recipe for dark chocolate with keto-friendly ingredients. 
I won't lie; it has a lot of steps to do. In this recipe, I use dark chocolate as it is a low-sugar compound. So if you like unsweetened chocolate, do not forget to add extra sweetener to it.
You can name these bars fat bombs or keto chocolate bars because they are easy to make and delicious with just a few common ingredients.
Hands-on: 10 minutes
Overall cooking time: 45 minutes
Serving size: 1 chocolate bar
Ingredients
Dark chocolate: 4 oz at least 85% cacao
Powdered vanilla: 1 tsp or 1 tbsp sugar-free vanilla extract
Powdered Erythritol:2 tbsp
Brazil butter: ⅓ cup
Coconut oil: 2 oz
Liquid stevia extract: optional few drops
Step 1
I used especially Brazil butter and Macadamia for this recipe. You can also go for pecan butter, coconut oil, nut butter, cashew butter, or almond butter as an alternative to ghee.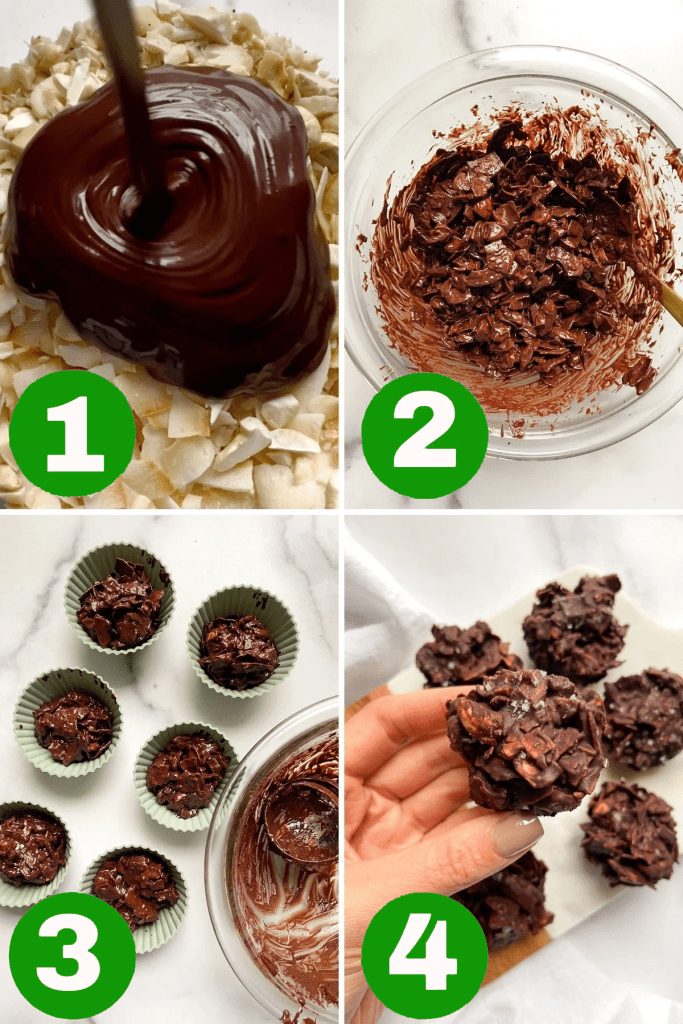 Step 2
In a double boiler, melt the dark chocolate and cocoa butter or a pan and bowl on top of the small container filled with water to make it entirely hot. Turn off the heat once completely melted. 
Step 3
Add powdered Erthritol, vanilla powder, and macadamia butter and mix well for a smooth combination. Add butter and mix Kito again for good results. 
Pour 2 tablespoons of chocolate mixture into the mini tray with partitions or an ice tray to make cubes.
Step 4
Place the chocolate tray in the fridge overnight or for 2 to 3 hours and let it solidify.
You can refrigerate it for up to 3 to 4 months or one week in a deep freezer.
Is Dark Chocolate Keto-Friendly?
Yes, it can be because there is no denying the fact that chocolate has a whole host of health benefits. Science has proven that it is a power source of energy, and antioxidants, can lower blood pressure, and reduce the chance of heart diseases. 
Of course, not all types of chocolates are beneficial for your health. Shpbough chocolate, whether white or brown, contains more than 50 % artificial sugar and essence; therefore not a healthy option at all. So it is best to make it home with organic and natural ingredients. 
I have used unsweetened chocolate with low carbs in the above recipe. So it is best to stay away from sweetened chocolate with a huge amount of Maltitol, as this can cause high sugar levels. It is not ket friendly source and is also a diuretic. 
Allergy Information About Dark Chocolate Recipe Keto
Gluten-free
Egg-free
Nightshade free
Pork-free
Avocado free
Fish free
Coconut free
Beef free
Vegetation
Flavor Variations on Chocolate Keto Recipe
White chocolate: Instead of unsweetened chocolate, you can go for sugar-free white chocolate as well
Peppermint chocolate: In the chocolate mixture, you can add ½ teaspoon of pure peppermint extract in the batter to have a delicious taste of peppermint
Milk chocolate: In place of unsweetened chocolate, use ket milk chocolate chips as an alternative
Orange chocolate: To get the orange flavor in chocolate bars, pour ½ teaspoon of orange extract into the mixture
Toffee chocolate: For kids adding keto candies in crushed form would be the best option to make them happy.
Cardamom, cinnamon, and nutmeg: Add these into the batter to have a flavor for a wintery wine.
Chilli flavor: A fiery kick pinch of chili can be as good as any other flavor.
Seeds and nuts: To make your dark chocolate healthier, go for nuts and seeds like walnuts, almonds, pecans, and hazelnuts.
Granula: A peanut butter or low-carb granola for delicious taste can be a good one.
Chocolate Freezing and Storing Instructions
To freeze:
Place the leftover material in zip-lock plastic bags or airtight containers and store them in the freezer for up to 6 months.
To Store:
Keto chocolate is very stable at room temperature if stored in an airtight and sealed container. It can be kept well in every aspect for up to 4 weeks minimum. While if you like to store them for a longer time, you can also store them in the freezer.
FAQs
Which nuts are keto-friendly?
There are many nuts friendly to keto, like macadamia nuts, Brazil nuts, pecans come with the lowest amount of carbs per serving with high energy levels. So it can be used as a keto diet.
Can you drink milk on keto?
Dairy milk contains many carbs, so it's not keto-friendly.
Can you have yogurt on keto?
Yogurt can fit into the keto diet, but to have good results, you should be careful about portion size and reading labels to ensure that you take unflavored versions. 
Conclusion
While many keto-friendly chocolate brands are out there, they are extremely expensive.
So how can you get the chocolates for your kids?
Making keto-friendly chocolate recipes at home is more fun than buying from outside. The recipe shared above with dark chocolate with nuts is amazing and usually reaches 90%, which is excellent. But this flavored version is even in darker color and taste and comes with incredible subtle coconut flavor, and the addition of chopped nut has enhanced its tone even more.