KFC Nashville hot chicken tenders are a popular dish among lovers and spicy food enthusiasts. It is often served with white bread or pickles to help offset the heat.
This mouthwatering recipe for KFC Nashville Tenders brings the fiery flavors of Nashville to your kitchen.
Indulge in crispy, juicy chicken tenders coated in a tantalizing blend of cayenne pepper, paprika, and sweetness, all cooked to perfection in about 30 minutes.
What are the Ingredients in KFC Nashville Tenders?
Whip up your batch of KFC's Nashville Tenders at home with this collection of ingredients. Start with 1 pound of boneless, skinless chicken tenders, the base of your dish. For the breading, combine 1/2 cup of all-purpose flour with 1/4 cup of cornstarch, 1 tablespoon of garlic powder, 2 tablespoons of paprika, 1 tablespoon of chili powder, 1 teaspoon of cayenne pepper, 1 teaspoon of salt, and 1/2 teaspoon of black pepper. You'll need 1/2 cup of vegetable oil for frying to get that crispy, golden exterior.
The signature Nashville heat comes from 1/2 cup of hot sauce, enhanced by 1/4 cup of pickle juice for a unique tang. These easy KFC Nashville tenders ingredients are the secret to recreating your kitchen's iconic spicy and crispy tenders.
Homemade KFC Nashville Tenders Recipe
The journey begins by marinating tender chicken breast strips in buttermilk with hot sauce, garlic powder, and paprika. This not only tenderizes the meat but also infuses it with flavor.
After several hours, or even overnight, the chicken is dredged in flour, paprika, garlic powder, and cayenne pepper, ensuring each tender is thoroughly coated for that ideal crispy exterior.
The coated tenders are then fried in hot oil until they achieve a deep golden brown color, with the batter developing a satisfying crunch that KFC is famous for. The real magic happens with the Nashville hot glaze—a fiery concoction of melted butter, more cayenne pepper, brown sugar, garlic, and a touch of smoked paprika.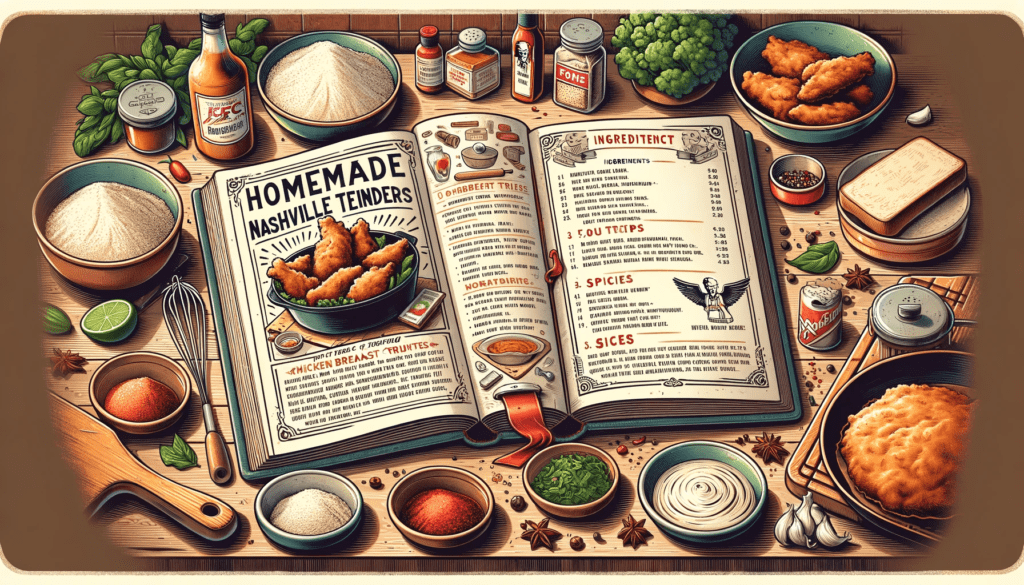 Each freshly fried chicken tender is generously brushed with the spicy mixture, allowing the heat and sweetness to cling to every cranny of the crispy coating.
When I attempted this recipe, the kitchen was filled with the tantalizing aroma of the spicy glaze as it mingled with the fried chicken.
So, making the copycat KFC Nashville Hot Chicken Tenders from scratch was an exercise in balancing flavors and heat, resulting in a fiery and delectably sweet dish with a robust garlic presence that lingered with every bite.
Now, the outcome Is a plate of chicken tenders that looked like KFC's famed dish and had a homemade twist that made them uniquely satisfying!
Additionally, here are some nutritional facts for KFC Nashville hot tenders:
Calories: 290
Fat: 14 grams
Saturated fat: 3 grams
Carbohydrates: 24 grams
Sugar: 1 grams
Protein: 23 grams
Sodium: 670 milligrams
What Makes KFC Nashville Tenders So Good?
The harmonious blend of flavors and textures makes KFC Nashville Tenders so incredibly good. These tenders start with plump chicken strips marinated to perfection, infusing them with a depth of taste.
The breading, seasoned with a secret mix of spices, provides a satisfying crunch that gives way to tender, juicy chicken on the inside. But the Nashville hot sauce truly elevates them, adding a fiery kick and a touch of sweetness. The combination of crispy, spicy, and savory creates an unforgettable taste experience that keeps you returning for more.
It's this perfect balance that makes KFC Nashville Tenders an irresistible favorite!
Is it Easy to Make KFC Nashville Tenders at Home?
Making KFC Nashville Tenders at home can be considered moderately easy to challenging, depending on your cooking experience, especially when it comes to deep-frying.
Here's a breakdown of what the process involves:
Marinating: The chicken is typically marinated in a buttermilk and hot sauce mixture, which is straightforward but does require some time for the chicken to soak up the flavors.
Breading: Coating the chicken in flour mixed with spices to replicate KFC's crispy texture. This step is messy but relatively easy.
Frying: The chicken must be fried at the right temperature to ensure it is cooked without burning the outside. This can be the trickiest part if you need to get used to deep-frying.
Sauce Making: The Nashville hot sauce usually involves a mixture of cayenne pepper, brown sugar, and other spices combined with oil or butter. It's easy to mix, but getting the flavor balance right might take some practice.
Assembly: After frying, the chicken is coated with a spicy sauce.
Each step requires attention to detail, especially to achieve the same taste and texture as KFC menus version. The key to making it easier is to have all the ingredients prepped and ready to go before you start cooking.
Making easy KFC Nashville Tenders at home can be a rewarding DIY cooking project with a good recipe and a bit of patience.
What Makes KFC Chicken So Tender?
The tenderness of KFC chicken can be attributed to their unique cooking method. KFC famously uses a pressure cooker to prepare their chicken. This cooking technique involves sealing the chicken in a high-pressure environment, which helps to lock in moisture and results in a tender, juicy texture. 
The pressure cooker allows the chicken to cook evenly and thoroughly while retaining its natural juices, making KFC chicken renowned for its soft and tender quality.
KFC Nashville Tenders Recipe
KFC Nashville Hot Chicken is a spicy fried dish from Nashville, Tennessee. It is typically made with chicken tenders or wings marinated in a mixture of spices and then fried until crispy. The chicken is then coated in a hot sauce with cayenne pepper, vinegar, and brown sugar.
Ingredients
1

pound

boneless

skinless chicken tenders

For the Dry Rub:

1/2

cup

all-purpose flour

1/4

cup

cornstarch

1

tablespoon

garlic powder

2

tablespoons

sweet paprika

1

tablespoon

chili powder

1

teaspoon

cayenne pepper

1

teaspoon

salt

½

teaspoon

black pepper

For the Hot Sauce:

½

cup

vegetable oil for frying

½

cup

hot sauce

¼

cup

pickle juice
Instructions
Cut the chicken tenders into bite-sized pieces.

In a large bowl, whisk together the flour, cornstarch, garlic powder, paprika, chili powder, cayenne pepper, salt, and pepper until well combined.

Place the chicken pieces in the bowl with the dry rub and toss until evenly coated.

In a small saucepan, heat the hot sauce and pickle juice over medium heat until simmering.

Heat the vegetable oil in a large skillet over medium-high heat. Carefully add the chicken pieces in batches and fry until golden brown and cooked through, about 5 minutes per batch.

Transfer the cooked chicken to a bowl with the hot sauce mixture. Toss gently to coat the chicken evenly.

Serve the hot tenders immediately with your favorite dipping sauces, such as blue cheese or ranch dressing.
FAQs
Does KFC Still Have Nashville Hot Tenders
Yes, KFC still offers Nashville Hot Tenders on its menu as of 2023. You can indulge in the fiery goodness of these tenders, which are available in different portions, such as a 5-piece order for around $9.99. Additionally, they offer various combo options that include these spicy tenders along with fries and a drink for a complete meal​
Is Nashville Hot KFC Discontinued?
KFC has continued their Nashville Hot Chicken product. Despite some online rumors to the contrary, it is still listed as an available menu item on the KFC website and at their restaurants as of October 2023​​. The product remains a part of their menu offerings for customers to enjoy.
How Much is KFC Nashville Chicken?
The price for KFC's Nashville Hot Chicken varies by the order size. As of November 2023, a 3-piece basket, which includes 3 tenders, coleslaw, and a biscuit, is priced at $5.49. If you're looking for a larger meal, a 12-piece meal with 12 tenders, large mashed potatoes & gravy, large coleslaw, and 4 biscuits is available for $21.99. The 24-piece Tailgate Meal featuring 24 tenders is priced at $29.99​​for an even larger gathering.
What are some good side dishes to serve with KFC Nashville Tenders?
KFC-style coleslaw, mashed potatoes, biscuits, and pickles are popular side dishes to serve with Nashville Tenders. You can also add some ranch or blue cheese dressing for dipping.
Can I bake Nashville Tenders instead of frying?
You can bake Nashville Tenders in the oven. Preheat the oven to 400°F (200°C) and bake the tenders on a baking sheet until they are crispy and cooked, flipping them halfway through the cooking time.