If you are a vegetarian, you must love eggplant in curry, baked, or roasted form. Being a cooking expert, I have made countless recipes for this delicious vegetable in many versions. This is an innovative recipe of eggplant in baking in the oven, juicy and plump from the inside and crispy on the outside.
The quickest way to enhance the flavor of eggplant is to bake it with cheese, cream, or any other option you want. And the eggplant is no exception, so it is not delicious to bake them rather than use them in raw form.
So never suffer through a dish of mushy mess again, and let's jump into the baked eggplant keto recipe.
Keto Baked Eggplant Parmesan Slices Recipe
One of the most favorite dishes in the ketogenic diet is classic eggplant parm. This recipe is a bit of an accessible version of healthy in a baked way. It contains everything you love in Italian foods but can be made in less than half an hour.
Moreover, it is undoubtedly a love-making labor with deep frying eggplant slices and marina sauce for lunch and night meals.
The secret of deliciousness is in bread and baking all eggplants instead of deep frying them. They are crunchy from the outside and soft on the inside.
How Many Carbs Are In Baked Eggplant Parmesan?
The nutritional content provided states that one serving of healthier baked eggplant Parmesan contains 49 grams of carbohydrates.
Being an expert in cooking, I used bread crumbs for coating as they are not heavy on the stomach and are a sub-version of Italian bread crumbs.
You can also use homemade bread crumbs as an alternative to this unique baked dish.
Is Baked Eggplant Parmesan Healthy?
Baked eggplant Parmesan can certainly be a healthy addition to your diet when prepared with attention to its ingredients and portion sizes. Eggplants themselves offer a nutrient-rich and low-calorie base, while the act of baking instead of frying reduces the dish's overall calorie content.
Moreover, being a vegetarian option, it's an excellent choice for those seeking meatless alternatives or looking to incorporate more plant-based meals into their routine. The tomato sauce often used in this recipe provides essential antioxidants, such as lycopene.
However, it's important to be mindful of portion sizes and the quantity of cheese and oil used, as excess can lead to higher calorie and sodium content.
Keto Baked Eggplant Parmesan Slices
Ingredients
2

teaspoons

Italian seasoning

Cooking spray

11/2

panko bread crumbs

Salt

Finely grated parmesan cheese

Freshly ground black pepper

2

medium-sized eggplants cut into slices

3

large eggs

½

cup

mozzarella cheese shredded

⅓

teaspoon

thinly slice basil

4

cups

marinara
Instructions
Line up a baking tray with 2 large baking sheets with parchment papas and coat it with cooking spray.

In a large mixing bowl, whisk Italian seasoning, panko, parmesan, and season it with black pepper and salt.

In another shallow bowl, beat 3 large eggs with 2 tablespoons of water and mix salt and black pepper.

Dip an eggplant slice into the egg mixture and coat in panko wash.

Arrange all the slices of eggplants on a prearranged baking tray.

Repeat to dredge all eggplant slices and spray the top of pieces with cooking spray.

Bake all slices until softened from the inside and get golden color and crispy texture.

Bake them for 30 to 35 minutes.

In a large baking tray, spread 1 cup of marinara evenly and add a layer of eggplant slices.

Over the slices, add one more layer of marinara on top of it.

Sprinkle 1 cup of parmesan cheese and basil onto these slices.

Repeat the process to use all the ingredients to make them finish.

Bake them until golden brown for 15 to 17 minutes more.
Eggplant Baking Troubleshooting
One of the most common issues with baking eggplant recipes is that they turn to mush before caramelizing.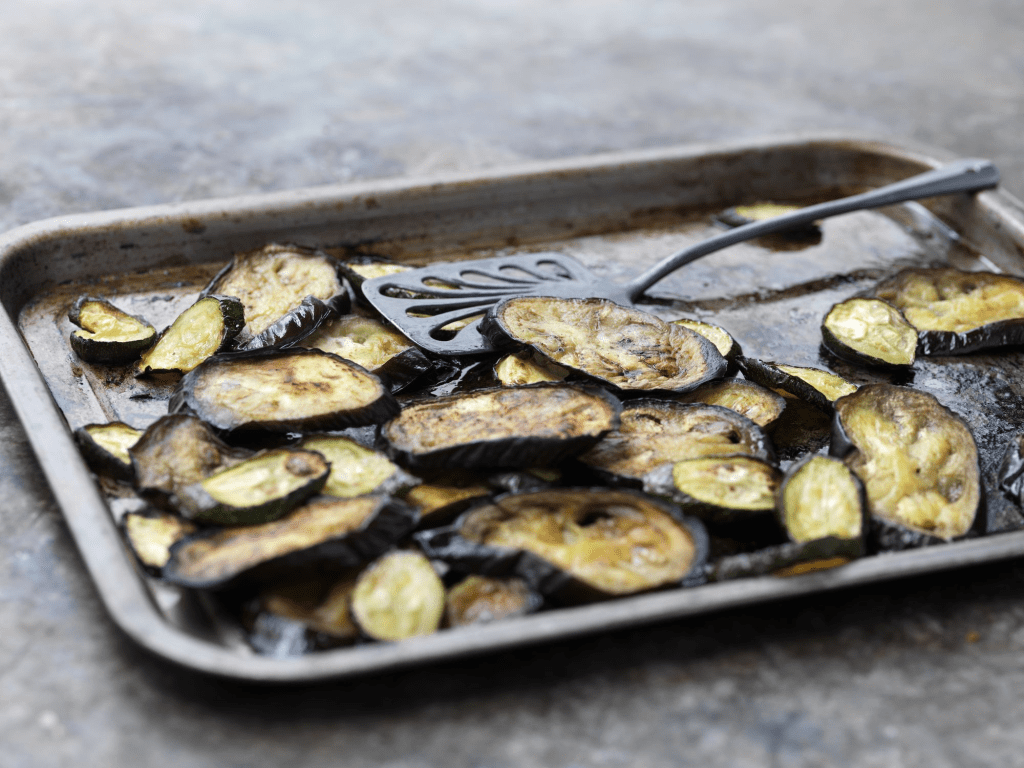 The way to solve this issue is simple.
Bake at High Temperature
If you bake eggplants at high temperature, the surface and texture gets sealed and keeps the juice inside.
Cut the Slices into Large Pieces
Smaller pieces of eggplant cook too quickly and get mush before it turn brown and becomes crisp, in addition to the chance to caramelize. 
Another issue that most chefs and ordinary people face is that the caramelized skin of vegetables comes off before serving the dish. This happens if:
The flip you use does not come with a sharp edge
You did not use any oil on the slices or cubes of eggplant.
FAQs
Do you leave the skin on an eggplant while you bake it?
The skin of the eggplant is delicious and edible, but with large pieces, it can be challenging. So if you are using baby eggplants, the skin is full of taste and freshness and loaded with nutrients, so it should be left on them.
Does eggplant need to be soaked before baking?
Soaking eggplant before cooking, baking, or frying is not required but can be helpful in some instances. The decision to soak eggplant depends on many factors, like bitterness, age, and your recipe.
What should not be eaten with brinjal?
You should not eat brinjal with curd, onions, and reddish because this combination causes disturbance in the digestive system and enzymes. This is because curd is cold, and brinjal causes heat in your body leading to skin allergies. 
Happy eggplant baking!