Want to know which vegetables are the best Broccoli Cheese Casserole Keto?
Then you have landed at the right place. I am here to guide you about the best vegetable keto recipe, loaded with nutrients, low carb, and incredible to improve your overall health. It would be a great low-carb lunch or dinner idea with any plain or additional flavors to enhance the aroma and appearance.
Most people need to learn about a ketogenic diet as they automatically envision a plate of eggs and bacon. You do not have to stop here because many keto recipes are made with vegetables.
In addition to getting a considerable amount of fiber, there are many other reasons to make and eat vegetable recipes. Well formulated ketogenic diet is best for mineral balance; salt and fat with non-starchy vegetables is the best option for many.  
So if you need a delicious and easy keto vegetable recipe as a side dish with steak or chicken, look no further other than this recipe.
Easy Keto Broccoli Cheese Casserole
Course: vegetable recipe, lunch or dinner recipe
Difficulty: medium
Servings: 6 servings
Prep time 15 minutes
Cooking time: 30 minutes
One of the classic combinations is Broccoli with cheese that any pickiest can resist. A nutritious and comforting casserole loaded with broccoli as a main ingredient and cheese should be a winner for your dinner.
The benefits of broccoli, it is filled with loads of minerals and essential micronutrients as it is a superfood with many plus points. Broccoli can be used in many versions, like it can be chipped as salad, pureed into soup, and creatively blended in a dip.
Since cheese is made from milk and is full of calcium, it helps strengthen bones and prevent osteoporosis as we age. Moreover, it causes less inflammation, and vitamins A, D, K, and zinc contribute more to bone and overall health.
The cheesy casserole features soft, tender broccoli textured in creamy, rich homemade cheddar cheese sauce. 
What could be better other than this for your kids?
Your kids love this as it is a simple and delicious baked broccoli casserole.
Ingredients of Baked Casserole of Broccoli and Cheddar Cheese
You will not need any canned cream of mushroom soup, but this recipe's star ingredient is healthy and fresh broccoli. 
Cream cheese, full of fat
Broccoli, I would like to use fresh broccoli, but as an alternative, you can use frozen as well.
For cheddar cheese, you should go for pre-shredded cheese to save time. Alternatively, you can grate your cheese at home too.
Optionally you can use a topping of almond flour and parmesan cheese textured and flavored with a pinch of onion powder.
How to Make Low-Carb Keto Recipe of Cheesy Broccoli
The process of making cheesy broccoli is straightforward.
The first step is to preheat the oven to 350 degrees Fahrenheit and ready the casserole dish with the spraying of non-stick spray.
If you want fresh broccoli, steam it or boil it. Wash and chop the head of broccoli in small bunches or florets.
In a large pot, make a boil to water boil the broccoli for 4 to 5 minutes until it becomes soft and crisp. Drain and set it aside.
During the cooking of broccoli, you can make a sauce for your dish. Mix softened cream cheese, 1 cup of shredded cheese, salt, garlic powder, sour cream, and pepper, and mix well until combined.
Add the broccoli to the batter and stir to coat. The consistency of the sauce will be very thick, but it can lose its character when broccoli will be added to this.
Add some heavy cream or chicken stock if it still seems thick.
Now pour the broccoli into a casserole dish and top it with ½ cup of cheese.
On top of it, add some amount of almond flour and parmesan cheese to make a crispy topping.
Now bake the casserole in the oven for 20 minutes until it gets light brown and bubbly on top.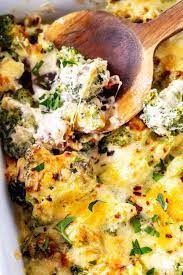 How to Make Cheesy Broccoli in the Skillet
Making cheesy broccoli with cheese in a skillet is simple. You have to gather all the ingredients in a bowl with spices and put them in a skillet with light oil. Add cheese as a topping when it is cooked and half done. When the cheese is melted, you are done.   
There is a comprehensive list of vegetables that are good on keto like mushrooms, tomatoes, and spinach are very well known. Still, anyone wanting a keto-friendly diet should avoid starchy vegetables like potatoes, beans, and sweet corn. 
Cauliflower, green beans, and kale are low net carbs vegetables but high in nutrients. So these are the best to add to your keto diet.
While Carrots are too starchy for keto, cauliflower is acceptable due to its low-carb net count.