A cosy evening in my kitchen, a craving for pizza, and a determination to stick to my keto lifestyle. The solution? The legendary Fathead Dough – the ultimate keto pizza crust.
The fathead dough recipe is super easy, and it can be customized to add more seasoned flavor, like in these keto coconut flour. It can even be sweetened, like my low-carb baked eggplant parmesan slices.
What ingredients do you need to make fathead dough?
I gathered the simple ingredients: mozzarella, cream cheese, almond flour, an egg, and a touch of baking powder. I could already sense the magic brewing as the cheese melted into a gooey blend.
Kneading the almond flour and egg into the cheese concoction felt oddly therapeutic, like crafting a masterpiece. I rolled out the dough, imagining the savory delight that was about to unfold.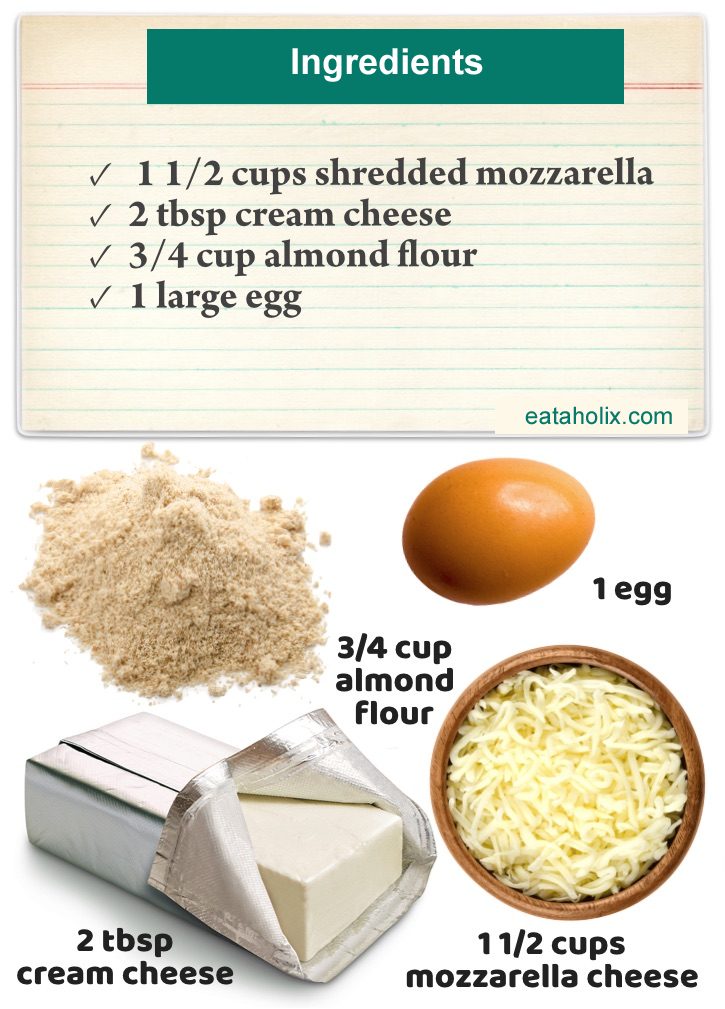 Into the oven it went, and the kitchen filled with an aroma that can only be described as tantalizing. The crust emerged golden and crisp, a blank canvas awaiting keto-friendly toppings.
I spread tomato sauce, sprinkled cheese, and loaded on pepperoni. Back into the oven, it danced, and the excitement was real.
And then, that first bite. The crust was chewy and cheesy, a symphony of flavors that made my taste buds rejoice. It was pizza perfection, keto-style.
And so, in a short time, my kitchen had become a hub of keto innovation. With Fathead Dough, I unlocked a secret to enjoying the flavors I loved while staying true to my health goals.
It was a small triumph that made me appreciate the joy of cooking, the power of experimentation, and the magic of a well-made recipe.
Keto Pizza Fathead Dough (Best Low Carb Crust Pizza)
You're in for a treat because we're about to dive into the world of Fathead Dough – your ultimate guide to crafting the most amazing Keto Pizza Crust.
If you're a keto enthusiast and a pizza lover, get ready to have your taste buds tantalized.
So, let's talk about this magical thing called Fathead Dough. It's the keto answer to traditional pizza crusts; trust me, it's a game-changer. The secret ingredient?
Cheese – yes, you heard that right. We're talking about a dough that stars melted mozzarella cheese, almond flour, cream cheese, and an egg.
Here's how it all comes together: first, melt down a generous amount of mozzarella and cream cheese once they're all gooey and delightful, mix in some almond flour and an egg. It's like a cheesy, nutty symphony of flavors about to rock your taste buds.
Now, here's the fun part. Roll out your dough – it's pliable, just like traditional dough. Shape it into a pizza crust as thick or thin as your pizza-loving heart desires.
Bake it until it's golden and crispy, and you have a sturdy, keto-friendly canvas for all your pizza dreams.
And the best part? The toppings. Load it up with your favorites – pepperoni, mushrooms, peppers, or a mountain of gooey cheese.
Slide that masterpiece back into the oven until the cheese is bubbly and irresistible. You'll have a hard time believing that this is keto-friendly fathead dough.
I know what you might think – does it taste like "diet" pizza? Not. It's chewy, cheesy, and oh-so-satisfying. Plus, you get that wonderful indulgence without derailing your keto journey.
How Do You Make Fathead Dough
Creating Fathead dough is a breeze!
This versatile dough is a low-carb favorite among keto Fathead Dough and is perfect for making pizza crusts, bagels, and more.
Here's a simple guide on how to make Fathead dough:
Fathead Dough
Ingredients
1

egg

3/4

cup

almond flour

2

tablespoons

cream cheese

1 1/2

cup

shredded mozzarellacheese
Instructions
Melt the Cheeses
In a microwave-safe bowl, combine the shredded mozzarella cheese and cream cheese. Microwave the cheeses in 20-30-second intervals, stirring between each interval. Continue until the cheeses are completely melted and well combined. This usually takes about 1-2 minutes in total.
Add Almond Flour
Once the cheeses are melted, mix in the almond flour. Stir well until the almond flour is fully incorporated into the cheese mixture. You'll start to see a dough-like consistency forming.
Incorporate the Egg
Beat the egg in a separate bowl and then add it to the cheese and almond flour mixture. Mix thoroughly until all the ingredients are combined into a cohesive dough. You can use your hands or a spatula to do this.
Form the Dough
Take the dough and shape it into a ball. If you're making a pizza crust, flatten the ball into your desired pizza shape on a parchment-lined baking sheet. You can make it as thin or thick as you prefer.
Pre-Bake (Optional)
Some recipes call for pre-baking the dough at this stage. If your recipe requires it, pre-bake the dough in a preheated oven at 400°F (200°C) for about 8-10 minutes, or until it's lightly golden.
Add Toppings (If making pizza)
If you're making pizza, you can now add your favorite keto-friendly toppings – sauce, cheese, vegetables, meats, and more.
Bake to Perfection
Put the topped pizza back into the oven and bake for an additional 5-10 minutes, or until the cheese is melted and bubbly, and the toppings are cooked to your liking.
Serving
Carefullyremove your Fathead dough creation from the oven, let it cool slightly, andt hen slice and enjoy your delicious low-carb masterpiece.
Can You Freeze Keto Pizza Dough?
You can freeze keto pizza dough, including the popular Fathead dough. Freezing the dough allows you to prepare it in advance and have it on hand whenever those pizza cravings strike.
Can You Buy Pre-Made Fathead Dough?
You can purchase pre-made Fathead dough, and I'm excited to share that Fattyhead Keto Crust has answered the call!
This is fantastic news for those craving a convenient solution for our keto-friendly pizza and bread needs.
I've enjoyed ordering from Fattyhead and even spotted their products at my local Hy-Vee store. It's reassuring that a reliable, flavorful, and keto-friendly option is readily available, whether you stock up your freezer or grab it while grocery shopping.
How Many Carbs Are In Fathead Dough?
Even though this recipe is very low in carbs, some are still present, primarily from the almond flour.
For a quarter of the recipe (approximately one serving), the nutritional values are as follows:
Total Carbs: 8.05 grams
Dietary Fiber: 3 grams
Net Carbs: 5.05 grams
Protein: 33.725 grams
Fat: 33.075 grams
And here's the nutritional breakdown of the Fathead dough recipe ingredients in a chart format:
| | | | | | | |
| --- | --- | --- | --- | --- | --- | --- |
| Ingredients | Calories | Total Carbs (g) | Fiber (g) | Net Carbs (g) | Protein (g) | Fat (g) |
| 2 1/2 cups shredded mozzarella | 790 | 8.75 | 0 | 8.75 | 77.5 | 47.5 |
| 2 ounces cream cheese | 194 | 2.4 | 0 | 2.4 | 3.4 | 20 |
| 1 large egg | 72 | 0.4 | 0 | 0.4 | 6 | 4.8 |
| 1 cup of almond flour | 680 | 20 | 12 | 8 | 48 | 60 |
| 1/2 teaspoon baking powder | 1 | 0.65 | 0 | 0.65 | 0 | 0 |
| Totals | 1737 | 32.2 | 12 | 20.2 | 134.9 | 132.3 |
| Total Per Serving (/4) | 434.25 | 8.05 | 3 | 5.05 | 33.725 | 33.075 |