You will feel energized and satiated for hours when you taste Bulletproof coffee as an alternative to eating a fat-loaded, heavy-carbohydrate breakfast.
Bulletproof coffee is best for the keto diet as an energy-filled beverage with quality fats. This recipe made us famous for all-time lunch and dinner snacks. 
So have you ever thought about what is unique in bulletproof coffee recipe keto?
Learn how to make it more keto with low carb and fat, easily made at home, and you will reap more rewards from adding quality fats to your cup of coffee. This powerhouse mug of coffee complements various drinking methods for those who are lovers of delicious beverages.
Bullet Proof Recipe Of Coffee Best At Keto
Preparation time: 10 minutes
Servings: 2 mugs
As this ketogenic recipe of bulletproof coffee acts as intermittent fasting and OMAD, which helps you to feel alert, satisfied, and alert due to the signature combination of coffee beans and quality fats, this is the perfect combo of steady energy levels without a crash.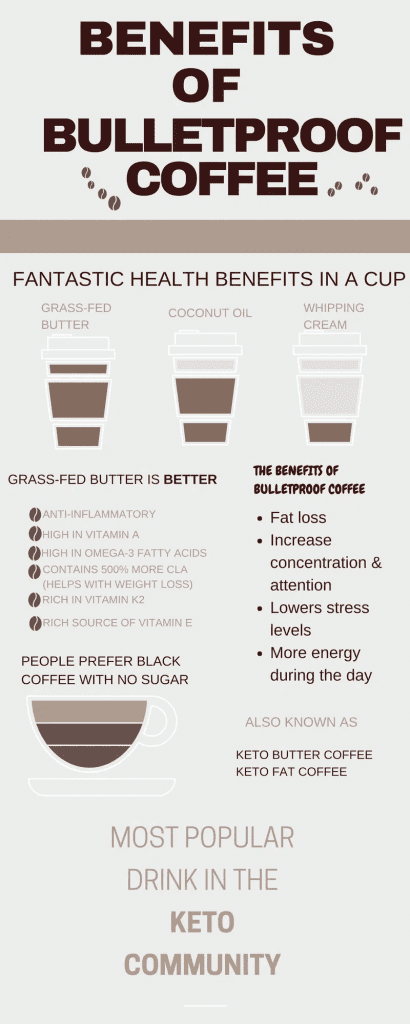 How To Make a BulletProof Coffee Keto
Making a bulletproof keto recipe for coffee is effortless and straightforward, as this is more than just adding bitterness to coffee. Power your day with the tasty scoop of original bullet-proof creamer full of rich MCT oil and grass-fed butter.
You can add a touch of sweetener and a flavor of vanilla to make it more textured, like a smoothy. Moreover, if you like the taste of cocoa powder, add a pinch of cocoa powder to make it a more keto-friendly mocha with zero blood sugar crash.
Ingredients
1 cup of bulletproof coffee beans
1 to 2 teaspoons of brain octane C 8 MCT oil
1 to 2 teaspoons of unsalted and grass-fed butter or grass-fed ghee
Instructions
With bulletproof coffee beans, brew 1 cup equals 8 to 12 ounces of coffee with the hand mixer.
Add brain-octane C8 MCT oil, coffee, and butter or ghee to the mixture.
Beat the whole batter for 20 to 30 seconds until it looks like a creamy texture.
If you have never used an MCT oil, start with only 1 teaspoon.
So that you can build up to the whole serving in a full-size mug over many days.
You can also adjust the amount of butter according to your requirements in your keto coffee, which will work perfectly for you. 
To make it thick and smooth, add milk frother to it for a more creamy texture.
How to Make a Bullet Proof Coffee in Blender
Making bulletproof coffee in a blender is a must in every household, as delicious and creamy bulletproof coffee is a staple every morning and evening with snacks.
Made with customized options and healthy fats with modified flavors and additions that will bring a yummy to your mouth with a cup of joe. 
Being a professional chef, knowing, how to make a bullet coffee in three easy steps was nothing short of a life-changing experience for everyone. 
Coffee+high quality fat+ a blender.
Brew Your Coffee
Tio makes the two mugs of coffee; anywhere around 10 to 12 oz would be a good amount to make two regular cups of coffee.
Bulletproof carries a whole branded range of retail products, including the best coffee beans proven to be toxic-free, certified clean, and simple.
Moreover, if you are sensitive to toxins and want to try them, you can go for any other recipe instead of making the coffee. You can start with any different version and usually brew daily.  
Choose Your Fats
Regarding healthy fats for your bulletproof coffee, you can either opt for MCT oil, as mentioned above, or coconut oil and ghee. Giving your coffee a good appearance, flavor, and texture is essential.
It's not necessary to add these fats to your mug of coffee, or you can select any other as the market is full of many options for various fats for bulletproof coffee, like:
Grass Fed Ghee
If lactose tolerant, it would be a great option to opt for grass-fed ghee as it has many health benefits.
Adds a nice texture and flavor to your coffee.
Grass-Fed Butter
The classic ingredient of bulletproof coffee is grass-fed butter, and the coffee made with this option is known as butter coffee.
Cacao Butter
You may or may not be familiar with this butter, but making a bulletproof coffee will give you the taste and texture of white chocolate.
Nut Butter
It would be best to use coconut butter in your coffee, but cashew butter, peanut butter, or almond butter are three of my favorites.
Pour All Ingredients into Blender
In the last step, use fat options or pour milk, coffee beans, and your selected fat into the blender. Make sure that the speed should be medium to high to make the delicate and smooth texture of a bulletproof mug of coffee.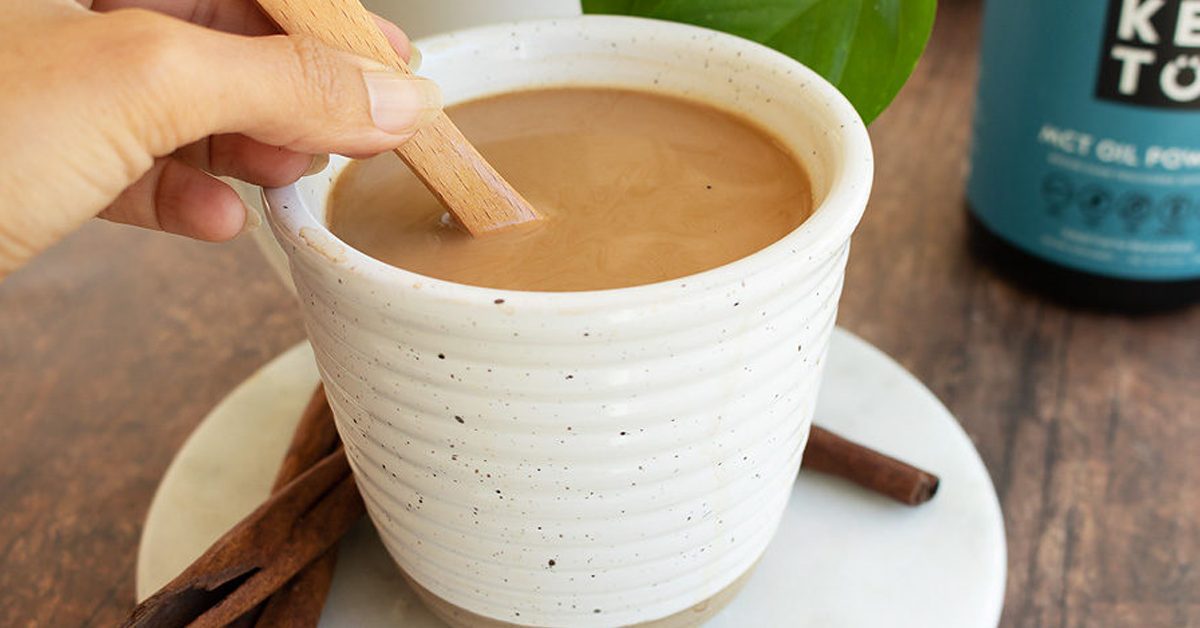 Bulletproof Coffee Keto
Ingredients
1

cup

freshly brewed coffee

1-2

tbsp

unsalted grass-fed butter or ghee

1-2

tbsp

MCT oil or coconut oil

Keto-friendly sweetener flavorings

Optional
Instructions
Brew coffee.

Blend hot coffee with butter, MCT oil, and optional sweeteners.

Blend until creamy.

Pour, flavor if desired, and enjoy!