Are you craving a spicy and savory dish? In that case, you have arrived at the ideal place. Keto Jalapeno Popper Casserole is a delicious keto-friendly meal with many flavors without all the carbs.
This casserole is loaded with protein and cheese, giving it an irresistible taste that will make your taste buds dance! With just ten simple ingredients, this easy-to-make casserole can be on the table in 30 minutes or less – perfect for super busy weeknights!
What Is Jalapeño Popper Chicken Casserole?
Jalapeño Popper Chicken Casserole is a delightful twist on the traditional jalapeño popper appetizer, transformed into a satisfying weeknight meal. In this casserole, you'll find all the classic ingredients of a jalapeño popper, such as jalapeño peppers, cheese filling, and bacon, but with added chicken.
The jalapeño peppers are sliced and combined with a cheesy filling, typically made with cream cheese and shredded cheddar or Monterey Jack cheese to make the casserole. The chicken is usually cooked and shredded beforehand, and crispy bacon pieces are added.
Once all the ingredients are combined, the mixture is spread into a baking dish and baked until the cheese is melted and bubbly and the flavors have melded together. The result is a flavorful, slightly spicy, and creamy casserole that incorporates the essence of jalapeño poppers.
This casserole can be enjoyed as a main course, accompanied by side dishes like salads, vegetables, or low-carb options for a keto-friendly meal. It's a popular choice for those seeking a comforting and satisfying dish with a kick of flavor from the jalapeños.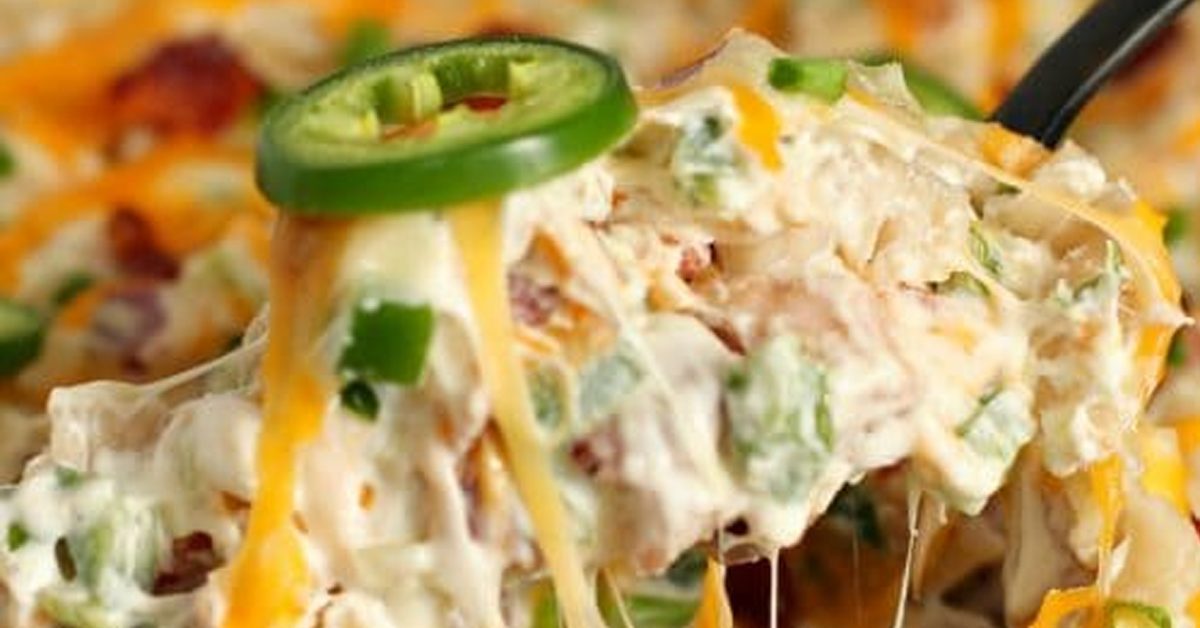 Keto Jalapeno Popper Casserole (Without Chicken)
Equipment
1 Skillet

1 Medium Bowl

9×13-inch baking dish

Serving spoon for scooping

Oven mitts or pot holders for removing from the oven

Knife and cutting board for prepping ingredients

optional

Measuring cups and spoons for measuring ingredients
Instructions
Preheat your oven to 350 degrees Fahrenheit and grease a 9×13-inch baking dish; then, set it aside. 

In a large skillet over medium-high heat, cook the ground beef, breaking it into small pieces as it cooks until it is no longer pink. Next, add the diced onions, garlic, and sauté for an additional minute. Be sure to drain off any excess grease before proceeding.

In a medium bowl, combine the ground beef mixture with all the remaining ingredients except the bacon bits. Mix the ingredients thoroughly until they are well combined.

Then, transfer the mixture to the greased baking dish and spread it out into an even layer. Top with bacon bits if using.

Bake for 25-30 minutes or until the top is lightly browned and bubbly.

Let cool slightly before serving warm!

Enjoy and make your day super duper!
Nutrition Information
– Serving size – 1/8 of the casserole
– Total fat – 18g
– Saturated fat – 8.5g
– Cholesterol – 68 mg
– Sodium – 753mg
– Carbohydrates – 4.4 g
– Fibre – 0.9 g
– Protein – 19g
WHAT TO SERVE WITH KETO JALAPEÑO POPPER CASSEROLE?
When serving a Keto Jalapeño Popper Casserole, you can consider pairing it with the following complementary dishes:
Green Salad: A simple green salad with fresh lettuce, spinach, cucumber, and cherry tomatoes can provide a refreshing contrast to the rich and spicy flavors of the casserole.
Grilled Vegetables: Serve a side of grilled zucchini, bell peppers, or asparagus for added texture and a dose of healthy vegetables.
Cauliflower Rice: Replace traditional rice with cauliflower rice for a low-carb option that complements the casserole's flavors while keeping the meal keto-friendly.
Guacamole: A creamy and flavorful guacamole dip made with avocado, lime juice, and spices can add a cooling element to balance the heat of the jalapeños.
Bacon-Wrapped Asparagus: Wrap asparagus spears with bacon and bake until crispy for a delicious and savory side dish that pairs well with the casserole.
Cucumber Slices: Refreshing cucumber slices make a simple and light accompaniment that can help cleanse the palate between bites.
Sour Cream or Ranch Dressing: Serve a dollop of sour cream or a side of ranch dressing for those who enjoy a creamy and tangy element to enhance the casserole flavors.
Remember to consider your personal preferences and dietary restrictions while selecting the side dishes to ensure they align with your keto lifestyle and taste preferences.
Tips and Tricks for Keto Jalapeno Popper Casserole
1. Leave the seeds in the jalapenos when dicing them up for a spicier dish. Alternatively, you can also add more jalapeños or even some diced habaneros.
2. You are free to experiment with different types of cheese for this recipe – any cheese that melts well will suffice. Try using Monterey Jack or even a pepper jack for an extra kick!
3. If you haven't access to bacon bits, try adding crumbled bacon pieces for some delicious crunchiness!
4. Doubling the batch and freezing half for future use is a breeze. Just thaw it in the refrigerator overnight before baking it as instructed earlier.
5. Serve with a side salad and your favourite veggie for a complete meal!
You can enjoy this classic dish quickly with just ten simple ingredients and minimal effort! Keto Jalapeno Popper Casserole is perfect for weeknight dinners, potlucks, or entertaining guests.
Is this Jalapeno Popper Casserole Spicy?
Yes, the jalapeño popper casserole can be spicy, but the level of spiciness can be adjusted according to your preference. You can make the dish milder by removing the seeds and membranes from the jalapeños or using pickled jalapeños instead of fresh ones.
On the other hand, if you want to increase the spice level, you can leave the seeds and membranes intact or add some cayenne pepper to the recipe. It's all about tailoring the dish to your desired level of heat.
FAQs
Is it possible to prepare this casserole in advance?
Yes, you can prepare this casserole beforehand! Simply follow the recipe until step 4, when all the ingredients have been added to the baking dish. Cover the dish with aluminum foil and store in the fridge overnight. Preheat your oven as directed when ready to bake, and remove the foil before baking.
Does this recipe have any dairy-free options?
To make a dairy-free version of this casserole, omit the cream cheese, sour cream, and shredded cheese. Instead, use 1/2 cup of your favorite non-dairy milk alternatives, such as almond or oat milk. Add one or two tablespoons of olive oil and a pinch of salt for flavor and moisture.
Is this dish suitable for people on the keto diet?
Yes, this casserole is suitable for people on the keto diet as it contains no added sugars and is relatively low in carbs. It's also high in protein and fat, making it an ideal meal option for people following a
ketogenic
lifestyle.
How is this casserole best served?
For optimum flavor and enjoyment, serve this casserole warm and fresh from the oven.
Enjoy a generous portion with a salad or your favorite roasted veggies for a complete meal! It also makes for fantastic leftovers that can be reheated in the microwave or oven.  
Conclusion
This Keto Jalapeno Popper Casserole is a delicious way to enjoy a spicy meal that won't derail your diet goals! With just ten simple ingredients, this easy-to-make casserole can be on the table in 30 minutes or less – perfect for busy weeknights! Moreover, it adheres to keto principles and is low in carbs, allowing you to enjoy it without guilt. Bon appetit!