Broccoli is a tasty and wonderful vegetable as it is one of the most well know options with low carb and keto kitchen. Vegetables can be an alternative to pasta, rice, and potatoes. Most people can recall their childhood memories of broccoli boiled in mush and blended.
And the recipe I will share is one of the most delicious ones on the list. It is cooked in a creamy and garlicky sauce, so its taste and texture are similar to pasta. Moreover, it's so delicious when you crave pasta because it is low in carbs and fat and keeps you full for a few hours.
That's sad because this vegetable is the best and most vibrantly green source of happiness if cooked correctly; I will share one of the best Broccoli Keto recipes below.
Broccoli Keto Recipe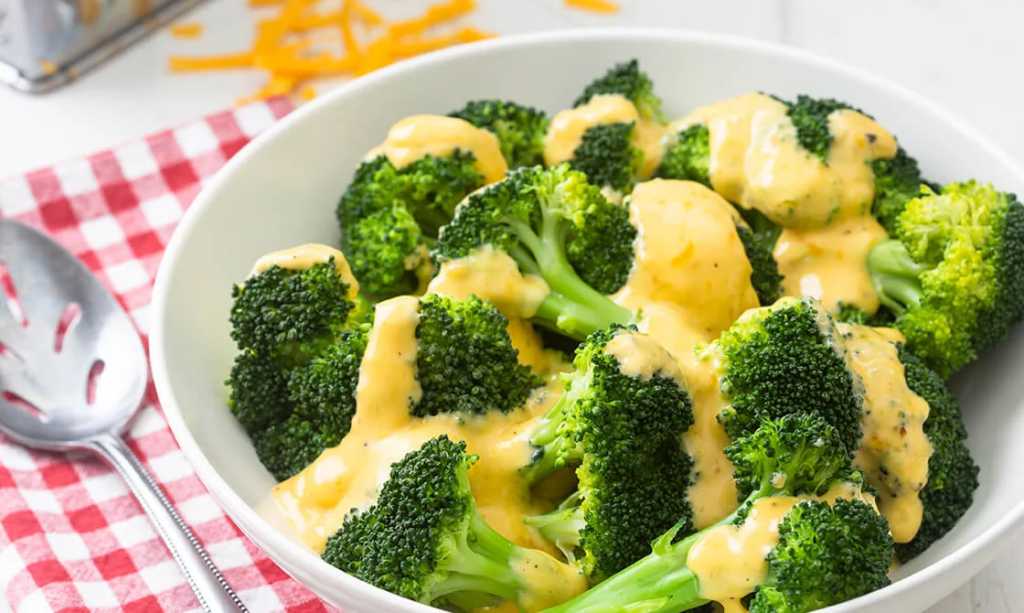 Broccoli is a nutritious vegetable loaded with thousands of benefits enjoyed by many people around the globe. It is straightforward to cook and bake, both raw and ripped. Moreover, it is a good fiber source and helps promote eye health, protect against chronic diseases, and lowers cholesterol levels.
Bacon and broccoli is an excellent keto diet combo enough to fill your belly with low carbs.
In a creamy garlic sauce, broccoli is cooked and topped with bacon and cheese, as the flavourful creamy dish is a nutritious ket side or whole word.
Broccoli Keto Recipe Without Cream
Ingredients
1

tbsp

butter

4

cloves

crushed or minced garlic

3

cups

broccoli florets

½

cup

raw bacon, 4 to 6 slices chopped into small chunks

½

tbsp

garlic powder

½

tbsp

crushed red pepper

½ 

cup

shredded mozzarella or cheddar cheese

or any other type of melted cheese

1

pinch

salt and pepper to taste

¼

cup

parmesan cheese
Instructions
Preheat the oven to 400 degrees. On medium-high heat, in large bowl cook the bacon into chunks for 2 to 3 minutes or until it turns almost crispy.

Add the butter, broccoli, garlic powder, garlic crushed pepper, black pepper, and a dash of salt to the same pan. Saute all these ingredients for 2 to 3 minutes until a pleasing aroma and fragrance emerge.

Now add cheese and heavy cream to the cooked bacon.

Transfer all the material into the preheated oven and bake it for 12 to 15 minutes until the cheese and broccoli get cooked and become bubbly and melted until it reaches the desired doneness.

Serve this dish as a side or eat it as a main dinner or lunch dish.
Notes
You can also make the cheesy and creamy broccoli in an air fryer to make it more low-carb and keto-friendly.
So let's dive for the cheesy broccoli in the air fryer.
How to Make Creamy Broccoli in the Air Fryer
The air fryer broccoli is made with cheesy topping in the form of sauce for a first, simple, and delicious side dish for your holidays and weekend dinners.
Cook the Broccoli
Cut the florets of broccoli and season it with any extraversion of oil, black pepper, and salt.
Set the air fryer at 330 degrees and cook for 5 to 6 minutes.
Make the cheese sauce
Grate the Manchego and cheddar cheese, melt butter in a separate saucepan, add cream, flour, Worcestershire sauce with all spices, and mix them all.
Add cheese to this batter and stir until it becomes smooth and consistent.
In most recipes, only one type of cheese is used, but I wanted a little more complexity in flavors and textures, so a blend of sharp cheddar and sweeter manchego is the best option.
The cooking time of broccoli depends on the florets' thickness and desired crunchiness.
Master the cheese sauce
Ensure the cheese and cream shout;ld be at room temperature before cooking. Adding cold ingredients to cheese can make it very clumsy.
Dont, set your air fryer at too high a temperature, as medium-low is good. It should be hot enough for the cheese to melt.
Remove the pan from the heat before adding cheese to the broccoli because cream or milk will be hot enough to melt the cheese.
If the cheese gets too hot, it will get too grainy and start to separate.
Now stir the mixture continuously until the cheese is melted and incorporated fully into the mix or sauce.
Frequently stirring cheese will make sure that it will not burn.
Serve the broccoli with a creamy cheese sauce made in an air fryer instantly.