If you are looking for a keto-friendly diet, then you must go for a burger patty recipe keto. You can enjoy it as a lunch dish or a dinner recipe.
The secret to substituting a hamburger is low-carb dense buns alternatives with lettuce leaves or any other vegetable salad.
There are endless combinations with various versions for making a tasty, nutritious burger.
So without waiting, let's jump into the detailed recipe of burger patty keto.
Preparing time: 15 minutes | Cooking time: 10 minutes | Servings 3 each
How to Make a Low-carb Keto Patty Burger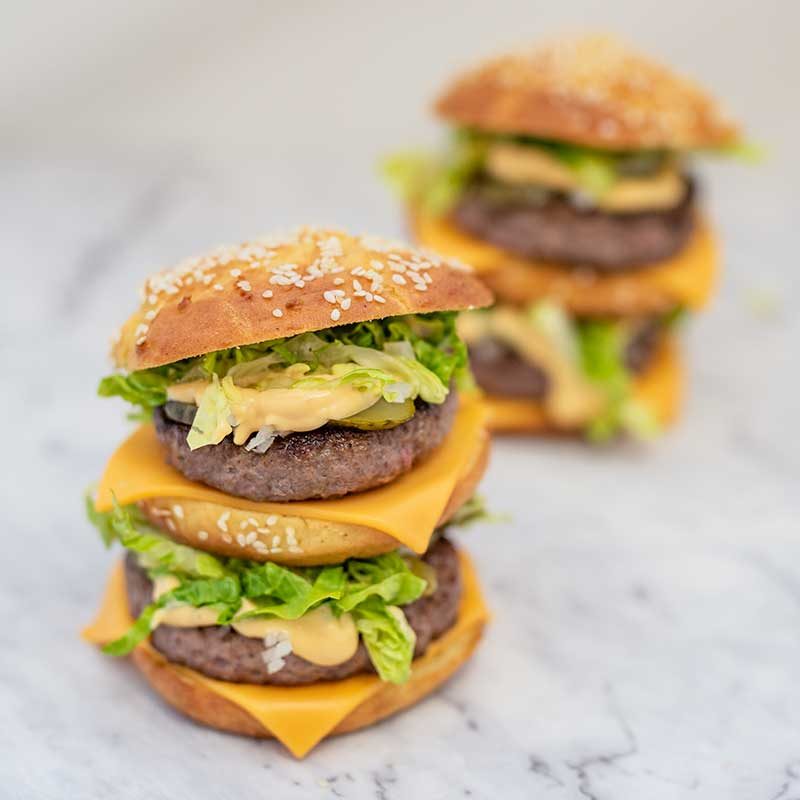 Ingredients
Trifecta beef or Bison burgers for 6 ounces of fresh burger patties
6 tomato slices sliced evenly and thinly
¾ cup of yellow caramelized sliced onions
3 Boston bib lettuce washed, separated leaves
3 tablespoon mayo sauce
3 Bacon strips cut in halves and washed
¾ cup sliced avocado
Kosher salt to taste
For chipotle Mayo sauce
3 tablespoons of mayo
1 tablespoon chipotle in adobo puree
1 tablespoon of lemon juice
1 tablespoon of garlic powder
Kitchen needs
Saute pan
Small bowl for mixing
Chef Knife
Cutting board
Spatula
Oven
Easy Homemade Keto Burger Patty Recipe
How to make a patty
You can use white meat like chicken or fish to make a beef patty to speed up the process. It all depends on your own choice.
If you want to make a low-carb patty with beef, white meat, turkey, or bison, make a patty.
If you prefer beef patty, opt for the best ground meat with 80/20 chuck, meaning it should come with 20% of fat and 80% of lean meat.
Use your sense of smell and keep monitoring the meat's fresh flavor with no bad odor.
Mix salt, ground black pepper, egg, and ground gram flour to make a patty soft and smooth flavored.
Make a patty according to the size of the burger and keep it in a refrigerator to make a set.
Gather your ingredients
Separate the lettuce leaves and wash them carefully, as there is much dust in them.
Thinly slice the onions for your low-carb patty.
Rinse the leaves well with water and keep them in a fridge until you assemble them so that they remain crisp and fresh.
Slice the tomatoes finely and the other vegetables you want to layer up
Make Chipotle, bake Bacon, and caramelize onions
Traditional ways to caramelize the onion can be a long and time-consuming process. But slow cooking of onions is the best way to dry the moisture as natural sugars are present in them. So cooking the onions and caramelizing the sugar is the best option.
Preheat your saute pan and add ½ teaspoon of avocado oil to the sliced onions to make onions caramelized over medium-high heat.
A chef's hack to make the onions caramelized is to quickly cook them on medium-low heat by adding liquid in small amounts. Switch off the stove when they are changing to brown color.
Adding water or chicken broth to onions will be helpful to cook and caramelize the onions and make the process fast.
Repeat this step to prevent the onions from burning and overcooked. Once it gets the caramelized look and texture, season it with kosher salt, hold it warm until it is needed, and transfer it into the mixing bowl.
During the patty preparation, cool down the material because the salt will remove the moisture of the onions and make it deep caramelization.
Mix all the ingredients in a small bowl to prepare mayo. You can also use the blender to make this step easier.
Pull it all together
To make a patty burger, place lettuce on the bottom of the bun
Then add a slice of tomato and add a cooked patty to it. Add ¼ cup of sliced onions, 1 tablespoon of chipotle oil, and ¼ cup of sliced avocado. 
Meal prep and serve it immediately in containers and refrigerate.
Delicious keto patty burger combinations
Choosing the toppings for a patty burger is a great way to add flavor and variety to your ket diet.
You can go for a combo of white meat, caramelized onions, and different vegetables as toppings.
Most options of condiments are keto-friendly as long as you will use them in moderate amounts if you want to make them low-carb and high-protein.
The most common keto burger combinations are:
Cheddar cheese, fresh onions, and ranch pickles
Toasted pecans with blue cheese
BBQ sauce, red onions, swiss cheese, and tomato
FAQs
Can I eat burger patties on keto?
Yes, you can eat any type of burger on keto; cheeseburgers are the best ones because they contain low carbs without the bun and are high in protein and fat.
What is a keto burger made of?
The must-haves for keto burgers are cheese, bacon, ground beef patty, caramelized onions, sliced tomato pickles, and many more options. Mustard is also keto-friendly, but the layer of mayo or burger sauces can be higher in carbs and sugar. 
Conclusion
So giving up grains is one of the most challenging parts of your low-carb keto lifestyle. One of the best options for an alternative to a high-energy, low-carb food is a burger with vegetables or meat. Any type of burger with a nutritious high level is incomplete without a patty and toppings like mayo sauces, layers of lettuce leaves, cabbage, tomatoes, and onions paired with all other vegetables of your choice.