This low carb chai tea latte is undoubtedly a complete and optimal combination of flavor and choices. As a fervent admirer of aromatic spices in traditional chai, I came by chance to try a new version of low-carb tea latte in a conventional style.
Here is a detailed exploration of the recipe and ingredients for making Low Carb Chai Tea Latte with other preferred points about this chai recipe. It is a true example of the subtle art of balancing low carb tea chai ingredients to satisfy the chai cravings, even on the keto diet, because this chai option is defined as low-carb.
Find out the details about this low carb chai tea latte with a complete recipe guide below;
Understand the Dynamics of Chai Tea Latte
When it comes to chai tea latte, it typically comprises steamed milk with the perfect blend of different spices, both infused with black tea. The spices include versatile options from cinnamon to cloves and other flavors.
However, the foundation is the milk component, so you can replace the full fat milk with almond milk or coconut milk by taking the chai tea latte to the low carb version. Moreover, you can also use the blend of both simultaneously.
It not only provides an enhanced creamy texture to you but will give more advantages than a usual dairy milk option.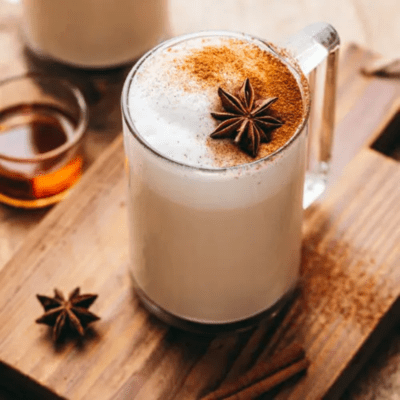 I use the almond milk option for my low-carb latte, as I found it more rich and creamy than any other option.
Low-Carb Chai Tea Latte Ingredients
One full cup of black tea ( Fully brewed)
Almond milk 1/2 cup
Cinnamon one tablespoon
Cardamom 1/4 tablespoon
Ground Ginger 1/4 tablespoon
Stevia or any sugar of your choice as per your taste
The spices vary according to your choice. Before choosing any ingredient, spice, or milk option, you must look for your dietary requirements, your sensitivities, and allergies. So that it won't harm you in any way.
Recipe of How to Make a Low Carb Chai Tea Latte
For the Low carb chai tea latte recipe, you have to brew a full cup of black tea in the usual way and put it aside to cool down. Afterward, take almond milk and put it on the stove with a low flame. You have to steam it until it starts boiling.
When you notice the gentle boil in the almond milk, add cinnamon, cardamom, and ground ginger to the milk. Stir it correctly so that it infuses into the milk with its full flavor and taste.
When you are done stirring, combine this prepared milk with the black tea you have recently put aside.
Moreover, this is the final step of adding sugar to the mixed solution of the tea you prepared. After adding the stevia or sugar of your own choice, cozy up and enjoy your homemade chai.
Sugar Substitutes for Low Carb Chai Tea Latte
Sugar and sweetness are also crucial in preparing a perfect traditional low carb tea latte option. To add a sweet flavor to your chai, you can use regular sugar. If not, then stevia. In this regard, monk fruit and erythritol are also popular options.
These are the sugar options that provide you with a sweet flavor without the real impact of the high-calorie sugar content so that you can harness the power of sweetness with the help of the substitute options.
Approximate Values per Saving
As the name depicts, the Low Carb Chai Tea Latte comprises a carbohydrate content to a minimum level; however, the almond milk contribution comprises around 1 to 2 grams of carbohydrate in the overall cup of tea. Other than this, the calorie content that is found in a tea latte includes 15 calories per cup.
If you are using almond milk, it will ensure 1 gram of protein on every ½ cup of serving.
Fat proportion for the chai varies as per the milk variety, coconut milk is high in fat, so you will be provided with 5 to 6 grams of fat for ½ serving of a cup.
Low Carb Chai Tea Latte
Low carb Chai tea lattes are typically a combination of spiced black tea with milk. Here's a low-carb version that uses alternative sweeteners and milk.
Ingredients
1

Chai Tea Bag

or 1 tbsp loose leaf Chai tea

1

cup

of water

1/2

cup

of unsweetened almond milk

or coconut milk, or another low-carb milk alternative

1-2

tbsp

of a low-carb sweetener like erythritol

stevia, or monk fruit (adjust to taste)

1/4

tsp

of pure vanilla extract

optional

A sprinkle of ground cinnamon for garnish

optional
Instructions
Boil water and steep chai tea for 4-6 minutes.

Heat almond milk until warm.

Combine tea and milk in a cup.

Add sweetener to taste.

Optionally, stir in vanilla and sprinkle with cinnamon.
Frequently Asked Questions
Can I enjoy a low-carb chai tea latte on a ketogenic diet?
Yes, you can! Opt for unsweetened almond or coconut milk, use a low-carb sweetener like stevia, and choose loose tea leaves with minimal carbs to create a delicious low-carb chai tea latte that aligns with ketogenic principles.
How does a low-carb chai tea latte compare nutritionally to a traditional chai tea latte?
A low-carb chai tea latte is typically lower in carbohydrates, as it utilizes unsweetened milk alternatives and low-carb sweeteners. Traditional chai tea lattes from coffee shops often contain higher levels of sugars from sweetened milk, syrup, or pre-packaged chai mixes.
Can you seek the health benefits of traditional chai spices in a low-carb version?
Yes, Cinnamon, cardamom, and other spices not only add flavor but also bring potential health benefits. Cinnamon, for instance, is known for its antioxidant and anti-inflammatory properties, making a low-carb chai tea latte a flavorful and health-conscious choice.