Are you trying to find a nice and simple and easy keto-friendly dinner or snack? Chicken keto nuggets are the only thing you need!
These chicken nuggets are ideal for your keto diet regimen since they have a crispy, delicious exterior and juicy, tender chicken inside.
With the most incredible chicken keto nuggets recipe, you can make keto chicken nuggets easily.
Keto Chicken Nuggets
Fortunately, these chicken nuggets are a quick and delicious solution that won't interfere with your low-carb objectives.
They are a more nutritious version of the traditional fast food dish and are made with protein-rich chicken, spices, and almond flour. Additionally, they are ideal for meal preparation or portable snacking.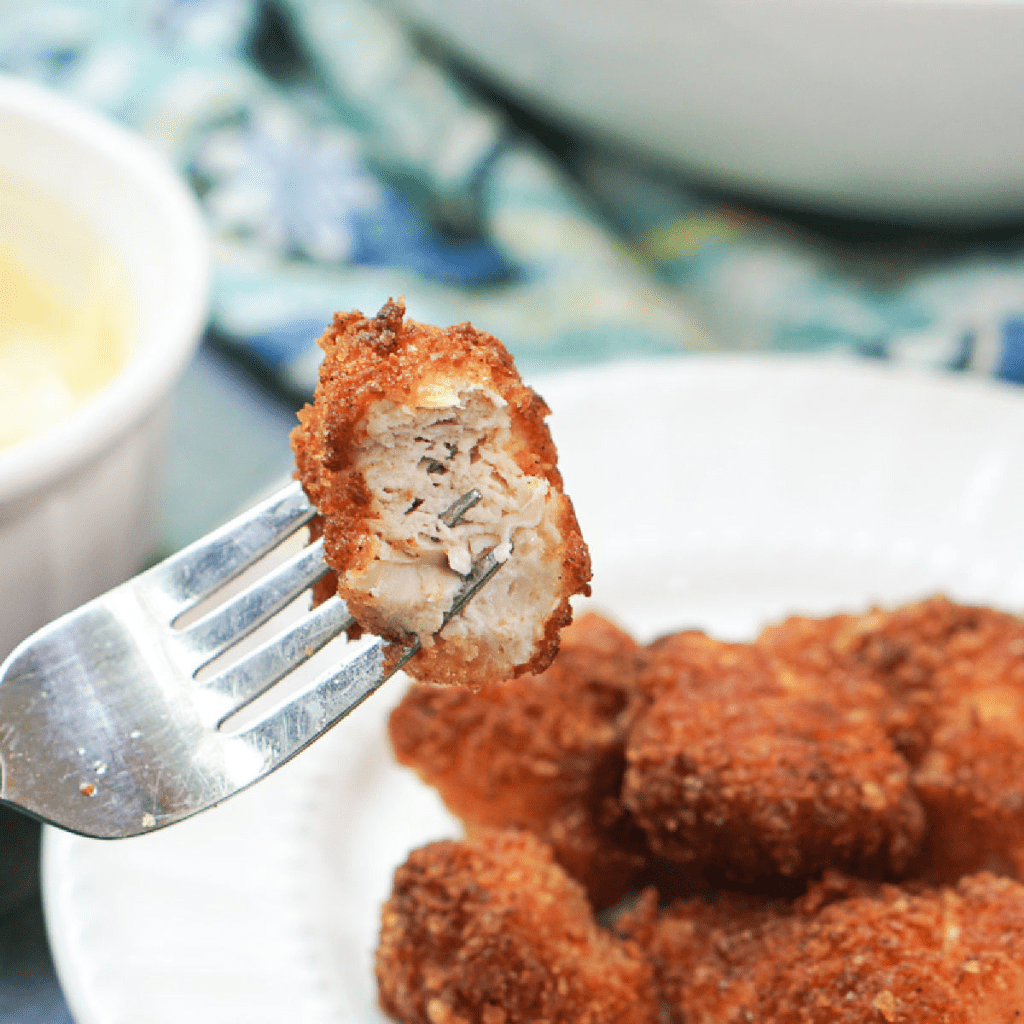 The ketogenic diet is a high-fat, low-carb eating regimen that induces a state of ketosis in your body so that it uses fat as fuel instead of carbohydrates for energy. Limiting your intake of carbohydrates, such as refined sweets and grains, and emphasizing lean proteins and healthy fats will help you stay in ketosis.
Ingredients Required for the Keto Chicken Nuggets
Chicken and Other Protein Options
You'll need chicken breasts or thighs that have been chopped into bite-sized pieces that are boneless and skinless. Other protein choices, such as turkey or tofu for a vegetarian option, are also an option.
Low-Carb Breadcrumbs and Flour
This recipe utilizes almond flour and crushed pork rinds or a low-carb alternative to breadcrumbs instead of regular flour and breadcrumbs. These choices give the chicken nuggets a crispy coating while low in carbohydrates.
Spices and seasonings
To flavor your chicken nuggets, you'll need various seasonings, like salt, paprika, garlic powder, and onion powder. You can add other ingredients like cumin or chili powder for an extra spicy taste.
Egg and Oil for Coating
You'll need eggs and oil for dipping and coating the nuggets to make the coating adhere to the chicken.
How to Make Keto Chicken Nuggets
Chicken should first be chopped into bite-sized pieces and seasoned with salt and pepper. Whisk together one or two eggs in a different bowl, depending on how much chicken you use. Each piece of chicken is first dipped in the egg mixture before being dusted with spice and almond flour mixture.
Combine almond flour, low-carb breadcrumbs, or crushed pork rinds with your preferred seasonings to make the coating for your chicken nuggets. To thoroughly incorporate all ingredients, stir well.
How to Coat and Bake the Nuggets
Put the chicken pieces on a baking sheet that has been buttered after coating it with the almond flour mixture. Spray cooking spray or lightly brush oil on the nuggets' tops. Bake the nuggets in a 400°F preheated oven for 15 to 20 minutes or until they are crispy and thoroughly cooked.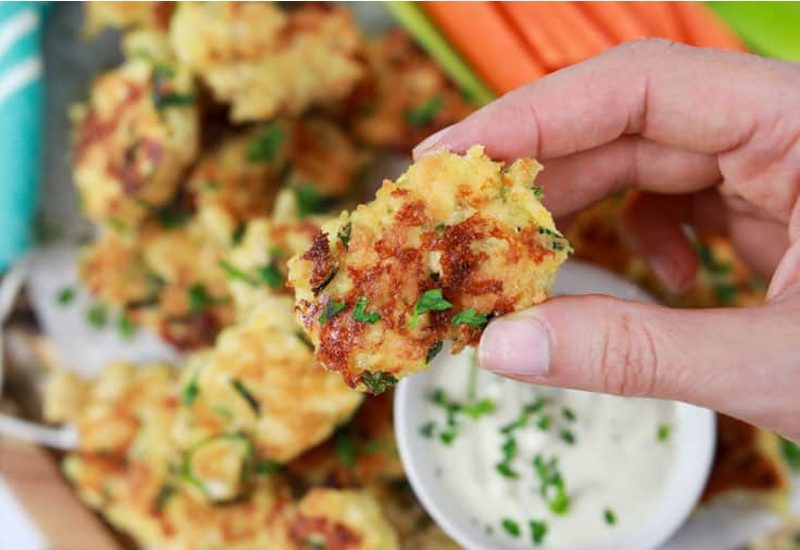 How to Ensure the Nuggets Are Crispy and Tender
To ensure that your chicken nuggets are crispy on the outside and soft on the inside, be careful to coat the chicken in the almond flour mixture evenly.
You may lightly coat the nuggets in oil or cover them with cooking spray to help them crisp up in the oven.
Alternative Cooking Techniques of Keto Chicken Nuggets
You can air fry the chicken nuggets for a healthier option if baking is not your preferred cooking method, or you can pan-fry them in oil. Just keep in mind to alter the cooking time and temperature as necessary.
How to Store and Reheat Leftover Nuggets
Keep leftover chicken nuggets in the refrigerator in an airtight container for up to four days. Simply reheat the nuggets in a warm oven or toaster oven until thoroughly cooked and crispy once more. Avoid using the microwave since it could make the coating soggy.
Serving Ideas and Food Pairings
These low-carb chicken nuggets are a tasty and adaptable entrée that can be served on their own or with other low-carb sides and dipping sauces. Here are some alternatives to think about:
Diabetic Dipping Sauces
– Ranch dressing made without sour cream but with Greek yogurt
– Sugar-free BBQ sauce or ketchup
– Buffalo sauce combined with cream cheese or butter that has melted.
– Mayonnaise, minced garlic, and lemon juice are combined to make garlic aioli.
Side Dishes to Complement the Nuggets
Almond-flour and Parmesan-coated zucchini fries
Herbed and spiced cauliflower rice pilaf
Broccoli or Brussels sprouts roasted in olive oil and garlic
Creamed spinach made with cream cheese and coconut milk.
These chicken keto nuggets are tasty and have several advantages for people on a ketogenic diet. Here are some justifications for trying them!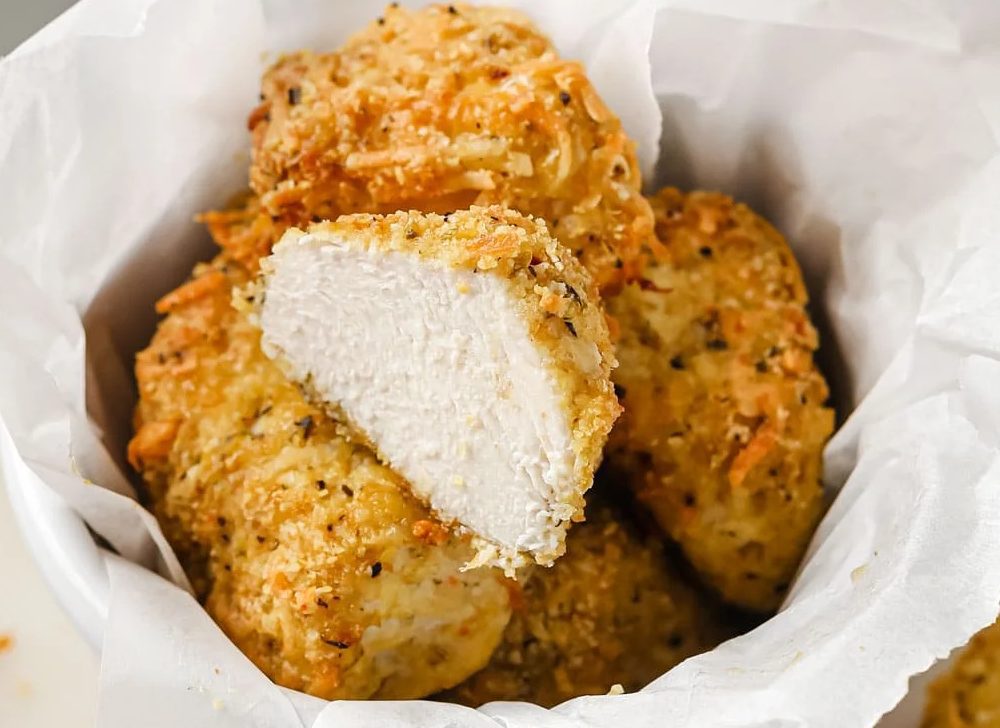 Easy Keto Chicken Nuggets
Ingredients
1

lb (450g)

boneless, skinless chicken breasts, cut into bite-sized pieces

1/2

cup

almond flour

1/2

cup

grated parmesan cheese

1

teaspoon

garlic powder

1

teaspoon

onion powder

1/2

teaspoon

paprika

1/2

teaspoon

dried oregano

1/2

teaspoon

dried thyme

1/2

teaspoon

salt

1/4

teaspoon

black pepper

2

eggs, beaten

Cooking oil (such as avocado oil or coconut oil) for frying
Instructions
Preheat your oven to 400°F (200°C) and line a baking sheet with parchment paper.

In a medium-sized bowl, combine almond flour, grated parmesan cheese, garlic powder, onion powder, paprika, dried oregano, dried thyme, salt, and black pepper. Mix well to create the breading mixture.

Dip each piece of chicken into the beaten eggs, then coat them thoroughly in the breading mixture. Press the breading onto the chicken to ensure it sticks well.

Heat about 2 tablespoons of cooking oil in a large skillet over medium heat.

Once the oil is hot, add the breaded chicken pieces to the skillet in a single layer. Cook for 2-3 minutes on each side or until they turn golden brown.

Transfer the partially cooked chicken nuggets to the prepared baking sheet.

Bake the chicken nuggets in the preheated oven for 10-12 minutes or until they are cooked through and crispy.

Once they're done, remove the chicken nuggets from the oven and let them cool for a few minutes before serving.
Notes
You can enjoy these Keto Chicken Nuggets with your favorite low-carb dipping sauce or alongside a fresh salad.